Do you find it harder to dress in summer or when it's hot or humid because fabrics seem to think and you can't hide the lumps and bumps under layers?
So How do You Dress to Look Stylish and Stay Cool in Humidity or Summer?
Fabric for Summer Style
Fabrics for hot and humid climates should maximize the flow of air through the clothing to maintain a cool body temperature by allowing heat and moist air to escape.
Natural fibres are your friend. Look for garments made from linen, bamboo, silk, cotton, viscose, rayon, modal, and lyocell. These may also be blended with a small percentage of synthetic material to provide stretch to a garment or prevent creasing
Sheerer, lighter materials can breathe better. To test for breathability, hold the fabric up to the light to make sure the knit is open enough to let light and air through. The weight of the cloth should feel light and allow any passing breezes to cool your skin.
Generally speaking, the lighter the fabric, the faster it will dry too so any sweat should evaporate quickly. Think about wearing poplin, chiffon, georgette, seersucker, and madras cotton.
The fabrics you want to avoid in the summer are polyester, rayon, nylon, and acrylic.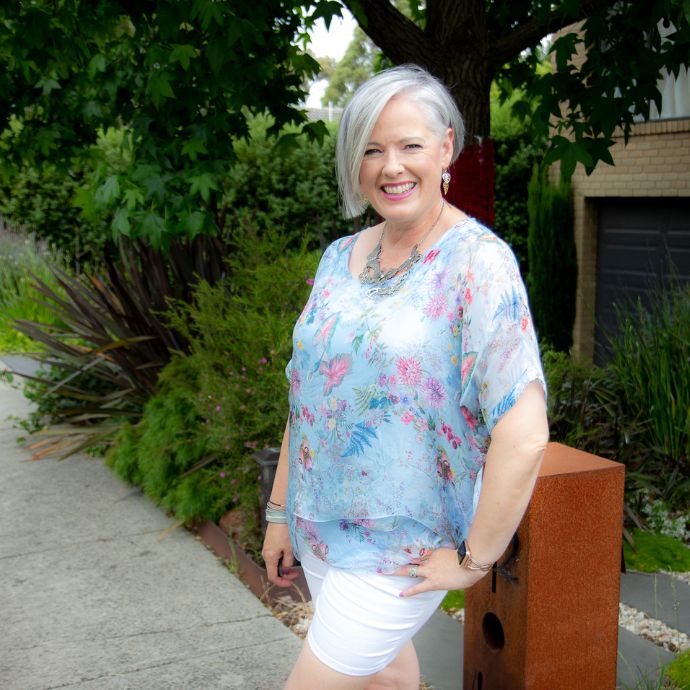 I have a number of silk tops like the one in the picture above as they flow over lumps and bumps and are cool to wear.
Silhouette for Summer Style
The single most important thing you can do to improve your comfort in high humidity is to wear lightweight clothing that won't cling to your skin. Woven fabrics or those with some texture, and a looser fit, usually do a good job.
Pieces that fall away from your body have less fabric touching your skin, so you'll feel cooler. Think loose-fitting jumpsuits, flowing dresses and skirts. Here are more tips on staying cool and stylish in summer.
Layers That Don't Add Heat
When it's too hot for a jacket or cardigan but you need the coverage, wear a very fine underlayer with a lightweight topper. In the video, I'm wearing a sheer lace kimono.
Look for lightweight outerwear with a structured shoulder to help the jacket hang off itself instead of clinging to you.
You can create good vertical lines through your torso if the underneath layer is darker and the outer layer is lighter.
Some clothes only look like they are layered, when, in reality, the under layer is attached just inside the hem of the top layer, giving you the look of layered clothing without the weight.
Need to cover your cleavage? A B-string or similar cami replacement is great when it's hot and you don't want the extra layers, but want to feel that you're not exposing your cleavage.
Don't want to add layers? Here are tips on finding clothing that has interest and works well in summer.
Accessories That Are Lightweight
Wearing a hat and a solid pair of glamorous sunglasses can not only look chic and stylish but also adds a hit of personality. You could also drape the scarf over your shoulders if you feel like you're getting too much sun. Alternatively use the scarf to keep your hair off your face and neck. Finish off the look with a pair of cute flat sandals, and you are guaranteed to be far more comfortable on a hot day.
A broad brimmed sunhat will also keep the sun off you and help you feel cooler.
If the thought of a necklace is too much, look for built-in detail in your tops such as patterns or embellishments. Make sure any embellishments are light so they don't weigh down your clothing.
Colours
White is the optimal choice for hot and humid weather. Dark colors absorb more lights so they are going to be hotter. Light colors reflect light making them cooler to wear in the summer. Not sure what shade of white is best, check out my post How To Choose Your Perfect White.
Prints or patterns are good alternatives. Prints and patterns don't need the same sort of level of accessories and are also great at hiding sweat marks. A busy print can easily hide a sweat stain as well as a lump or bump, because there's already so much going on, the sweat won't stand out and the eye doesn't linger.
Sunscreen
It may not count as clothing, but I've never seen an outfit that looked better with a sunburn. Your skin is part of your covering – and just as we judge a book by its cover, your skin comes into that equation. Your skin is precious, so get in the habit of applying sunscreen every day before you dress! I recently had some skin cancers removed from my face, read about my experience here.
I hope these tips have got you thinking of ways to make your hot and humid summer more comfortable!
Further Reading