A lovely reader mentioned she'd like some advice on how to find her perfect white for a wedding dress, so here is my guide, and I hope it helps both her and you.
White is Not White
Just like any colour (blue, green, pink) white just denotes a kind of colour, but not an exact colour. When you think about painting walls white – how many whites do you get to choose from at the paint store? Hundreds!
Choosing the Right White
Whites vary, from a brilliant bright white, to soft white, cream, buttermilk, ivory, antique white, winter white etc…..
Start by looking at the whites of your eyes – what is their colour? Are they bright white or a more yellow white, pink white, ivory, blue … what are you seeing in them?
You could go to a store and find a selection of white tops and shirts, find a mirror, and I hope the store has decent lighting.
Stand in front of a mirror (preferably with no makeup on – sorry), and hold up 2 of the white tops to just below your chin, whilst looking at your face, and especially at your eyes, notice the whites of the eyes, you are looking for a white that makes your whites look whiter (not yellower).
Discard the worst coloured white, pick up another and keep repeating the process until you get down to a 2-3 white tops that all work with the whites of your eyes, then do the same process, but look at your skin, look for the white that gives you the evenest skin tone, diminishes under eye bags and shadow, and makes you glow.
Cool vs Warm Whites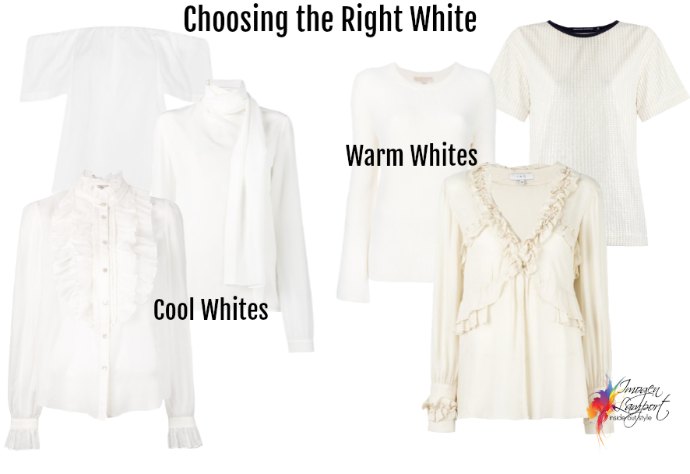 Generally, most people with warmer complexions need warmer whites like winter white, cream and buttermilk.
Those with very soft and muted colouring need a soft white (which is just off-white) or ivory.
Cool people will work best with brighter, whiter whites.
More Tips on Choosing and Wearing Whites