I'm an H shape, this means that straight (pencil) style skirts suit my figure much more than flared ones (this is also true for 8 Shapes).
Pencil skirts are traditionally classic garments. They originated in the suit and are synonymous with the business world and the corporate office.
I don't work in one of those (my studio is inside my home) yet I have a skirt body (cos of my flat butt, which makes trousers hard to fit) so I prefer to wear skirts over trousers. So how to make them less classic and more suitable for my everyday more smart casual dressing style?
The answer to this conundrum lies in the fabric.
Instead of a woven fabric that a traditional straight skirt is made from, I prefer some sort of stretch fabric like a ponte knit or a scuba knit. Why is this? Well I'm taking a vertical, straight garment which is yang, and creating it in a fabric that is softer, with often curvy patterns which are both yin (you can find out lots more about the yin and yang of clothes here).
The Classic Pencil Skirt Made Casual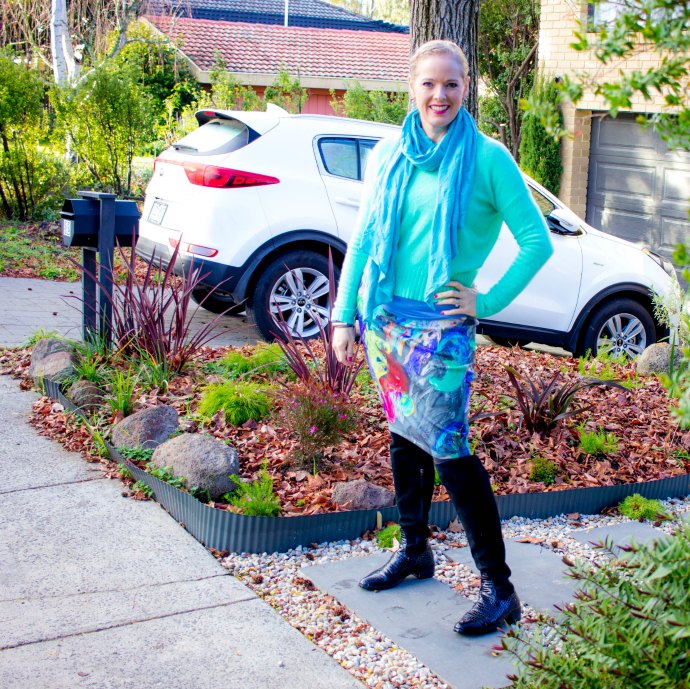 Unable to find anything in the stores that fits my criteria for pattern, shape and length (not doing the mini anymore) I've recently made all the skirts in this post. It's a super simple two seam design and because of the stretch fabric, no need for zips and fastenings!
I like to add in a pattern that takes away all "office" feelings from that skirt. A fun abstract pattern like this scuba fabric skirt above would never look right in a conservative office.
By adding a chunky knit jumper (sweater) this takes away that classic business feeling of this skirt (this one I made from a stretch woven fabric).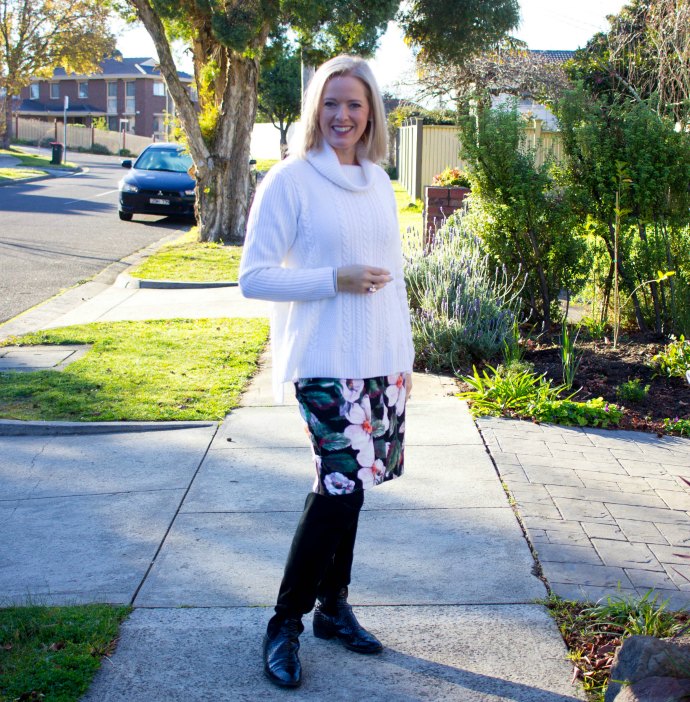 If I want to dress this skirt up, I just team it with a more fitted knit and a textural cutout jacket, which in no way resembles a suit jacket.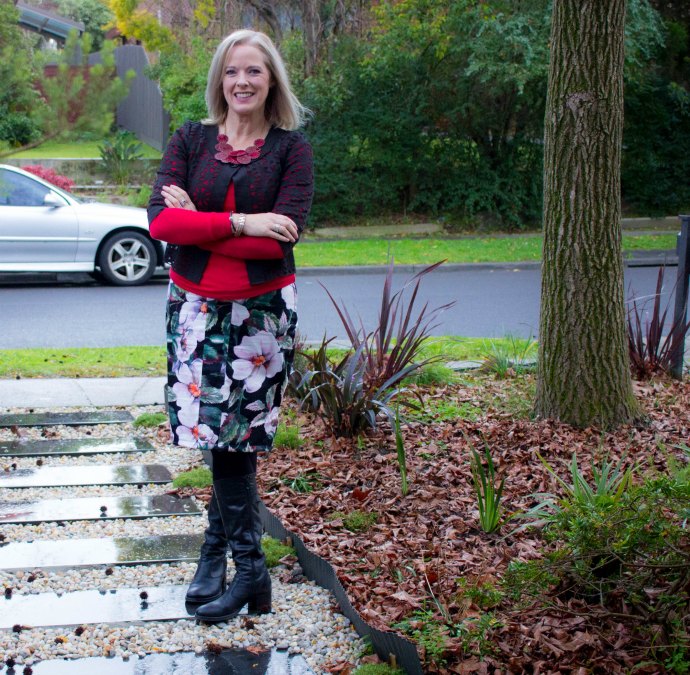 Another skirt I recently made from a ponte knit is this one with spots.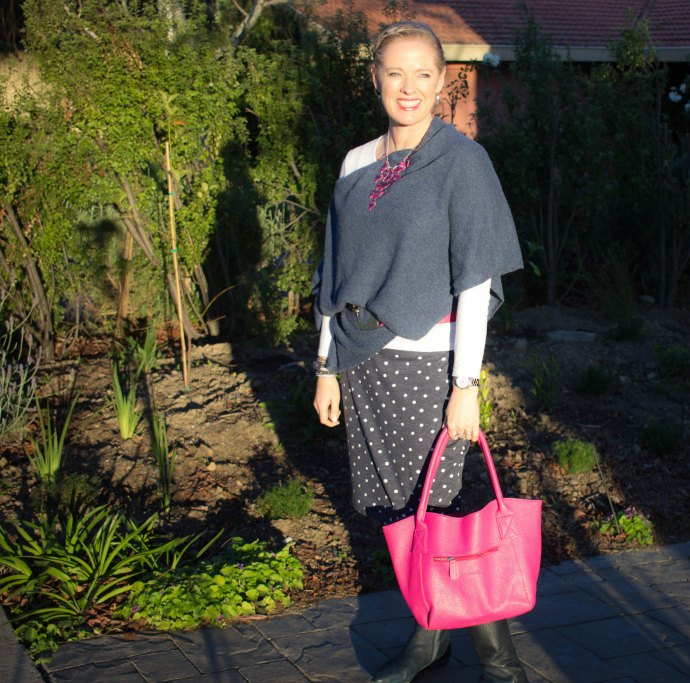 It's comfortable for everyday and I can dress it up more with a jacket or down with a casual poncho as I've done here.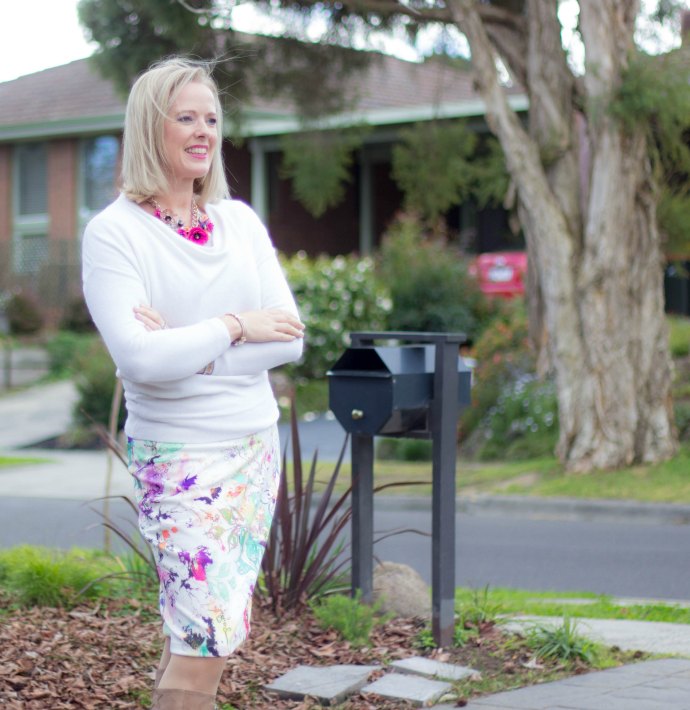 A multi coloured pattern makes it easy to mix lots of different tops in a variety of colours with my skirts to change the feel depending on my mood and the occasion.
The skirts above and below are both made from a scuba knit which make them super comfortable and easy to wear. If you want to think about the same concept with jackets, look for stretch knit jackets like this one that I've teamed with this floral pencil skirt. It naturally has a more relaxed vibe because of the fabric and construction.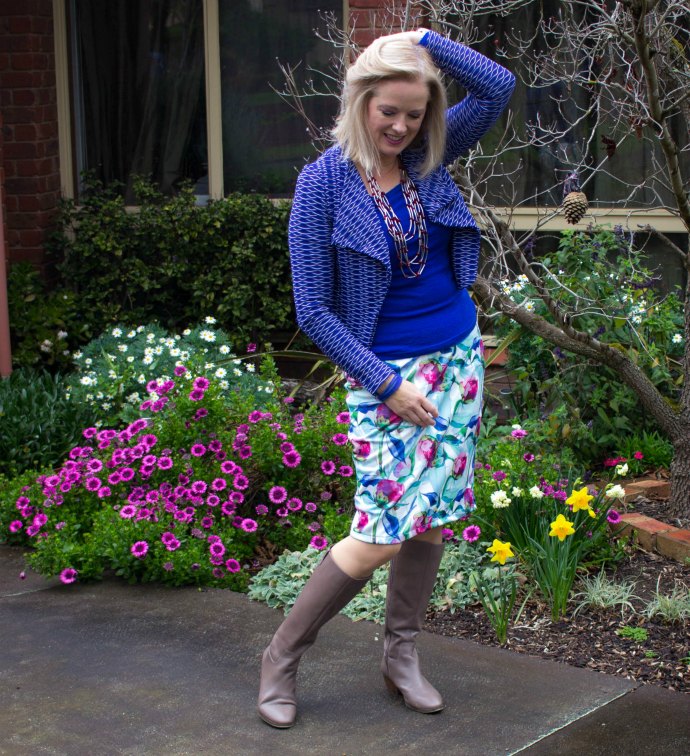 The Classic Blazer Dressed Down
Another classic item that you can easily dress down is the blazer.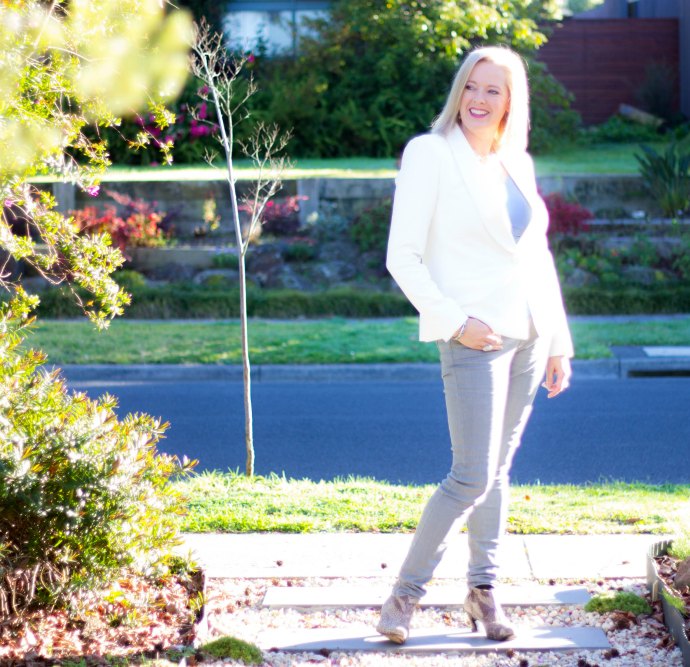 When adding a jacket to your jeans outfit it dresses them up, but as you're still wearing the jacket with a casual garment (as jeans are always casual) it stops you from looking too dressy for a more casual lifestyle.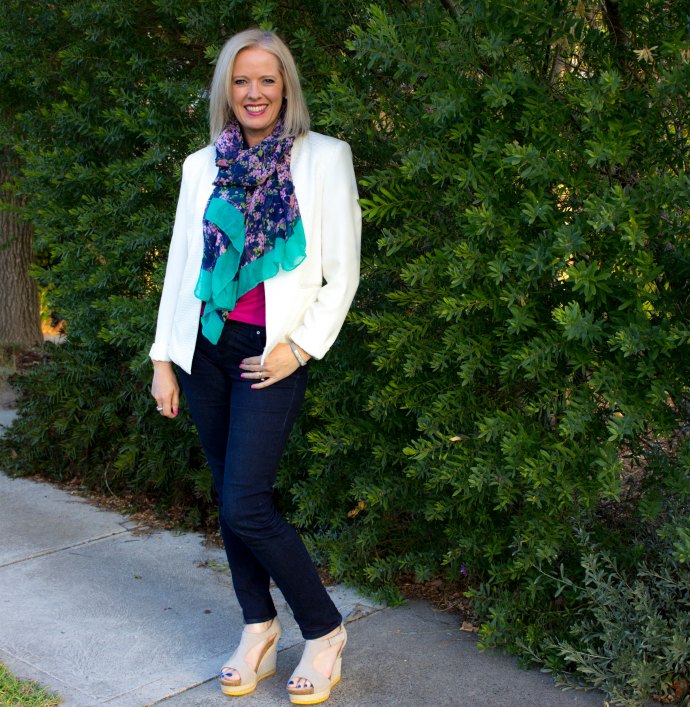 Adding a colourful scarf is another way to dress down your blazer, as the more patterns and colours you add to an outfit the more we read it as casual and relaxed.
If you're not sure of your body shape, you can do my quick body shape calculator quiz and download your body shape bible here. Or alternatively, if you'd like my professional opinion I give this (along with a personal colour analysis) as part of my 7 Steps to Style program.