One of my favourite Australian inventions is the B-string – it's what I've got on under this gorgeous Karina Gala dress to stop you from looking right down my cleavage.
Now I took this photo from above, as well all know with cami's that when you look from above, or bend over, you'll find that you reveal more than you'd like.
With the b-string, as it attaches to your bra, a properly fitting bra will make it sit right on your chest wall so that no matter if you bend over or people look at you from above, you won't be revealing your bust.
To prove it, I've taken a photo bending forward with the camera at bust height.
The B-string comes in black, white, red, black lace and cream lace. The plain ones retail for $19.95 AUD and the lace for $24.95
They are ideal in hot weather when you need that bit of extra coverage but it's too hot for a cami, or if you're just one of those people who gets hot easily and doesn't like wearing layers.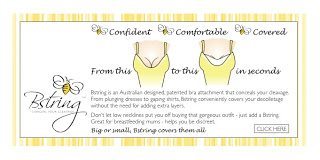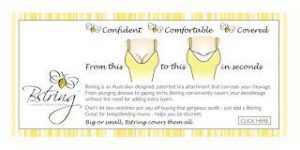 And I'm really pleased that you can get one right here, right now – so grab your B-String now in the Inside Out Style shop!