Wearing black and dark neutrals has been considered sophisticated and chic for some decades. It used to be that black was only worn by the grieving or for a classy night out in your little black dress (first created by Coco Chanel in the 1920s). These days black has become the safest (and honestly, boring) option for many who just aren't sure which colours flatter, how to mix colours or just what else to wear. It's easy, but dull and not necessarily flattering, depending on your colouring.
If you've gotten stuck in the black rut and are looking for ways to get out of it, either because you're bored or because you realise that black isn't flattering you (who wants double chins and under-eye bags? Not me!), but you're just not sure how to get out of that rut and to start wearing a lighter palette, here are a few ideas.
Now I know you may have dark clothes in your wardrobe for many reasons, such as when it suited you when you had darker hair (just like I did) and you don't want to throw them all out. So how do you get around this issue?
1. Colour Has an Impact on How You Look
When I was 16 or 17, I had a mustard coloured jumper; it must have been the trend at the time. Every time I wore it, people would ask me if I was feeling okay when it's a fact I was fine. I realized that that colour was making me look ill and I don't think I've worn anything yellow since.
The truth is we all have good colours and bad colours. It's not that ALL colours are not GOOD – it's just that they are good or bad depending on your colouring. Some colours bring out all your best features; enhance your natural colouring, making you look younger, healthier and more energetic. Others drain you of life, add years and wrinkles to your face.
If you have light colouring and are wearing dark from head to toe, it can become draining and weigh you down (also we see dark colours as heavier in weight, so rather than being all slimming, they can actually add visual weight to your body).
2. No Need to Wear a Rainbow
If you have a colour palette have a look at that palette and pick out a few colours that you really love, those colours that really speak to you. If you don't have a colour palette, you can get one as part of my 7 Steps to Style program or just as a stand-alone service – it's such a great tool that helps you choose hair colour, makeup colours, nail polish colours as well as the colours for your clothes and accessories, plus you'll also get my professional opinion on your ideal value and contrast too, so that you can start building a wardrobe of clothes that is really right for you. Here are 9 ways knowing your best colours will change your life, as well as your wardrobe.
If you know signature colours, I encourage you to choose an eye or lip enhancing colour. When you're wearing a colour that brings out the colour of your eyes or lips, it creates a beautiful face focus and people will often comment very positively about this
When you get positive comments you're more likely to want to do more of something so by wearing a colour that really flatters you then you're more likely to wear less dark neutrals where you may not have been getting those same compliments.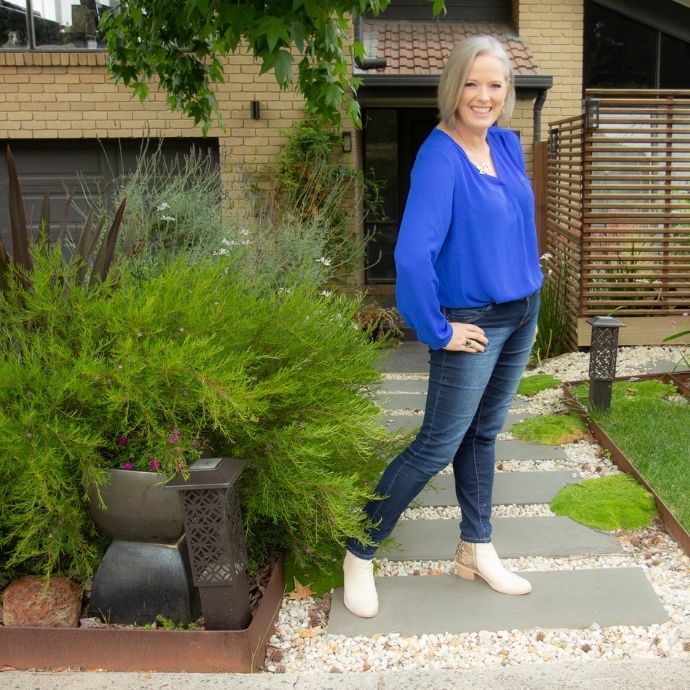 Wear an eye enhancer colour (this is mid-value shirt is in the same value as my eyes) that's a signature colour.
Even if you don't have a palette, start with your eye colour. When you're figuring out your eye colours, look at all the colours in your eyes. You will see there are often a number of different colours in there. You can use any of these colours to help you incorporate more colour into your outfit, making you appear brighter and more alive.
You don't have to wear all-over colour, feel free to start small and add pops of colour using accessories – necklaces, earrings, scarves – items that bring attention to your portrait area.
3. Match the Value of Your Hair
Another way to move towards wearing more colour is to wear colours that are similar in value to your hair. Value is the technical colour word that means how light or dark a colour or neutral is.
Read this post on choosing a few great neutrals to help you build a wardrobe in the right value for you.
Hair is a dominating feature and is often the first thing you mention about a person when describing someone to another. This is why wearing clothes in colours that relate to that hair colour helps to tie the whole outfit into your natural appearance and creates harmony and balance.
If you have dark hair, start wearing darker colours rather than light colours. If you have light hair, try the lighter shades of colours. When you match the lightness or darkness of your hair within your outfit, you will always look in harmony with your outfit
When thinking about wearing different values in one outfit, however light or dark your hair – that is the value (or depth) of colour you want in around 60% of your outfit, particularly that part of the outfit that is closest to your face (on your top half).
If you aren't sure about the value of your hair, check out this post on Finding Your Ultimate Contrast.
4. Start Wearing More Medium Value Colours
Rather than going dark all the time, and yes, I know it's totally practical, and wearing white jeans is so much less practical, but even with light colouring you don't just have to wear all super light clothes. Instead rather than wearing dark all the time, go for something more medium in value instead.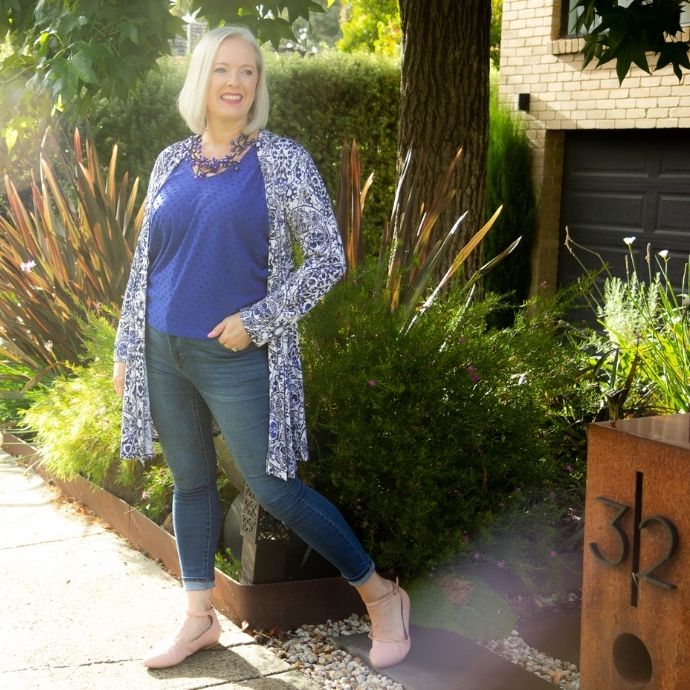 You can then add a lighter colour near your face, if you have a medium value bottom half.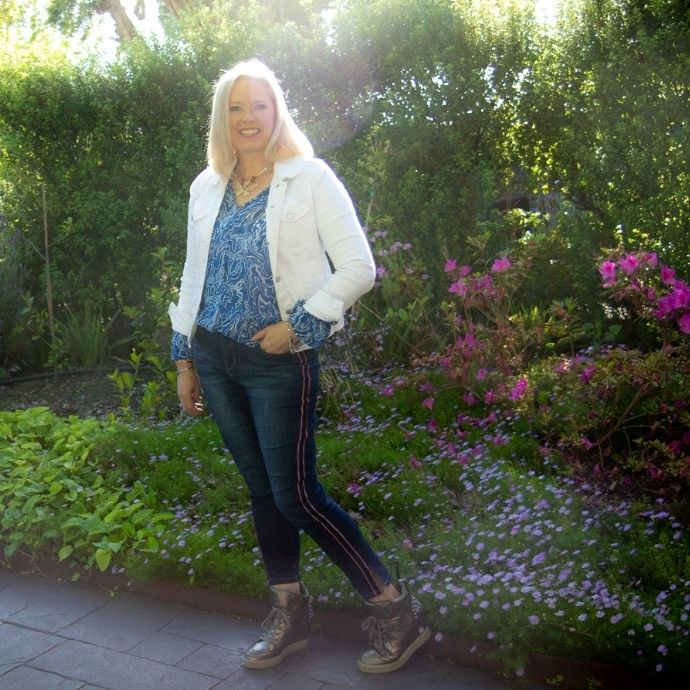 Here I've stepped through the values from darker to lighter, with a topper in a light more similar in value to my hair. Blended patterns can be a great tool to help you do this.
Wear Your Dark Bottom with a Medium to Light Top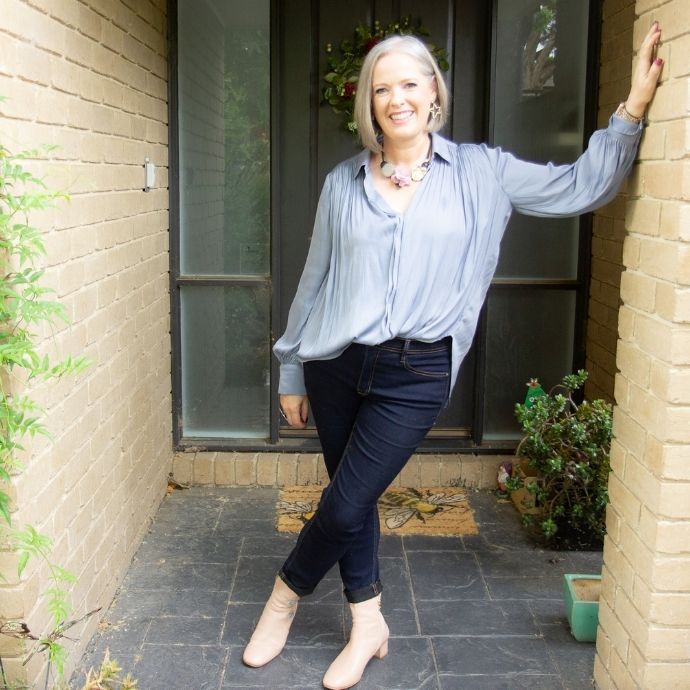 Here I've gone for a light grey shirt with my dark bottoms. Yes I know my value contrast isn't as good as it could be (and remember they are all guidelines not hard and fast, never to be broken rules).
Another option if you still have those dark bottoms (like I do) then make sure your top is lighter than the bottom. In winter when I wear darker stockings (and often boots) wearing a lighter over a medium top, and darker tights.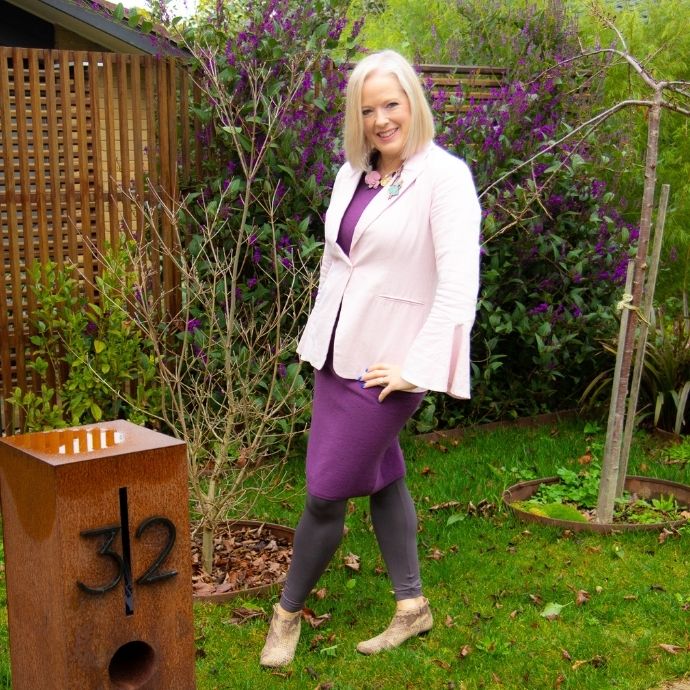 Another option is to wear your darker column of colour, like I have below, with dark navy jeans and top, and they layer a lighter value topper plus scarf over the top to diminish the overall darker value.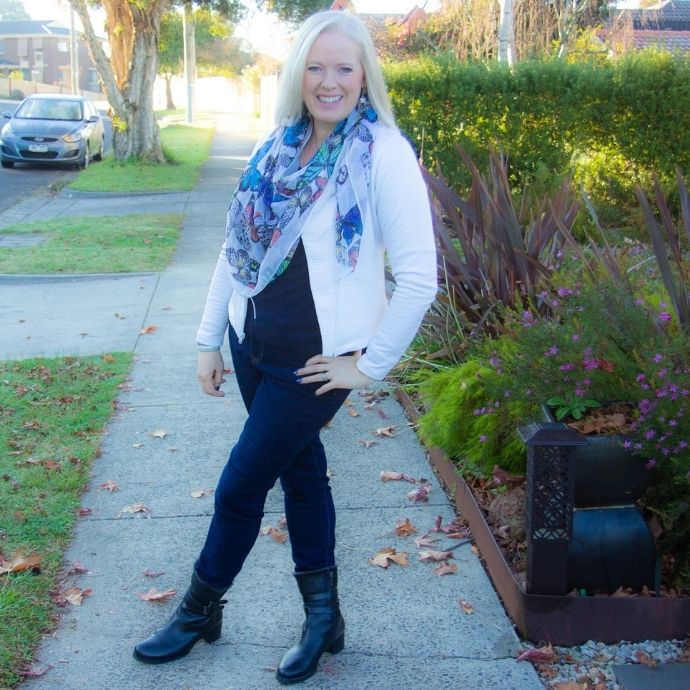 Because this scarf has medium value butterflies on it (the pattern) it creates that step between dark and light to reduce the overall feeling of the value of the outfit from high contrast to medium value contrast.
So there are a few ideas on how to keep wearing your darker items when you look best in a light ideal value. But as they wear out, go out of fashion, or no longer suit your lifestyle or body, replace your darks with medium and lighter colours and neutrals instead.
Get more tips on adding colour here
How to Find Your Ultimate Colour Contrast – Your Three Step Process
What's Your Ideal Value and How it Creates Balance in Outfits