How Do You Plan a Colour Scheme for a Wardrobe Capsule?
If you have a colour palette from a personal colour analysis this tool makes it super easy. But even then, where to start?
Start with Your Hair Colour
The first place to start when choosing the neutrals to base your wardrobe capsule around is with your hair colour. You can choose 1 or 2 neutrals that are within your hair. If you have multi-tonal hair, like many greying heads, or if you have highlights and lowlights, these are a great place to start as they will work well with you!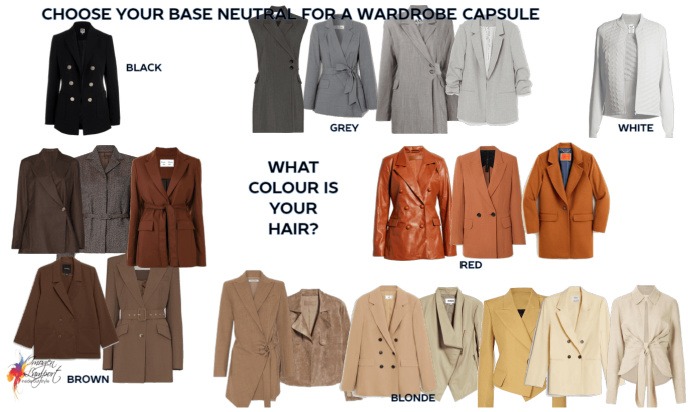 So, if you have black hair choose black.
Brown hair, choose a similar shade of brown.
Red hair, choose a cognac or tan that is similar to your version of red.
Blonde? Find the kind of neutral that relates well to your hair colour.
Simple!
Look Into Your Eyes
Another place to find good neutrals is to repeat colours that are within your eyes.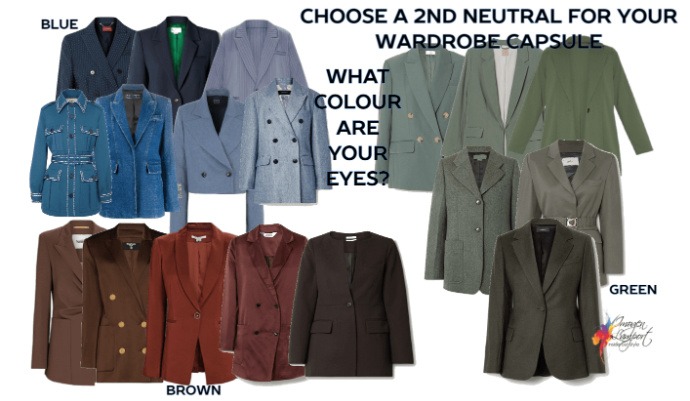 If you have blue eyes, you will find the softer grey blues, and navy shades can be a perfect choice. Green eyes? If they are warm look for olives in both lighter and darker shades. Brown eyes may be more bronzed, more burgundy or more golden, check yours our and find brown tones that are similar and will provide a perfect backdrop to your colours.
Then repeat your eye colour in a variety of garments as well – though the more colourful, less neutral versions of these colours.
What Are Your Skin and Lip Enhancers?
Skin and lip enhancers are contained in your skin and lips (ergo the name). These may be shades of orange, coral, pinks, reds, burgundy and even red-violets, depending on your skin (you'd be amazed at the variety of different colours you see in people's skin and lips).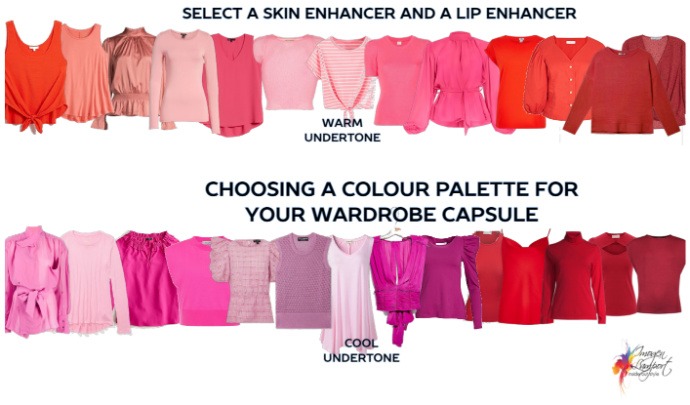 If you have a warm undertone choose the warmer tones of orange, pink, coral, red and burgundy. And of course, if you're cool, the cooler pinks, reds and plums are going to make you look healthy and alive.
Build Your Capsule Colours Around a Patterned Garment
Now if you want to get tricky, look for a garment in a pattern you love that has at least two of your signature colours (hair, eyes, skin, lip enhancers) in it, and then start building a capsule around the colours within that patterned garment.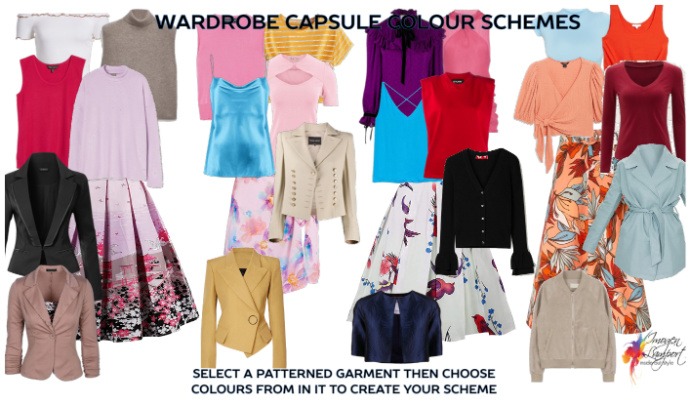 Here are four examples using patterned skirts as the basis for the colour scheme, let's look at them from left to right:
Far left, this would suit someone with cool colouring and dark brown to black hair, fair skin and blue or brown eyes.
2nd left, will suit someone with warm light colouring golden blonde hair, and turquoise blue eyes.
2nd from the right, will suit someone with warm dark brown/black hair, and fair skin
Far right, will suit someone with warm medium-light blonde or greying hair and brown or blue eyes
It's important to remember when building a capsule, that the colours of the tops don't necessarily need to go together as you are unlikely to wear them at the same time. The tops need to work with the bottoms, and the outer layers (cardigans/jackets/coats) for maximum versatility.
Wardrobe Capsule Colour Scheme Examples
I've put together a couple of capsules, one warm and one cool to show you more about the process of building your capsule around your colours and also using patterns as often people feel they can't use patterns in their capsules.
Wardrobe Capsule for Warm Green Eyes and Mid-Brown Hair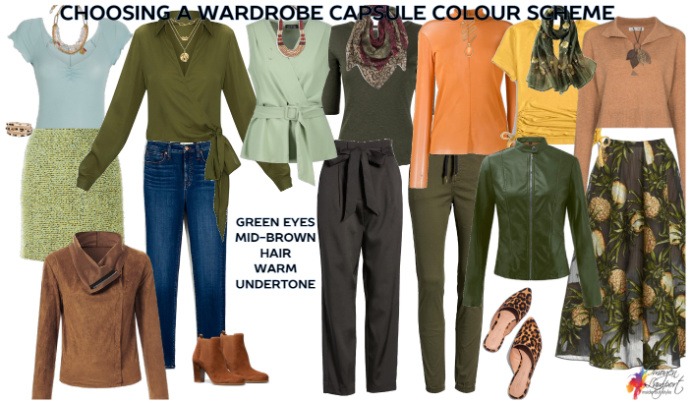 There are a plethora of greens in this capsule as you will always find that there are are multiple different shades of green within your eyes and can therefore select a few and are a great place around which to build your capsule. I've chosen two green based skirts with patterns, one tweedy that has a light blue and yellow fleck through it, the other the pineapple skirt. From there I've found a skin enhancing top in orange, a yellow top that works well in colour with both skirts and a warm blue top that's colour is within the tweed.
I've also chosen two jackets, one in the olive green (eye) and the other in a brown that would be a hair enhancer, which is a great colour for shoes, coats, bags and belts too.
Then I've selected a variety of accessories, these don't need to work with every piece, and you can add more interest, pattern and colour into your capsule if you choose using your accessories.
Wardrobe Capsule for Cool Blue Eyes and Grey Hair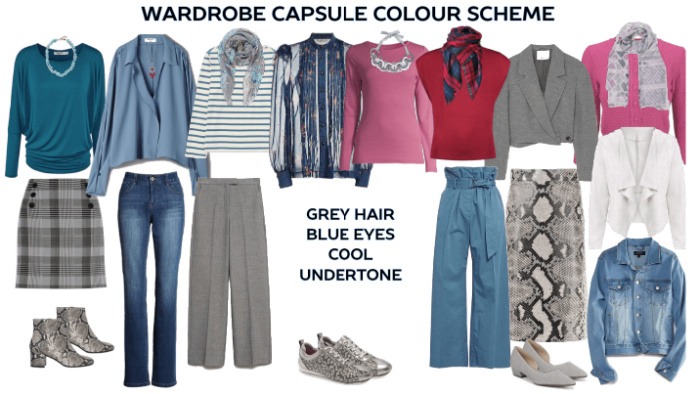 Here in this capsule for someone who is grey or greying and has a cool undertone, with blue eyes I've made this selection.
As blue is a signature colour, I've repeated this in a number of ways through the capsule, blue jeans, blue and teal tops, blue pants and a denim jacket, plus a floral chiffon top with a blue background.
Then I've repeated the most likely multi-tonal grey hair colour (most grey heads are not just one hair colour but is many lighter and darker shades of grey) which is why I've chosen grey background patterned skirts – one plaid and one snakeskin with a range of lighter and darker greys. The grey trousers are also a tweed which gives them a harmonising multi-tonal effect too. Then I"ve repeated that grey in patterned grey shoes (as when you pop on a shoe in your hair colour, it creates a top-and-tail (bookend) effect that is very pleasing aesthetically.
The other tops come in skin and lip enhancing pinks and reds, plus a range of scarves and accessories that pull colours from this capsule and relate to these items.
Using Your Colour Palette
If you have a colour palette from a personal colour analysis, the first colours to look for are your signature colours (hopefully these have been marked for you), these will be your eye, hair and skin/lip enhancers, along with some intensifiers (these are often colours that are complementary on the colour wheel and make the colour pop – so a chartreuse green that makes your red hair look brighter for example).
If you have your signatures this makes following this guide super easy (like it's seriously almost done for you). If you don't have signatures marked, go through your colour palette whilst looking in a mirror in great natural lighting, and pick out the colours you see in the palette that are contained in your skin, lips, eyes and hair – these are your signatures. Here are more tips on finding your signature colours.
Because the colours within a colour palette are designed to work well together because they have the same colour properties,
If you'd like to discover your best colours (the ones that suit you today, not the ones that worked 10 or 20 years ago) I do a colour analysis as a stand-alone online service and in-person service, as well as part of my 7 Steps to Style program (which also includes body shape analysis as well).
Want more tips on creating a wardrobe capsule? Here are my 10 most popular capsule wardrobe posts!