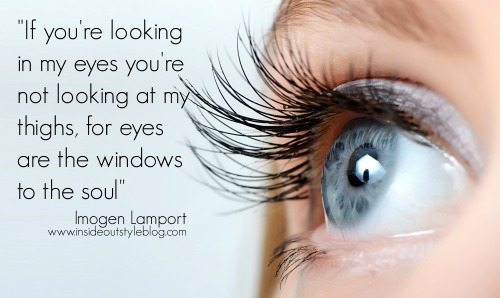 Your eyes are one of the features that I think is important to highlight every time you get dressed. They are at the centre of your communication centre (that's a fancy term for your face). If people are drawn to looking at your eyes, they don't notice much else about your body and are certainly not looking at your hips/butt/thighs/stomach/whatever you tend to dress first because you worry about it.
When you're figuring out your eye enhancers, look at all the colours in your eyes. You will see there are often a number of different colours in there. You can use any of these colours as your eye enhancers. If you have a colour swatch, sit in front of a mirror in good natural lighting (with the light sources shining on your face, not on the mirror) and go through your colour swatch, holding up the colours near your eyes, and pick out the colours that you see reflected in your eyes, the ones that make your eyes look brighter and more alive. These will be your eye enhancers. Some people will have lots of them, particularly if their eyes contain lots of different colours. Some will have less if their eyes have fewer colours. You will be amazed when you look carefully at your eyes just how many colours you may find contained within.
Eye enhancers are particularly good for:
Tops
Jewellery
Scarves
Jackets
Swimwear (remember if I'm looking at your eyes I'm not looking at your thighs!)
Here are some examples of a few eye enhancers for each of the eyes pictured.