So you've read the body shape guidelines and thought to yourself "but my body doesn't really fit into just one shape … I'm more of a mix of a couple of shapes".
Fortunately, you are not unusual and you don't have to worry that nothing works for you. All you have to do is understand how body shape guidelines work, and then take the information from each of the shapes to create your own figure flattery guidelines.
Body shape guidelines tell you:
Where to put vertical lines to elongate or slim
Where to put horizontal lines to balance, broaden or highlight
Where to add details to pull focus
Where to keep plain and free of detail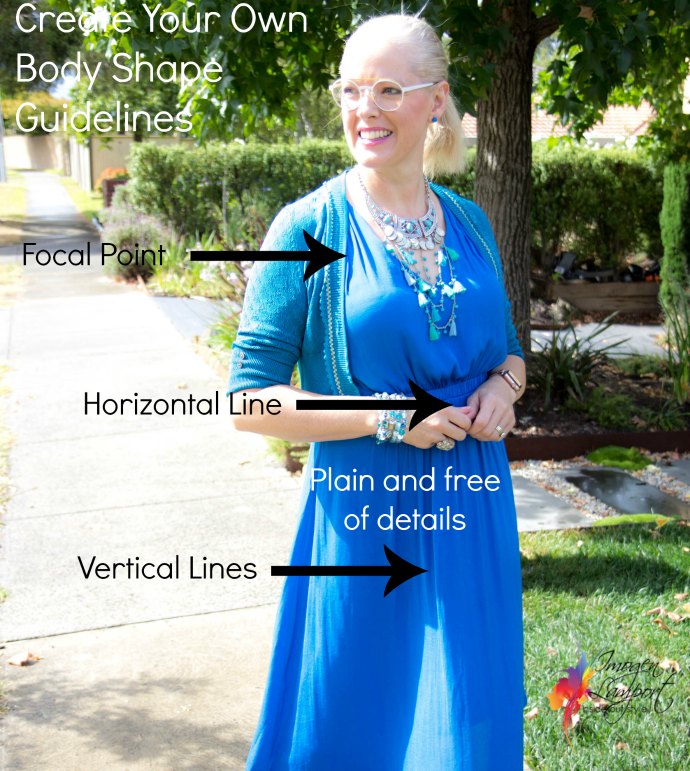 For example, just the other day I had a client with the broad shoulders of the V (inverted triangle) shape and the waist shape and lower body of the 8 (high hip hourglass) shape… so what did I do? I merged both these shapes, upper and lower body to create her own unique shape and we created her own set of guidelines!
How to Create Your Personalised Body Shape Guidelines When You're Not a Standard Body Shape
1. What Bothers You Most?
Think about your body shape and make a list of what bothers you most, what you find hardest to dress in a flattering way. This will give you a starting point.
2. Which Assets Do You Want to Highlight?
Just as you may want to camouflage areas and make them less obvious, so too you will need to highlight other areas of your body and face and draw attention to them – decide which assets you want to highlight with focal points.
Discover from your body proportions where to end your tops and jackets (this is not something that body shape will tell you).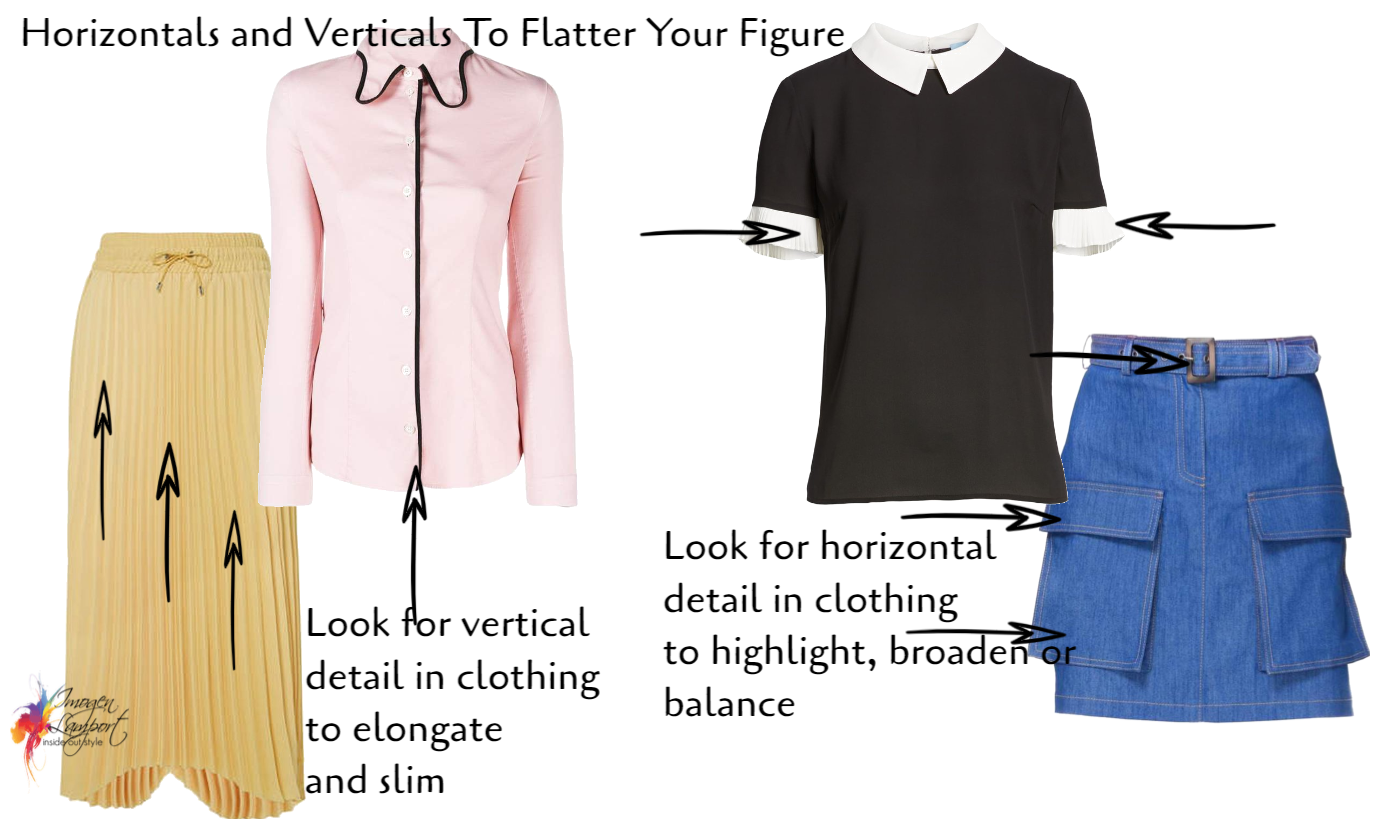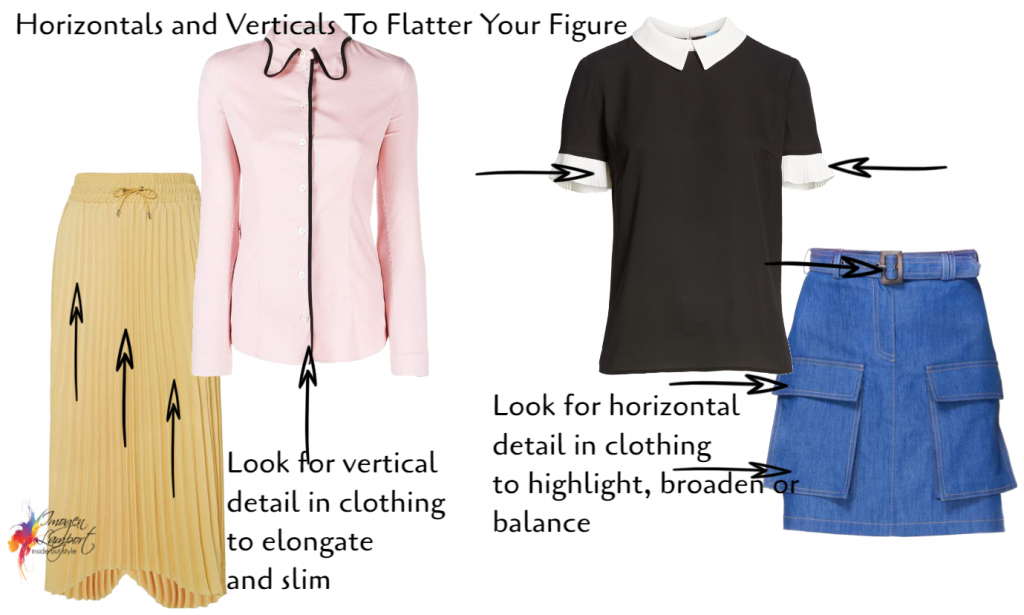 3. Learn the Art of Camouflage and Focal Points
Once you know what you want to camouflage learn how to do this using the magician's style toolbox that I teach here. From elongating and slimming with vertical lines, balancing with horizontal lines, and pulling attention with focal points.
There are so many ways to do this: such as scale, line, design, and pattern to create harmony with their unique shape. You can use colour as well to make areas of your body advance or recede. You can use prints (these are the slimming ones) to camouflage as well.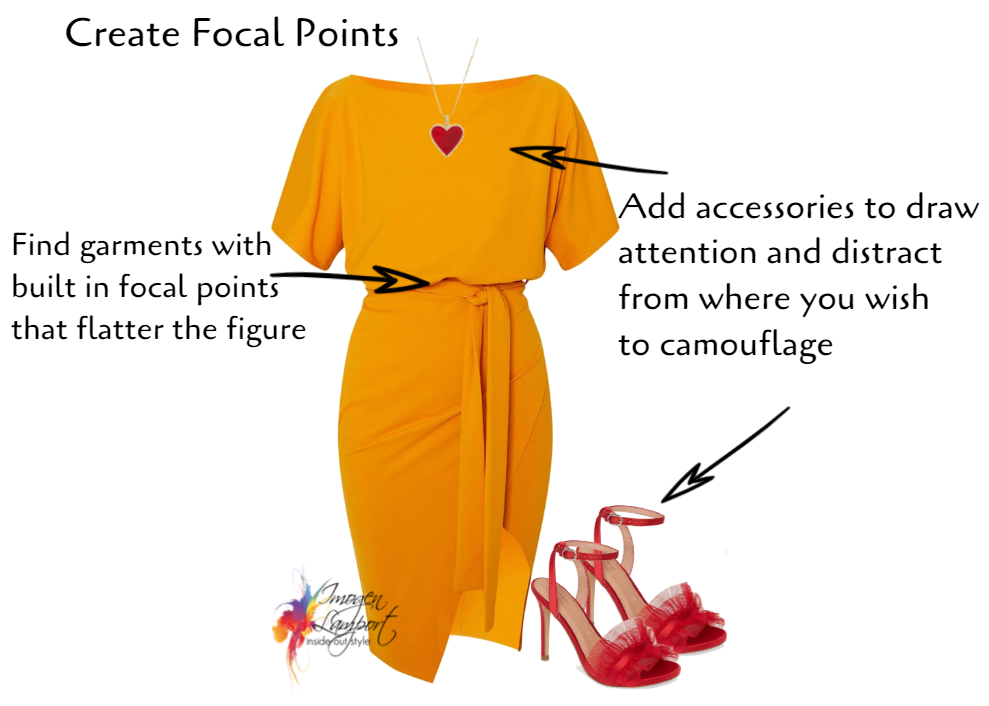 Remember that body shape guidelines are just that, a set of generic guidelines that can easily be modified and adapted to suit you. Take the information from the set of guidelines that suit your upper body, and then an alternate set of guidelines from another body shape from your lower body. Adapt these for your unique figure, just because guidelines say belting may be great for your shape, doesn't mean you have to do it!
Here are some brilliant tricks of the clothing magician to give you some more inspiration and things to try!
In the end, it's about trial and error, trying the recommendations out and seeing what really works for you and your unique shape. This is why taking photographs of your outfits can be so incredibly useful at determining your figure flattery guidelines.
Don't be put off when your body doesn't "fit" the body shape "rules". This is common, there are only a few body standard body shapes and billions of individuals who are all unique! Finding the 3-5 most important guidelines for you will make your journey to style so much easier.
Remember that body shape is only part of your figure flattery equation – discover what you need to know to put your own formula together here.
Not sure of your shape? Do my free body shape calculator quiz here or get my professional opinion as part of my 7 Steps to Style program.
Remember, your body is the only one you'll ever have, so embrace the one you have and learn to dress it and flatter it! And don't forget, that personality is more impactful on your clothing choices than your body shape will ever be!
More Tips on Flattering Your Figure
Why you should imagine your body is a room
How to decide if a fashion trend is for you
How to spot a badly designed garment for your body
How to dress with conflicting body shape advice
Why style guidelines give you wings