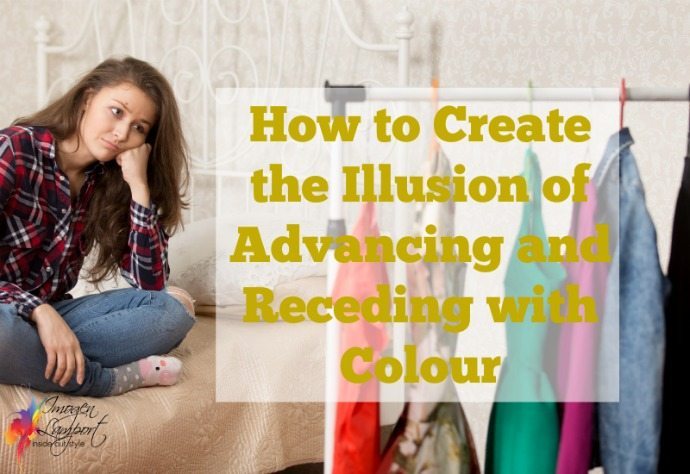 Imogen,
I am part of the evolve your style program and I have an issue for you to address. If you've already written a post regarding this, could you share the link? I am a v shape with a somewhat short waist. I am 5'4 so slightly petite. I want to have my upper body visually recede and draw attention to my lower body as this is where I am slimmest. I have really been noticing people who do this well and not so well.
My coloring is warm and zesty. light khaki or beige pants seem to work and also white pants. However if I want the top to recede do I look for shirts that don't have pattern because they will stand out and be the focal point of the outfit?
Do I need a solid top or does it just have to be a darker color to recede?
Many colors in my pallet are bright, and I like them. However, how do I wear colors around my face in tops yet have my upper body recede and look thinner? Horizontal detail on top, possibly? Am I wishing for magic here or is this possible?
Thanks for any suggestions.
Katie
How to Make a Light Colour Recede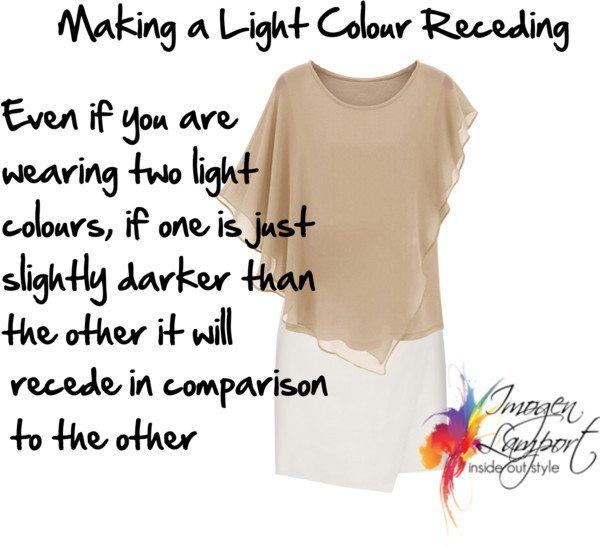 The first point to consider is that even with light colours which are more naturally advancing, just a small difference in value will make one colour less obvious and more receding than the other.
How to Wear a Horizontal Stripe Top as a V Shape
Secondly, if you wear a more brightly patterned skirt and a medium value (rather than light value) but bright top then the bottom will be more advancing than the top.
If you really want to wear horizontal stripes on your upper body, even though the horizontals are in general more broadening, remember you are looking for horizontals that are very narrow (that then become more lengthening, or in a low contrast, so they are less obvious.
Patterns for a V Shape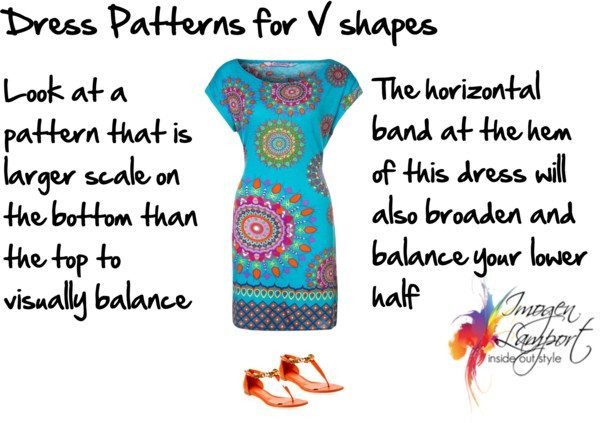 This particular dress pattern would be too large scale for your petite frame, but if you can get the concept of the kind of thing you're looking for then you may find something that has similar features but in an overall smaller scale.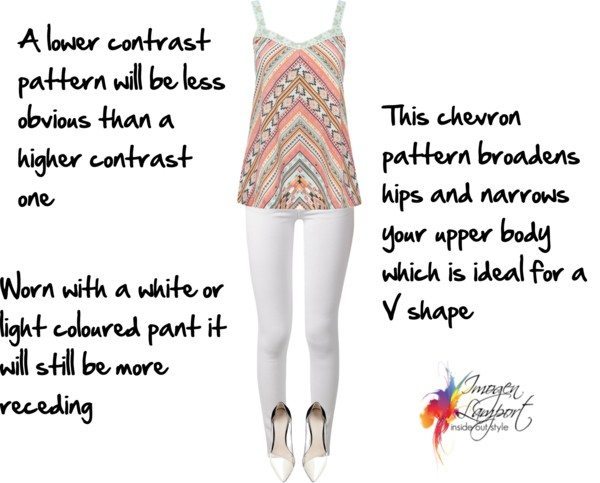 Lower contrast patternsin your tops will make them less of a feature, worn with a brighter and lighter bottom the focus will still be more to the bottom than the top.
Further reading: