Hi Imogen,
A question I'd love for you to tackle in your blog some time if you feel like it:

I have an hourglass figure, with big boobs. I look best in necklines that are reasonably low (although not barmaidy!). For example v-necks and deep wrap tops with camisoles underneath are both really flattering. They rely on keeping that triangle of skin from the neck to the décolletage bare. BUT, now I'm in my mid-fifties that skin is beginning to lose its tone despite all my efforts with sunscreen. I feel I ought to be covering up with crew or turtle necks, but "the puppies" look enormous and I look matronly in those styles. Any ideas?
Tess
So what are Tess's options?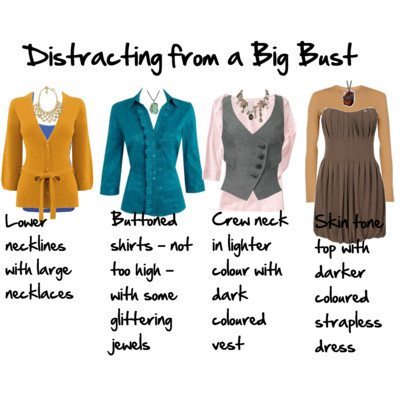 Wear the lower neckline, but put a larger scale necklace that takes up space over it so it doesn't look too bare (and the skin is more covered).
Wear an open necked buttoned shirt, leave the buttons open to the bust, but it tends to cover more skin – also wear a necklace to fill in the space.
Wear a lighter pinkish toned crew neck top with a darker coloured lower neckline waistcoat or other lower top in a darker colour over the top.
Wear a skin-toned high neck top with a darker or brighter coloured low neckline top layered over it. See the post I did about this option.
Jewellery always helps to distract from a larger bustline – wear larger scale pieces to draw attention away from your bust up toward your face.
What tips do you have for Tess?