Jill Chivers of 16 Style Types and I were asked to discuss how your body shape may change over your lifetime. We've discussed in the past how your colouring may change here. Considering transitions such as pregnancy, menopause and even just weight gain and loss. Will you shape stay the same or change?
Body Shape Changes That May Happen With Age and Life Changes
Influence of Your Hormones
As women, being estrogen dominant, weight gain tends to go onto hips and thighs most naturally. As you lose your estrogen in menopause, weight gain tends to move up the body onto the torso which is why many women talk about losing their waists in menopause.
Hormones influence how your flesh is arranged over your bones – your basic body structure.
Influence of your Body Proportions
Body proportions influence where you put on weight first – whatever proportion is shorter will tend to appear to gain weight fastest as there is less space for the extra weight to spread out.
If you have a long body, you'll find that you may retain your waist much longer (even with weight gain) than a woman who has a shorter torso.
Body proportions are about your bone structure – how far your rib cage sits from your pelvis. How long your thigh bones are etc, and this is something that you can't change!
And remember, that as you age your discs in your spine may start compacting and you may find that the length of your torso shortens, impacting on your body shape.
Exercise Can Change Your Body Shape
Swimmers tend to become more V-shaped as they do a lot of upper body/shoulder working out – which broadens their shoulder as compared to hips.
Doing lots of core exercises may tighten up your mid-section (though it may not change your body shape).
You can grow some more booty with exercise too, if you start off with a flatter bottom and get those glutes activated.
Influence of Pregnancy
The hormone, relaxin, that courses through your body when pregnant, softening ligaments to allow for more space to carry a baby, means that after pregnancy, many women who may have had a tapered rib cage, are left with a straighter rib cage, which may make their shape change – moving them from either an 8 Shape or X shape into an H shape (depending how much it has changed).
Sometimes hips spread in pregnancy too, and they often don't go back to what they were pre-pregnancy.
Breast sizes may change during pregnancy and breastfeeding, possibly making your body more top heavy. You may find (like I did) that your breasts don't get smaller afterwards, but for many women, their breasts and almost completely disappear. This is a body variation, rather than body shape issue – and it will affect how you dress, but it's more about having space in clothes and how you use the illusion of scale to compensate for these changes.
Feet can also grow around 1/2 a size during pregnancy – a few women have told me that they went back to their pre-pregnancy foot size, but for many of us, our feet stay that extra bit bigger and entire new shoe collection needs to be bought.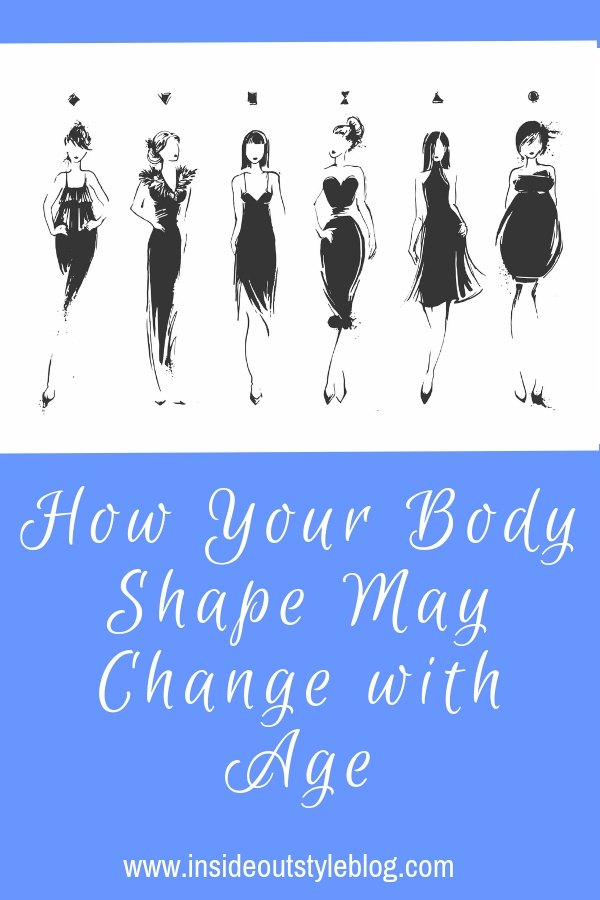 Weight Gain and Body Shapes
8 Shape – can become an H shape, if she puts on weight around the waist and loses her more defined waist, or can become an A shape if she puts the weight on in her hips/thighs.
X Shape – can become an A shape if she puts weight on at hips and thighs, or an H shape if she puts it on in her torso.
A Shape – can become X shape if she loses weight or starts a weight training routine that builds her shoulders up. She can also lose her waist with menopause and become more H or O shaped.
H Shape – can become an O shape most commonly as she tends to put on weight in her torso first.
I Shape – can become an H shape if weight gain is even, or may change into an A shape or X shape, depending on where the weight is gained.
V Shape – can become more H shape if she puts on more weight through the mid-body (or even O shape with a lot of weight gain).
Not sure of your shape? You can do my free body shape calculator quiz here. Alternatively, you can get my professional opinion with my 7 Steps to Style program which includes a body shape/proportion analysis.
Remember that Body Shape is Just One Piece of the Style Puzzle
There are so many different aspects of how your body may change over your lifetime. Body shape is just one small piece of what I call The Style Puzzle (find out all about the elements of that here). There is no particular pathway that you will follow – this is why putting together your own style guidelines as to what works for you is a layered approach – taking the elements that fit you and leaving what is not relevant to your unique body and features. An X body shape that is petite will dress differently from one that is tall. A small busted A shape will dress differently from a large busted A shape. A longer waisted H shape can play with belts in a way that a shorter waisted H shape just can't.
How do you know if your body shape has changed?
If clothing shapes and styles which used to always look great, now no longer look so good – this is most likely a sign that something about your body shape has changed and it's time to reassess your style.
More Tips on Understanding How to Dress Your Shape
What Guidelines to Follow When Your Body Shape isn't "Standard"
Why Living with a 3D Body in a 2D Fashion World Makes Shopping Such a Nightmare