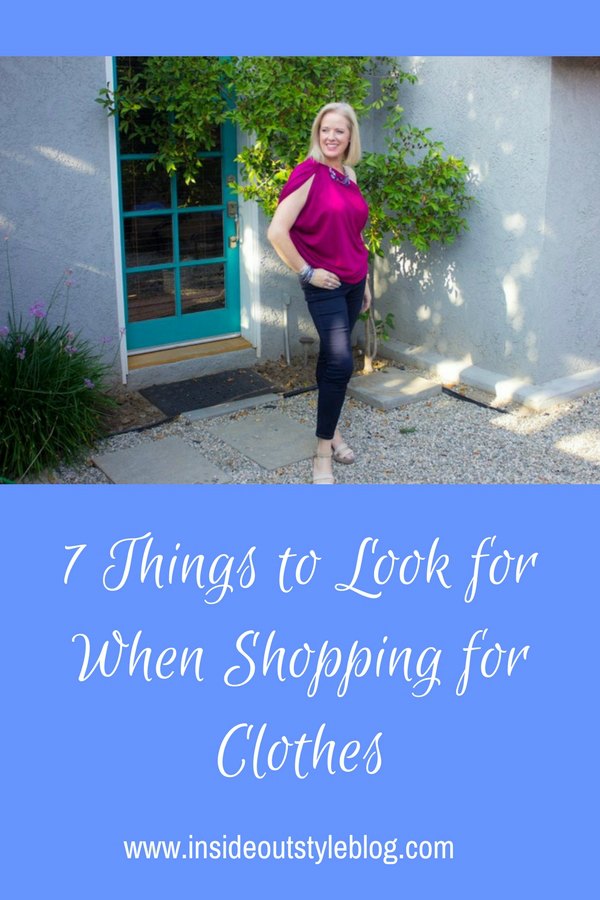 Say "Aye!" if you are frustrated by shopping because what looks great on a hanger doesn't look great when you get it into the change rooms and try it on your body?
We are led to believe that all women LOVE shopping. That all we want to do is shop til we drop, day after day. In fact, there are movies (Confessions of a Shopaholic) and magazines devoted to shopping, and yes, some of us do shop more than we need (though this can often be from frustration of never actually finding anything to wear that flatters, which is why I developed my 7 Steps to Style program so you can leave all the stuff that's not going to look good on you in the store and only bring home what does work for you).
But I can tell you from my over a dozen years working as an image consultant (personal stylist), that most women tell me that they either don't enjoy shopping, or actively hate it.
From my experience I also know that the reason is usually because it's almost impossible to find anything that looks great on. What seems like so much choice available boils down to very little that actually works for you.
3 Major Reasons Why Women Hate Shopping for Clothes
Frustration that stores sell a very limited range of colours (and lots and lots and lots and lots and lots of black).
Frustration that stores sell a limited range of shapes (whatever the latest trend is) with no thought to how many women bodies are built (height, distribution of weight etc.) made with pattern blocks that suit a small size but when scaled up are not flattering on a larger size.
Frustration that stores sell a limited range of sizes (given that the "average" woman is around a size 14-16 in Australia, a 16-18 in the USA, and similar results found in many other countries) and that sizing is completely inconsistent both within stores and from store to store (but I found a great tool in this article about sizing that allows you to see how many Australian brands differ in sizing and which ones are better for larger or smaller busts and hips)
Then there is is the concept of "hanger appeal", that is, a garment must look good hanging on the hanger in the store to make you want to pick it up and take it into the change room.
The problem with hanger appeal, is that your body doesn't look anything like a coathanger. Clothes will curve and shape around your 3D body, whilst the shape of a hanger is more like a 2D shape.
What looks good hanging straight off a coat-hanger won't necessarily look great on your body. Though sadly, not everything that lacks hanger appeal will look great on too. But they can be worth trying on.
This is one reason more why there is so much disappointment when you get into the change room.
That's why whenever I'm shopping and I see a garment that looks kind of weird on the hanger, maybe a bit baggy or oddly shaped, I'm keen to try it on. Because I know that this garment was made for some sort of body to fit inside it.
Here is an example of a top I found recently. On the hanger it has little appeal. In fact in the store it was hung worse than my photo here.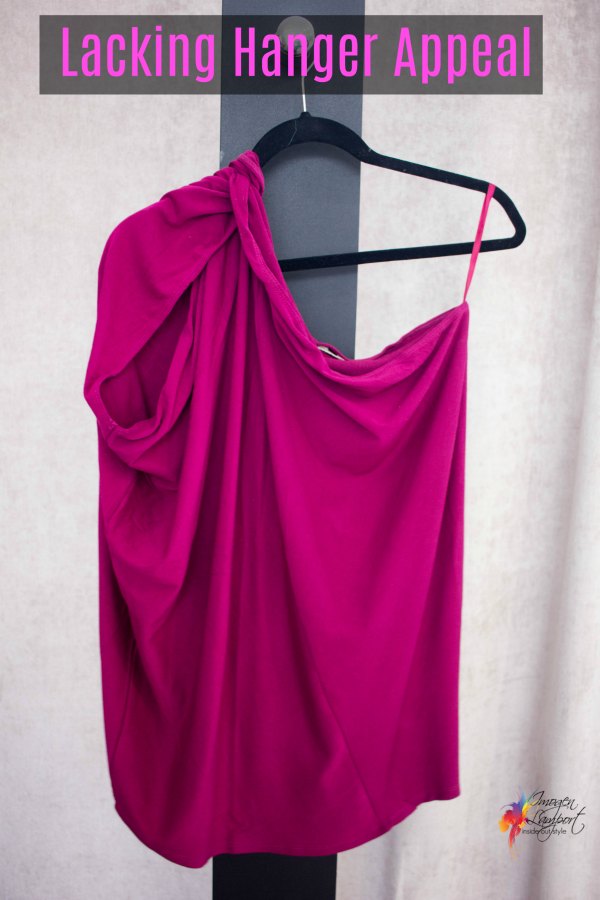 But on, I love how it's cut to hide part of my upper arm. Plus it has great draping around my tummy, hiding muffin top and tummy rolls.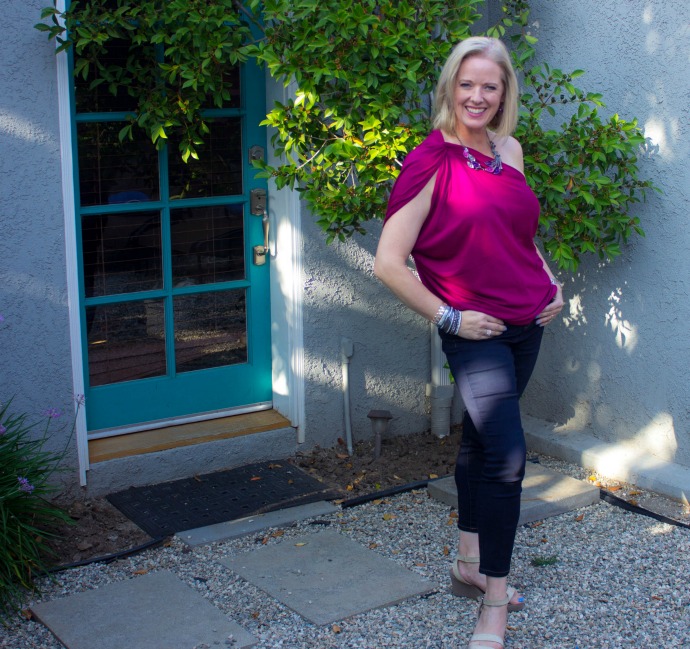 You wouldn't know that about it from how it looks on the hanger!
I mean, if shopping was easy, if we weren't all frustrated all the time, if the things we took into the change room looked good, then we wouldn't hate shopping so much!
7 Things to Look for When Shopping for Clothes
Clothes that don't look great on the hanger – they may hang 'funny'
Vertical lines in construction and detail that will help to elongate
Horizontal lines in construction and detail in areas where you either want to broaden (to balance) or highlight (as it's a great feature of your body).
Fabrics that either skim (not cling) or have enough weight they drape past any of the assets you don't want to make a feature.
Design details that distract to the assets you want to highlight
Colours that flatter your complexion (as the right colours create a face focus, away from your body)
Garments that are more easily altered if you need to make a nip or tuck, a dart or hem to make them fit on your unique shape.
Knowing that your body is unique and has its own proportions, variations and shape, and understanding that manufacturers are just trying to fit the maximum number of bodies (as in, can you actually get the garment on) rather than making your body look good, is also imperative.
Also knowing which shapes and styles tend to work best for your body shape (and if you're not sure of your shape, do my body shape calculator quiz here) will help you ignore clothes that aren't going to have a hope of looking good on you too. Don't waste your time on them!

Linking Up to High Latitude Style, Not Dressed as Lamb, Style Nudge, Style with a Smile