When choosing prints and patterns for your outfits – what's the easiest way of knowing that a print is going to harmonise with you and your colouring?  There are two elements of this – the colour contrast of the print and the value contrast of the print.
If you're new here on Inside Out Style – you're probably wondering what I'm talking about when I say colour or value contrast (you won't have read about them in a fashion magazine).  Simply put, contrast  – which is the difference between two things – in relationship to either colour (so more different colours versus more similar colours).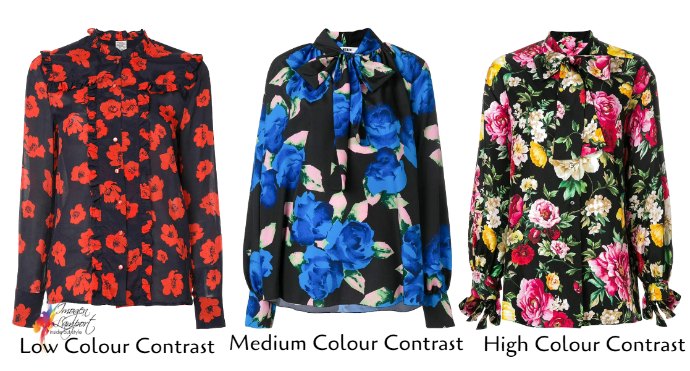 Or value contrast (the difference between the lightness and darkness of the colours).  Below is an example of different value contrast prints.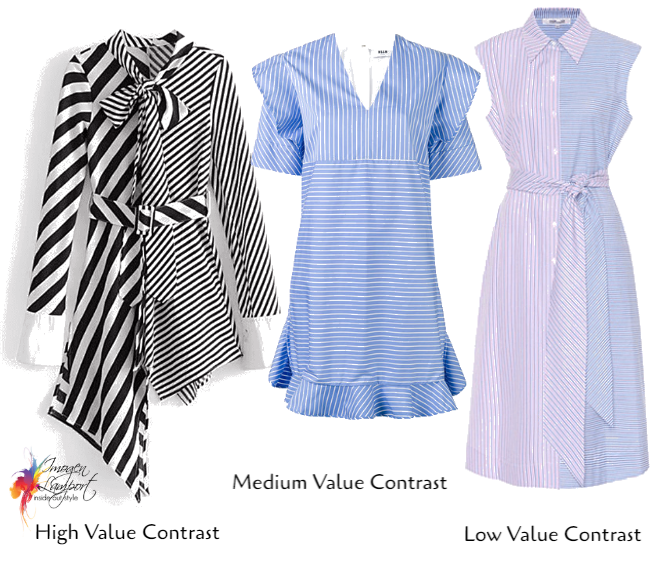 You can find out more about colour contrast and value contrast and how to find your ideal contrast levels with my 3 step process here.
Low Colour Contrast
Monochromatic
Just one colour at a time – think shades of green together, or shades of burgundy and pink together (as these are actually shades of red).  Choose a pattern that is only one colour.  To stay monochromatic – team that print with another garment in the same colour.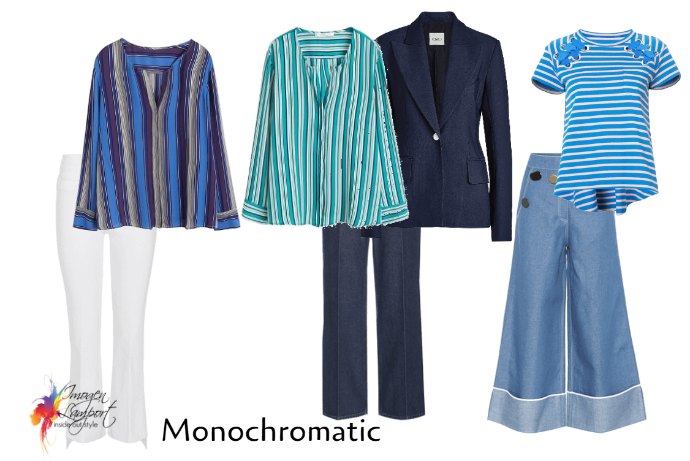 Here is a neutral/monochromatic outfit – shades of grey – the print and the outfit all in the same palette.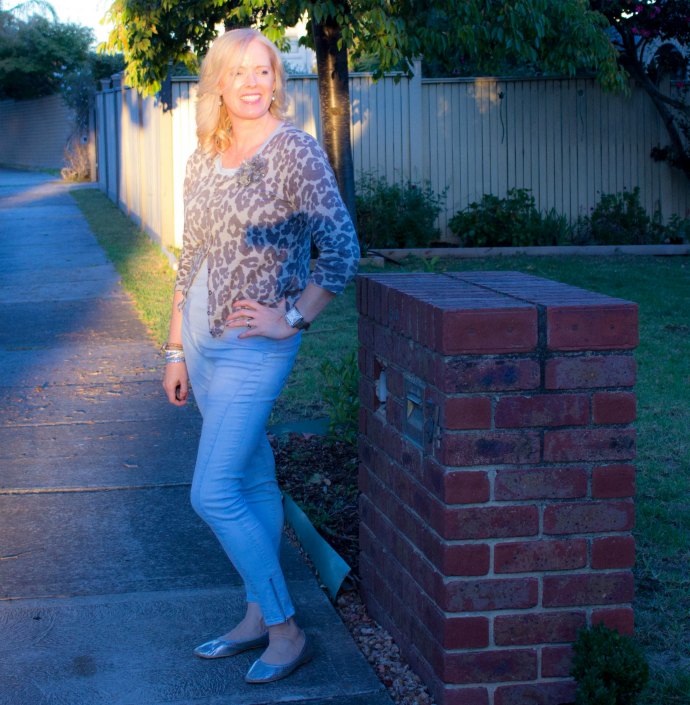 Neutral/s plus 1 colour
This is super simple – you can wear the one colour in a garment, or choose a pattern with just one colour (monochromatic) or colour with neutral).  You can then add one or more neutrals to your outfit.

Find a print you love that is monochromatic or neutral plus one colour, then team it back either with a neutral or a colour from the print.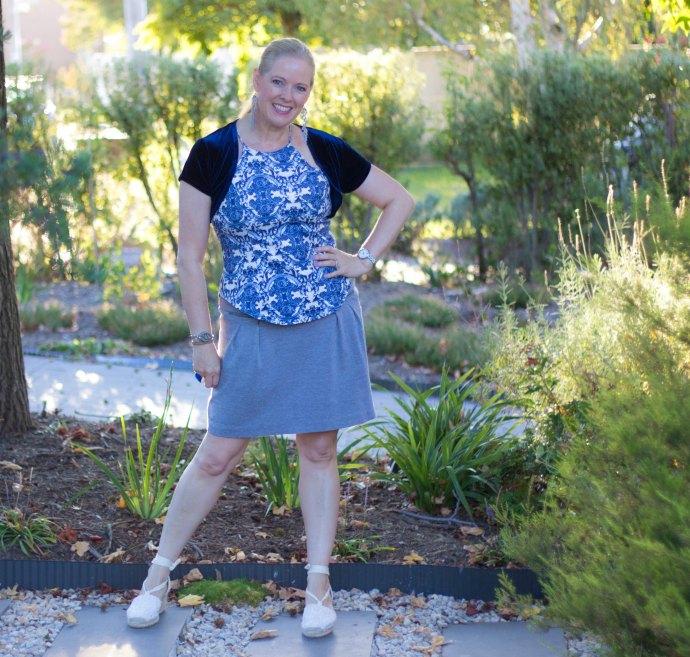 Here is a monochromatic blue and white print which I'm wearing with grey (so two neutrals- grey and white, with a colour – blue).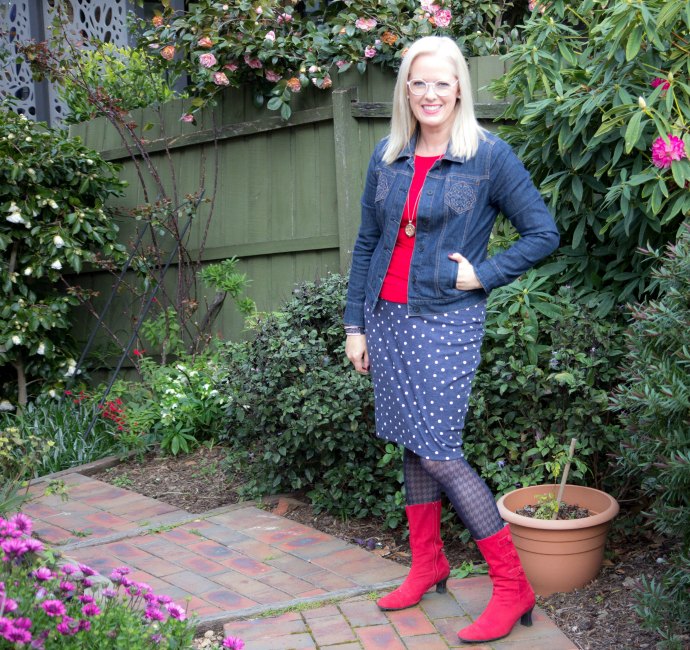 Here is a neutral plus colour outfit with pattern – both the houndstooth pattern in my tights and the polka dot pattern in my skirt.  Put together with plain red items.  The brightness of the red gives the outfit the feeling of a very high contrast.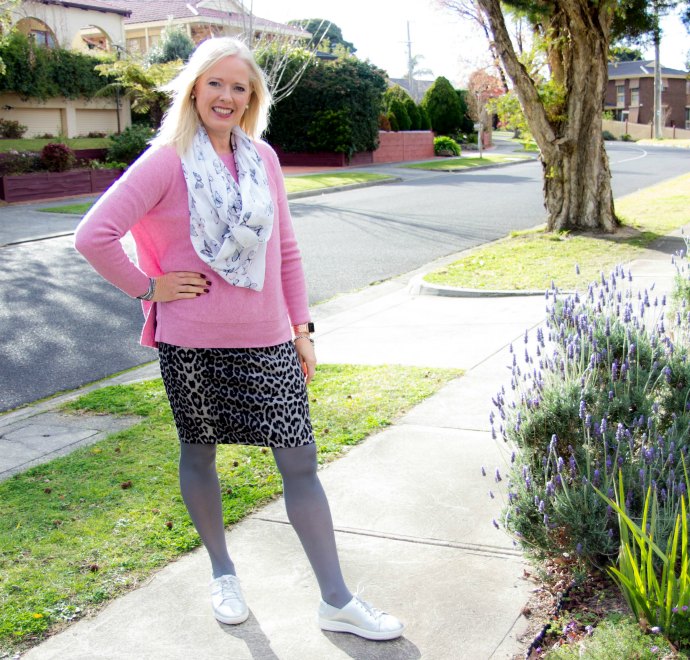 Another example of 2 neutrals plus colour – the black/grey leopard skirt and the white/grey butterfly scarf, worn with one colour – pink.
Medium Colour Contrast
Analogous
2-3 colours next to each other on the colour wheel – team your pattern with one of the colours in the pattern.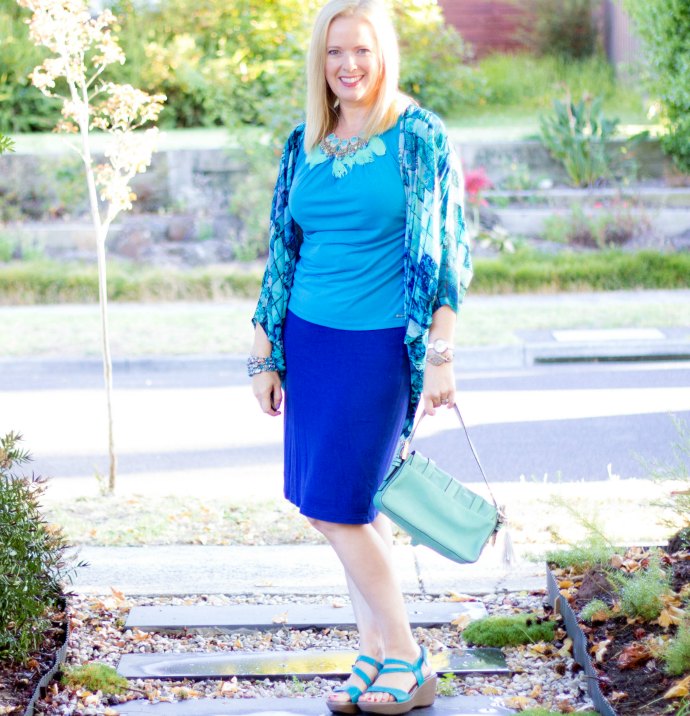 Analogous schemes – like this blue/teal/turquoise/green one makes an outfit colourful but without being too overpowering, if your natural colour contrast is lower.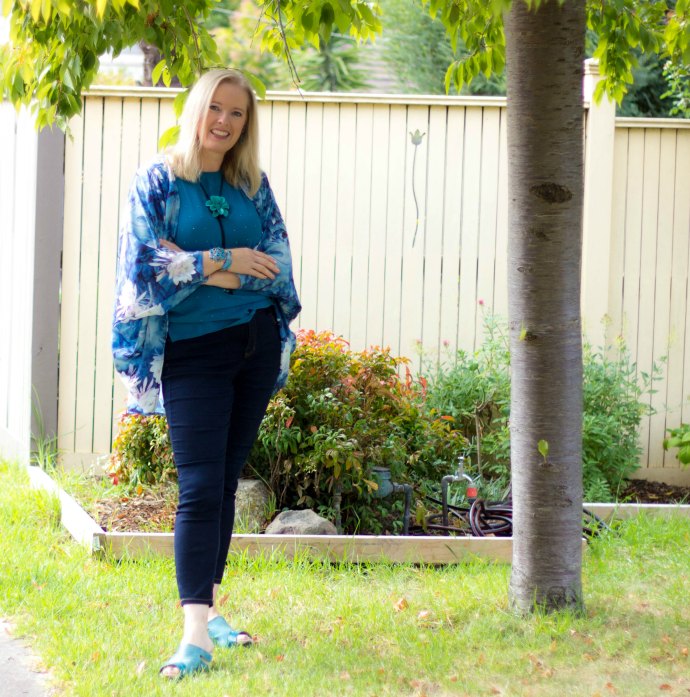 Here is another mostly analogous print and outfit – with a medium-low colour contrast print (there is a hint of soft pink in the flowers).  Notice how I've taken all the other garments colours from the print to keep the colour contrast from being overwhelming.
Neutral plus 2 colours
This could be two colours one or two steps away from each other, up to 2 colours from a triadic colour combination, worn with a neutral.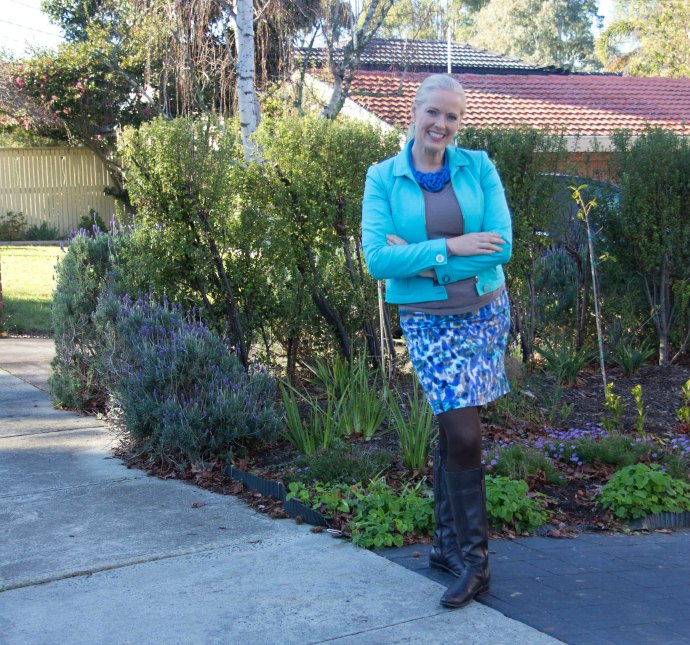 Here is a neutral plus two colours print combination.  Browns (light and dark) with an analogous print skirt – and again – I've teamed these colours back in my jacket and necklace.

Here is another example of two neutrals with a colour print outfit.  Scarves are a great way of adding in some pattern to your outfit – and this blended analogous (blue and purple with white neutral) then worn with pink (another analogous colour) brings together this outfits colours.
High Colour Contrast
3 Colours
This is often the easiest kind of pattern to find.  One that is multicoloured.  Look for one in your ideal value contrast level as well as being high in colour contrast.
If you're not naturally high colour contrast – wear a larger high colour contrast print on your lower half and then keep your top half to one colour (from the print) so that you aren't overwhelmed by the print.
Complementary
Two colours opposite each other on the colour wheel, or even a split-complementary – which is one-off the opposite colour.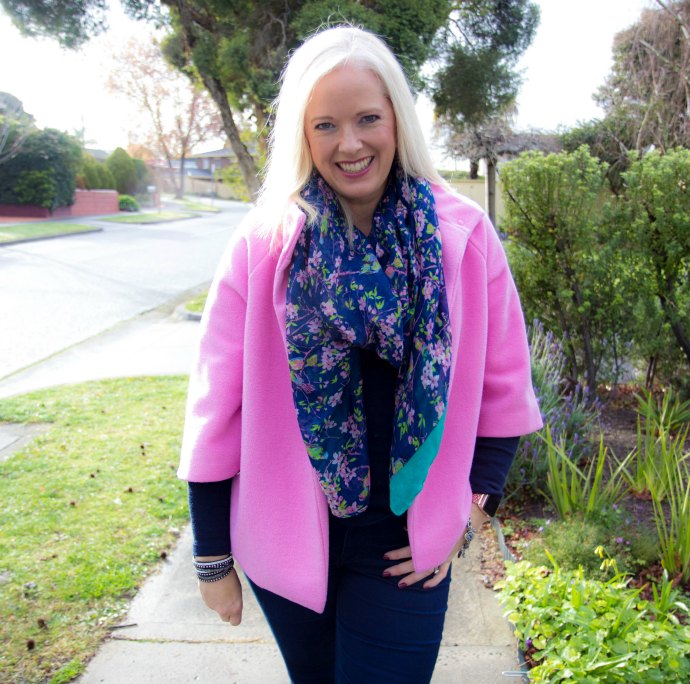 Going opposite on the colour wheel creates a bright appearance – pink and green are the complementary colours here  – but because the green is only a very small proportion of my outfit and only in an accessory, it makes the high colour contrast print easier for me to wear.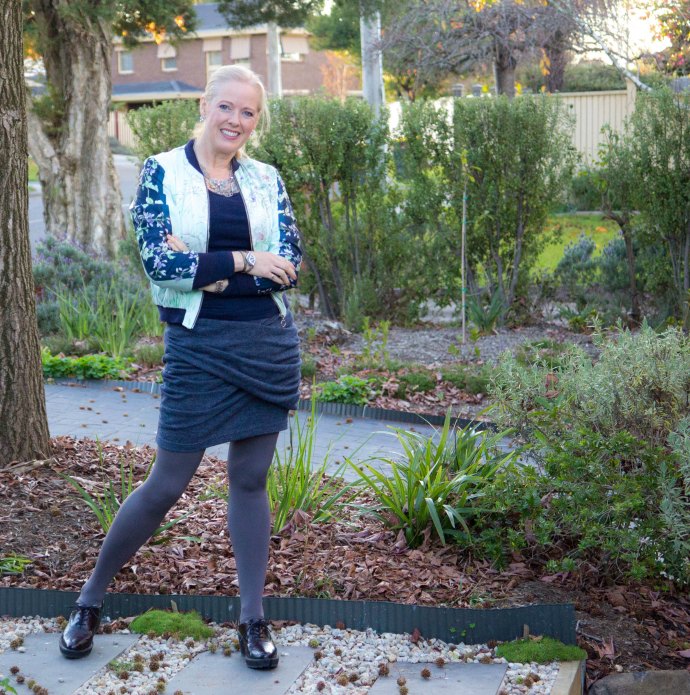 A more blended high colour contrast print (like this one in my bomber jacket) is also much easier to wear than a more stark print if your natural colour contrast isn't high.
Colour and Value Contrast
Remember that prints have both colour and value contrast in them and you want to take both into consideration.
If you are lower in colour contrast – choose a pattern like the ones below – but take into consideration your value contrast when deciding on the best print for you.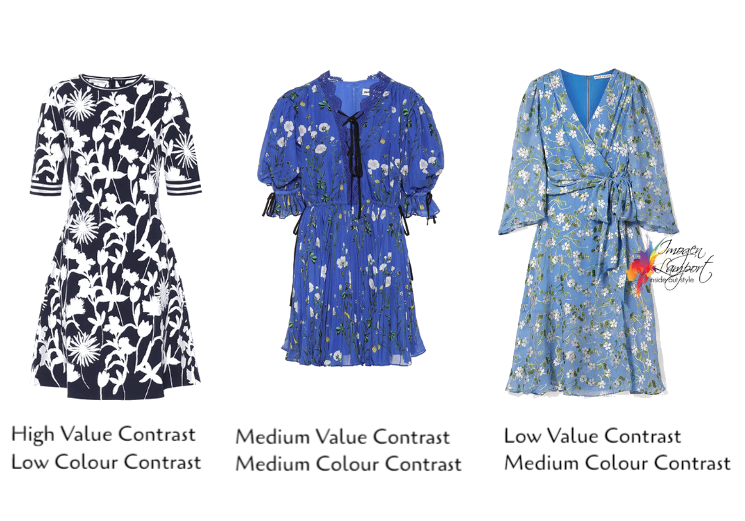 You will find that a one colour or analogous print is easy to wear if you have a lower colour contrast.
Here are some examples of different colour contrast and value contrast prints.
And just because a high colour contrast print can appear more obvious or dramatic, it doesn't always have a high value contrast.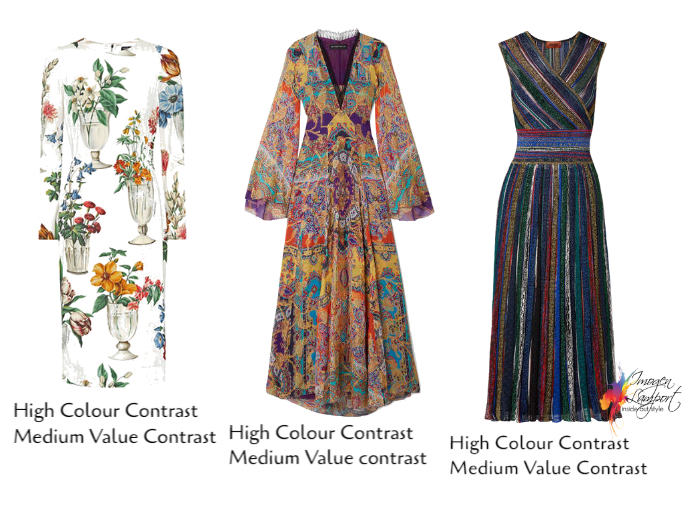 Remember that stepping through the colours from light to dark (read this to understand more), lowers the overall perceived value contrast.  And the more blended a print, the lower the contrast appears.
Not sure of your colour and value contrast and would like my professional opinion so you know which kinds of prints and patterns to choose?  You can get this as part of my 7 Steps to Style program (along with a greater understanding of the kinds of prints to choose as well as your ideal colour palette to build your wardrobe around.  Find out more here.
More Tips on Choosing Prints and Patterns
How to Choose Linking Pieces and Accessories to Co-ordinate Your Outfit More Stylishly
What to Wear: Prints and Patterns, Getting the Value and Contrast Right
How to Interpret and Choose Prints and Patterns For Your Personality
Linking up with Visible Monday, Style with a Smile, Not Dressed as Lamb, Shoe Nudge,  Top of the World