If you've read my recommendations on how to dress the hourglass shapes – the X Shape and A shape, that have the wider lower hip area, you may have noticed that the instructions are to keep the bottom of your body more boring, plain and free of detail.
Details to Avoid Below the Waist for X Shapes and A Shapes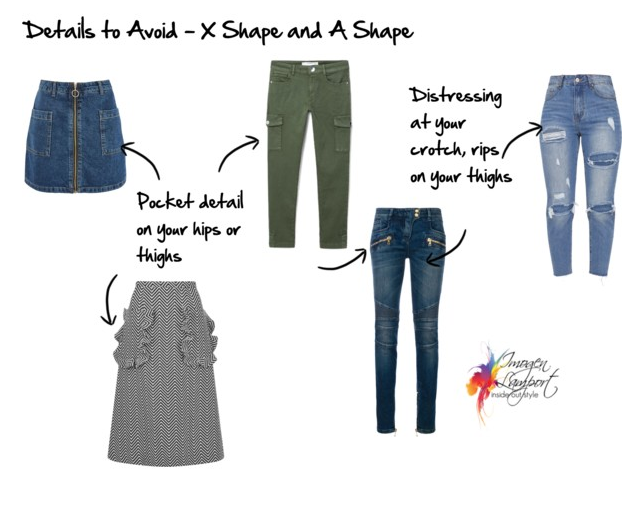 Pockets (particularly patch pockets) are the nemesis of the X and A shape bodies as they create larger horizontal details around hips and thighs that are particularly widening because they are made from horizontal details (find all about the effect of horizontal lines here) and they add a focal point to the part of the body that most X and A shape women tell me they'd rather nobody noticed.
Whiskering and Distressing Details on jeans, particularly around the crotch and thighs are other no-nos for this body shape. Again, this kind of detail just draws your eye to that part of the body (and I'm not sure about you, but my crotch is not an ideal focal point for my outfit!).
How To Wear Pattern Below the Waist
So you're avoiding those nasty pockets and whiskering, but how about a lovely patterned skirt?
Absolutely you can!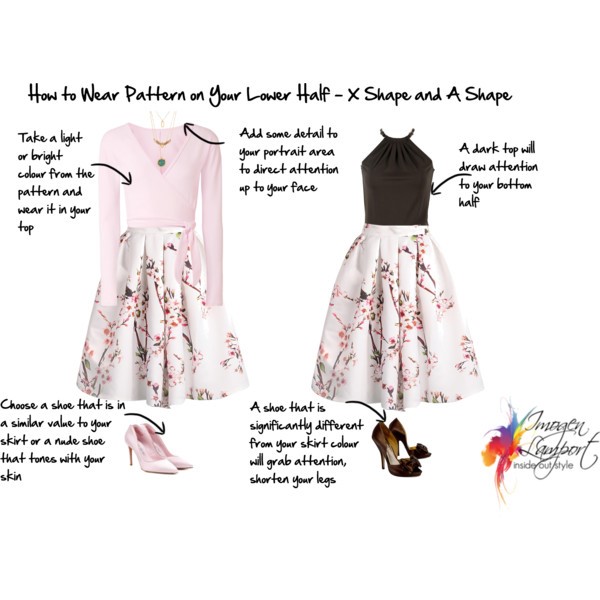 Choose a Top in a Light or Bright Colour from within the print – light and bright colours draw attention, so use a light or bright colour, rather than a darker colour from the pattern in your top.
Add a Focal Point in Your Portrait Area – as always advised, add a focal point in your portrait area with a necklace, brooch, statement earring, scarf etc.
Keep Your Shoes Tonal to Your Legs – choosing a very different coloured shoe from your legs (or hosiery if you're wearing it) will draw attention down, instead, choose a shoe that doesn't draw attention – a nude shoe is a great option.
Print and Pattern Tips for X and A Shapes
Choose busy and denser patterns as sparse patterns draw attention to each element, creating a focal point on the pattern.
Avoid horizontals, particularly wide horizontals which draw widening stripes across your lower body. Instead, opt for verticals (particularly more narrow verticals) as they elongate and slim.
Be wary of the scale of the print – the larger the scale the taller and broader you need to be to be able to carry it off without being overwhelmed by the print. Instead, go for medium or smaller scale prints.
Not sure if you're an A shape or an X shape or some other body shape? You can take my free Body Shape Calculator quiz here and then download your Body Shape Bible. Alternatively, if you'd like my professional opinion on your shape, you can get this as part of my 7 Steps to Style program – find out about it here!
More Tips on Dressing with Prints and Patterns
How to Interpret and Choose Prints and Patterns For Your Personality
3 Essential Elements to Choosing Flattering Prints and Patterns