There is not just one kind of V neck.  There are narrow ones and wide ones, deep ones and shallow ones.  Saying "wear a V neck" doesn't really tell you that much about how flattering the V neck will be on you. Here is my quick guide to choosing the most flattering V neckline for you!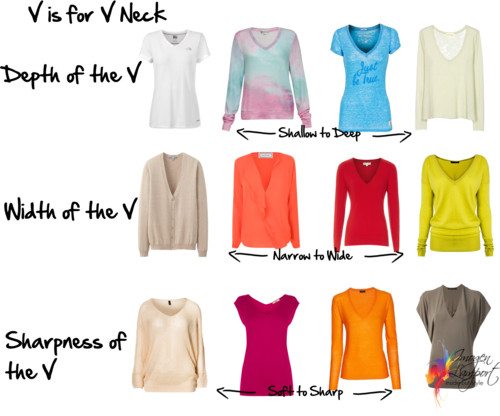 The Depth of the V Neck
A shallow V neck will make your neck look shorter than a deep V neck
A shallow V neck won't make your bust look smaller in the way that a deeper V neck will
A deep V neck will draw your eye lower and make your neck look longer
The Width of the V Neck
A wide V will draw your eyes outwards towards the shoulders making your shoulders look broader
A narrow V will draw your eyes inwards and narrow your shoulders and focus you on the point of the V (downwards)
A wide V works best for more square jaws (rectangle and square face shapes)
The Sharpness of the V Neck
A sharp V is more angular and works best with a more angular pointed chin (diamond or heart face shape)
A soft V is more rounded and works best with a more curved jaw shape (oval, oblong, round face shapes)
As you can see, there are some important elements to consider when choosing your V neck garment!  Which is the most flattering V neck for you and why?