airsty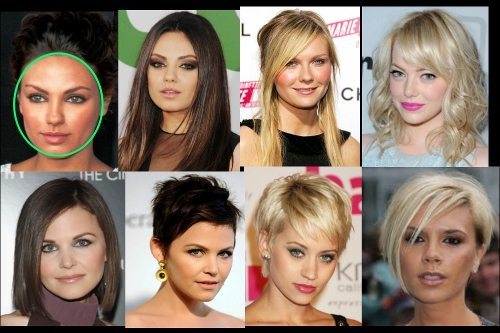 The round face has a width that is almost as wide as the face is long (a face is generally a little longer) but it's length is well less than 1.5 times the width.
Hairstyles that Work for a Round Face
Long hair – it visually minimises the width of your face and elongates it, any layers shouldn't start before your earlobe, otherwise it will create too much fullness at the sides.
Side swept fringe (bangs).
Short hair with height (it can be spiky or curly at the crown), but no width.
Long hair with waves, the softness of the waves harmonises with your curved face shape
If you have a symmetrical face you can part it in the middle, otherwise if you have asymmetrical features, part your hair on the side.
Hair styles that pass your cheeks closely to cut off some of their width.
Tuck both sides if your hair is short and the layers are growing out and you want to slim down the width of your face.
A concave bob where the hair at the front goes past your jaw, but is cut up and has fullness at the crown at the back.
If wearing your hair in a ponytail, leave some strands out to frame your face.
Curly hair is ideally cut short (with height, but not width) or worn longer past the shoulders.
Hairstyles to Avoid for a Round Face
Heavy blunt cut fringe
Any cut that adds width around the cheekbones which will just make your face look shorter and wider