Dear Imogen, I recently discovered your blog and enjoy reading it. I hope you could help me with a belt dilemma. I'm a petite H, however, I find it necessary to wear a belt with my jeans and pants, otherwise they move down to my hips and my tummy pops out. Sometimes my underwear also shows and I feel cold in my lower back. Should I try a different cut, lower waist, or something else?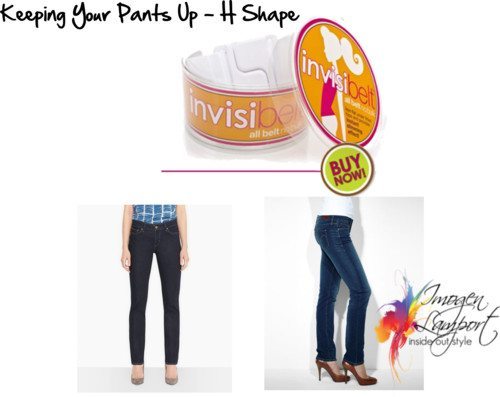 Levi s slight curve straight leg

Yes, one of the issues of having little definable waist, is that trousers, jeans, pants all fall down due to that lovely gravity that keeps us from floating away. H shapes, V shapes and O shapes all suffer from this (As, Xs and 8s can wear a trouser that comes in over their hips onto their smaller waists, so their trousers stay up). H and V shapes should generally go for a mid-rise jean (Xs and As are usually much better in a high rise jean).
Belting is something that may need to be done with your jeans and pants. Small alterations may help, but often not enough with your H shape. I'd recommend belting your pants up, if you want a smooth line, you could try the Invisibelt or the Beltaway which are smooth and don't add bulk to your waistline, then you can easily wear your tops over the belt without a bulky buckle showing through your clothes.
When you're buying jeans, try and find shapes that are aligned with yours – for example, Levis make a Curve range with different hips/waist ratios, you may find that their straightest jean (called a Slight Curve) works for your shape. You will find that different jeans manufacturers make different cuts. It would be worth going and describing your problem to the sales people in your local jeans store and see what options they have, you might be pleasantly surprised!