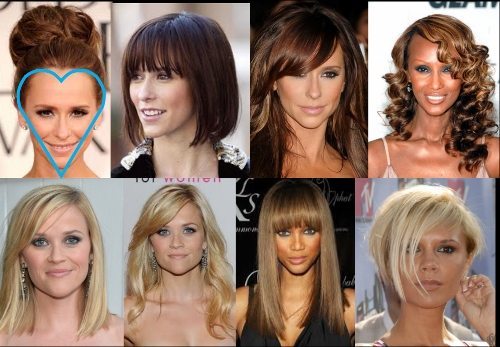 A heart shape face is broader at the forehead (that's the broadest point of it) and narrow and pointed at the chin (a longer chin rather than the shorter squarer jaw shape of the rectangle or square). It may or may not have a widow's peak, and can also be called an inverted triangle.
Some heart shapes have a longer jaw (such as Jennifer Love Hewitt), so need more volume around the jawline, others have a shorter jaw (for example Victoria Beckham), and can wear hairstyles that are more cropped.
Hairstyles that Suit a Heart Shaped Face
A fringe (bangs) is great for you, whether full and straight, or side-swept, it will soften your more prominent forehead.
Ideally, have hair that is longer than your jaw as it helps to balance your more narrow jaw and your broader forehead.
If you have shorter hair, have some volume at the nape of the neck, rather than having your hair cut in severely.
Curly hair works well with some length rather than short with a heart shape face.
Bobs go past the end of the jaw or down to the shoulder are great
A deep side part with a side-swept fringe will frame your cheekbones
Curls and waves in the ends of your hair
Hairstyles to Avoid
Cropped styles with height and fullness on the top (and no fringe)
Short blunt fringes don't work as they make your forehead appear wider.