Following on from my Colour Personality Quiz and the descriptions of how colour choices fit into the six personality dressing styles, I wanted to some frequent thoughts and comments that you may find helpful.
Most Don't Choose Just One Style or Set of Colours
Going all the comments that all you lovely readers have written, many of you have discovered that you don't fit neatly into one style, but are a mix of 2 or 3 styles.
You Like the Colours But Not the Styles or Details
You also found that you may like the colours of one personality style, but not the design details. This is what I tend to expect to see. People are not one dimensional, they are each unique, so even if we have some similar personality traits, how we like to express them in our clothing can vary greatly from person to person.
The personality styles are just a guideline to help focus on elements of dress.
A comment I received shows just this mix of different styles that each of us has:
Wow. These are definitely my colors but not many of them are articles of clothing I would wear.Maybe this is the reason I find clothing shopping so difficult. These colors flatter me but the styles do not, and I would never wear them.
Help?
I'd suggest to this reader that she should wear these colours, but choose her design details from other styles. Her jewellery from one style, shapes and fabrics, prints and patterns, structure or formality and design details from others.
I tried with each image set to show some of the design details you might find in a more 'pure' form of that style, but you will find that clothing styles come in all sorts of colours.
Understanding the Influence of Your Personality on Your Style
The more you understand about your personality style, and what excites you for each element of dress, the easier it is to shop and put together an outfit that truly reflects who you are. This is why Step 1 of my 7 Steps to Style program is focused on delving deeply into the impact of personality and how you can express your personality through your clothing and accessories.
Remember, just because you may identify with the personality of the Feminine and even like the colours of a Feminine, doesn't mean you ever have to wear a frill or flounce. You may just choose fabrics that are more floaty, or choose styles that show the female shape, or one of the other many elements of the Feminine personality style of dress.
Why not start a Pinterest board and start finding pictures of clothes that appeal to you. It may be one element – say the drape of the fabric, the pattern, the colour or design details. As you find more and more pictures that entrance you, you will start to see what really appeals to you. Then, when you shop, it will be much easier to know what you're looking for, and not settle for what is not you. If shopping ends up too hard, you may find that either sewing your clothes or having them made for you is a better option as you can control all the design elements.
Real Life Examples of Mixing Personality Styles
It's great to look around the net at other bloggers who show their style – don't try and copy, but you can start to see how different styles are melded together, and how they work for each person.
For example, Audi, at Fashion for Nerds has a strong creative side, but is also often very feminine, and there is almost always an element of drama in her outfits. Here we have mixed patterns (creative) double layered dresses (creative), high contrast colour (dramatic) in a flared dress or two (feminine) and a comfortable shoe (relaxed). And then, of course, there are Audi's tattoos (rebellious).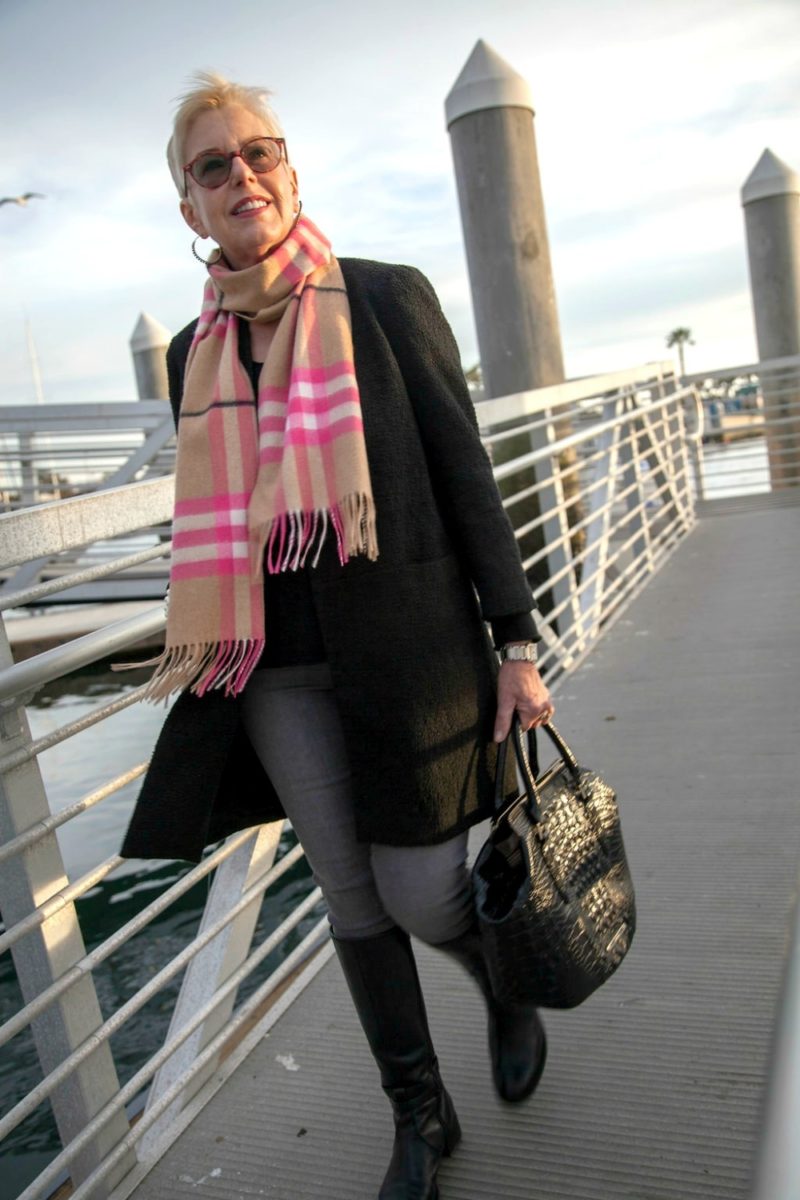 Here is Sue from Une Femme – who has a relaxed and elegant chic style. The scarf is in a relaxed fabric (wool) and pattern (check) but has a feminine pink stripe that is also a little dramatic and bold. The boots are fine leather and flat (relaxed, elegant chic) but in black (classic), the jeans are relaxed in style but in a more elegant chic colour of grey. The handbag is an elegant chic crocodile style and texture but in a classic colour. The coat is classic in style and colour, but nubbly textured which makes it more relaxed.
Here are a couple of posts I've also written where I explain interpreting personality styles of my outfits – one starring abutterfly topand another with my Picasso print tunic.
So you can see how all different elements of personality styles can be put together to create a style that is uniquely you.
Are you inspired to figure out what is your personal style?
Read About Each of the Colour Personality Dressing Styles