Hi Imogen–I just found your blog recently and I really enjoy it. I have learned some great tips and recently bought a shirt in a style that you recommended. My question is about hosiery. I do not wear hose often but as I am 51 now I am trying to keep "current". I have read that sheer nude hose is a big NO-NO. I live in the northern US and in the winter my legs are very pale and would look awfully bare. I would love to hear your thoughts/opinions on this topic. My thanks in advance for your answer! Michelle
Thanks Michelle for your question.
The reason you may read that sheer nude hosiery is a bit NO-NO is that way too many fashion crimes are committed using a version of them, but there will always be a place for them in the wardrobe. Kate Middleton brought the sheer nude tight right back into fashion.
What are the fashion crimes perpetrated using nude hosiery?
Well, often they are not really nude, but instead, some strange 'suntan' look, overly white, or way too opaque, rather than a sheer nude that matches your skin tone.
Nude hosiery is meant to be just that, nude, not obvious.
They are also considered to be very conservative, so for the funky young 20-year-old, are not cutting edge, but for a 51-year-old, when done well (the right nude), can improve the look of your legs.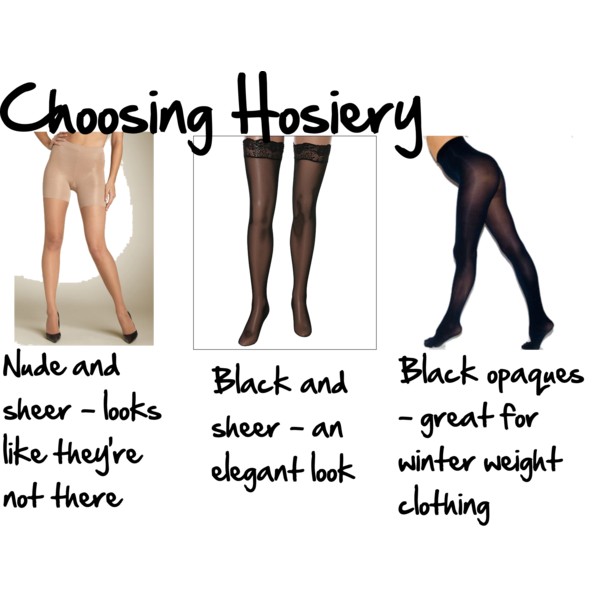 If choosing nude hosiery, look for one that is sheer, not shiny, and a colour that blends with your skin tone.
If you want to wear hosiery and look more modern, try sheer charcoal or black, or an opaque black if wearing heavier winter clothing.
The sheerness of the hosiery relates to the weight of the fabric of your dress or skirt. This is one of the principles of co-ordination – the level of refinement.
Sheer hosiery goes with lighter weight fabrics, opaque hosiery works well with heavier weight fabrics.
Blending a dark skirt with black or charcoal stockings and then black shoes or boots is a great way to elongate your legs, whilst keeping them warm.
Nude hosiery works best with lighter colours, and coloured shoes rather than a dark neutral shoe.
And never, ever wear pop socks (knee-high stockings) under dresses or skirts, even if you think they can't be seen.
More Hosiery Tips