Karen asked me to give some advice on tucking – who should and who shouldn't.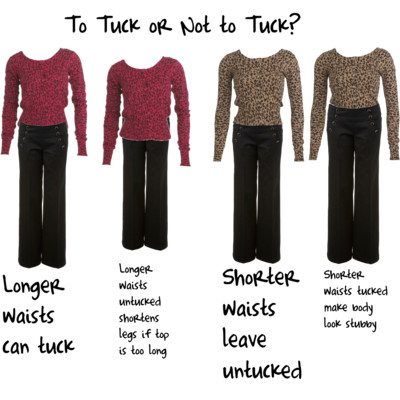 Basically, if you are
short through the waist
(and especially if you have a medium to large bust), don't tuck, it will make you look even shorter through the waist. This applies to H shapes, O shapes and some V shapes (though not all).
If you are and I, X, A or 8 you can usually tuck happily.
If you are an V shape, and not busty, you can usually tuck if your pants (that's trousers for my English readers, not underpants) are low waisted (low-rise).
Why is this? Usually, if proportionally you are shorter through the waist (which is common with the H, O and V shape bodies), you will not want to draw attention to your visually wider waist.
I, X, A and 8 bodies are
usually longer through the waist
and so create more balance when they tuck, and may also draw attention to their slimmer waists. Plus, their legs are often shorter, which means leaving tops untucked will visually shorten their legs even more.
If you are busty, by the time the fabric goes out to cover your breasts, then back in, to tuck, you will be shortened by the extra volume, so it's not as flattering.
If you are not tucking your tops, they need to be the correct length, which is often for many around the length or within an inch or so of your hip bone (the bone that juts out at the front of your pelvis). This will give you a nice balance of longer legs and a proportioned body.