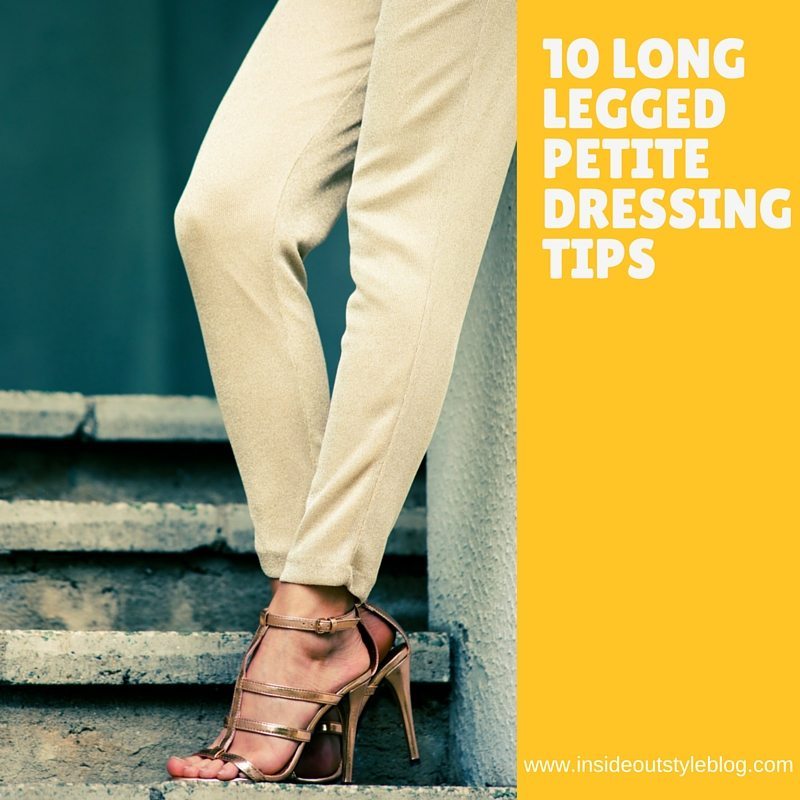 I was asked by a reader who is petite but has long legs for tips on dressing. Now more often than not, petite (5'4″/162cm or under) women are petite because their legs are proportionally short. But not all petite's have short legs so some advice needs to be altered to dress well for the long legged petite.
10 Dressing Tips forLong Legged Petites
Dress for your proportions first. Proportions make us happy when they appear balanced. Our body should look shorter than our legs (by about one head length). This means we tend to want to not cut off the appearance of the length of legs even if our legs are longer rather than shorter (unless they are super dooper long and if you're petite …. never going to happen!). Longer legged petites will find people don't think they are as petite as they are because we equate height with longer legs.
Even though your legs are long, don't change colours unnecessarily – so blend shoes to trousers, shoes to tights or legs.
Wear your clothes fitted rather than baggy. Fitted doesn't mean skin-tight!
Avoid too much fabric – too much fabric (too many gathers, too large a waterfall etc) tends to swamp the scale of a petite woman (even if you do have long legs!)
As you have longer legs, you can wear slightly longer skirts, sleeves, necklaces, tops/jackets, (watch this quick video to explain this concept) but don't go overboard.
Think about balance. If you want to break one "petite" rule, then make sure you are sticking to others to compensate.
Create one focal point at a time – ideally up near your face so that you draw attention up rather than down.
Fitted or structured garments (rather than oversized or blousy) can help to balance your smaller frame.
Keep patterns smaller in scale (this works for all petites…. except of course if you're dramatic in personality style – then you will break the rules). Think finer stripes or smaller patterns.
Open necklines and 3/4 sleeves will help to stop the "too much fabric" which is often an issue for petites, from taking over. Roll up your sleeves and make sure your shirts are unbuttoned to the top of your cleavage – no higher. Look for lower necklines – Vs and scoops in tees.
Further Reading
Petite Proportions – Getting it Right with Skirts and Dresses
How to Wear Palazzo Pants When You Are an A or X Shape or are Petite
Top 7 Tips to Looking More Mature Particularly When You're Petite