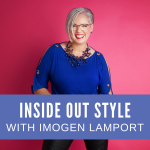 In this Episode
0.09 High value contrast, low colour contrast – how do I get the right value in winter and summer? Can I just add a necklace and earrings or do I need more?
6.19 With light colouring I should be wearing more overall light outfits – but I'm "blacksliding" into the dark colours, particularly in winter. How can I wear my black and still look good?
14.51 Please talk proportions – What is the best length for my tops and jackets – particularly with pants?
High Value Contrast Outfit Tips
The Value of Value Contrast and Using it to Create Stunning Outfits
Blacksliding – Wearing Black with Light Colouring
How to Stop Buying and Wearing Black When It's Not Flattering
3 Simple Steps for Wearing Black When You Have Light Colouring

This Tool Will Make You an Expert in Finding the Value of a Colour
Proportions for Tops and Jackets
Want to Transform Your Style?
With my full image package that you can do from anywhere in the world get on board the ultimate online women's style program 7 Steps to Style and start transforming your style today.
Subscribe to my Podcast
You can now get these videos as podcasts subscribe and never miss an episode
Send Me Your Colour and Style Questions
Please do email me your colour and style questions to answer on upcoming videos!