SPORTSWEAR/ HIKING WEAR etc: how to assemble small capsules of technical clothing for sporting activities, when shapes and colours are often very limited. What are the few things to do to adapt such clothes to ones own personality and needs?
Long gone are the days when you wore a baggy old men's (or promotional) tee with a pair of baggy tracksuit pants to exercise. These days activewear is a full of technology (wicking fabrics and compression zones etc.) as well as just a tad more stylish. Yet, it can be easy to tall into a trap of buying black on black and sticking to something really basic.
Activewear takes up a proportion of most wardrobes these days (and from what I've seen at the school gates over the years, for some, it's all they wear). Staying fit and healthy is important, and if you're using it right, it requires washing after each use (and if you're like me and do the washing once a week, then you may need multiples).
Starting Your Activewear Search
But what of the choices when so much is black (or grey), particularly when black isn't a great colour?
Rather than get too precious about this kind or practical wear hoping to find the perfect colours, start with what you can find – such as tops in good colours, and keep wearing the black bottoms (though I'm seeing more and more in different colours become available as time goes on- check out places like Cotton On (Australia and USA) who do a great range of more colourful options).
Items like leggings I tend to find are more flattering in a darker colour (every time I try on light ones I feel that all you can see is my cellulite, but that could just be my legs). This is why even though light might be technically more flattering for my colouring, I'm sticking with darker colours until I find a pair that is thick enough to look good.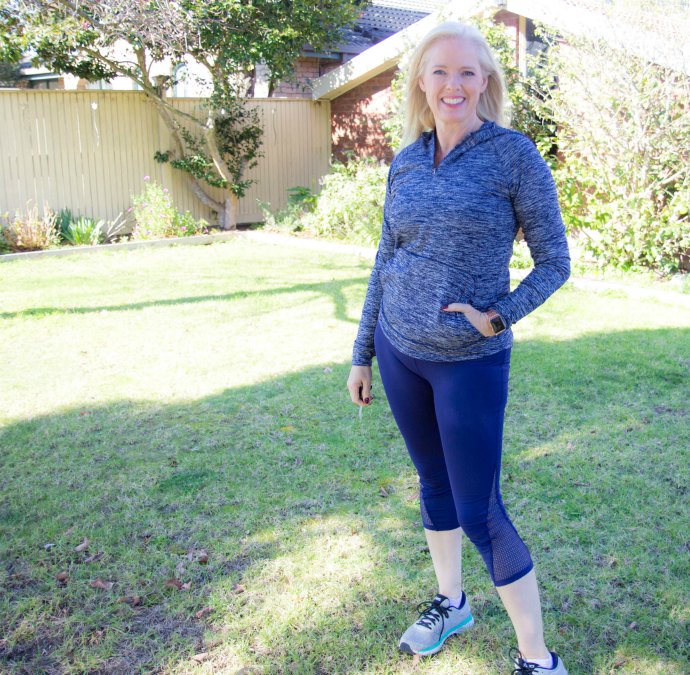 I found these navy leggings at TK Maxx and the blue marle top at Kmart. I won't pay a lot for gym clothing that gets worn and washed frequently so I keep my eyes open for good colours when I'm out and about. The little mesh panels in the calf add a small creative detail that keeps them from being boring.
A rain jacket or windbreaker that is practical,like this one below in a good colour, is more of an investment to find as it's something that you will have for years.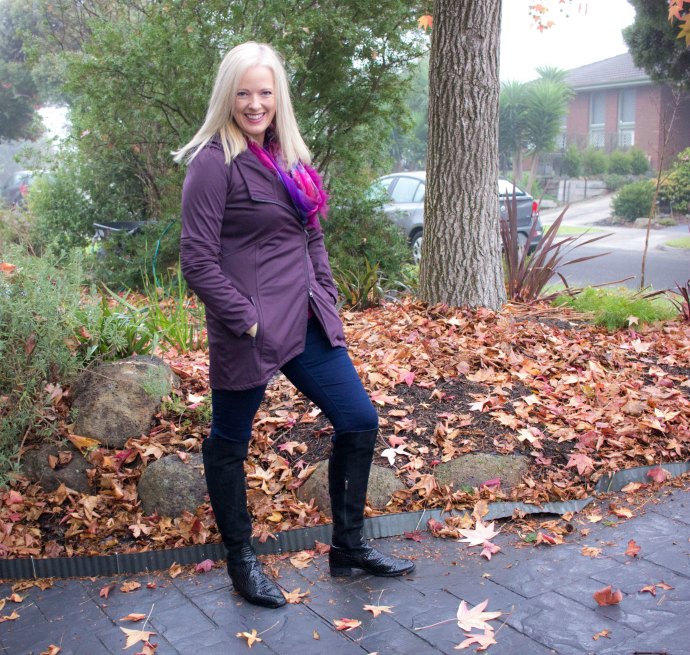 I also found this Mondetta jacket at TK Maxx(TJ Maxx in other parts of the world) and snapped it up, as finding a good coat that is practical and not black or grey (or totally boring either) at a bargain price was something I couldn't go past.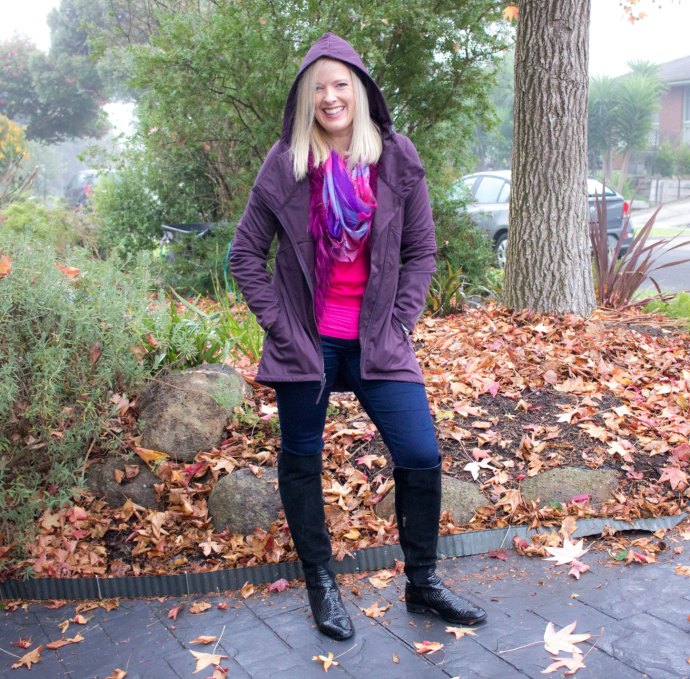 I love that it is a raincoat and has a hood, and is stylish enough to happily wear with a pair of jeans, but also has the practicality to work if I'm actually going for a hike in the bush too.
Colours for Your Activewear
Look for colours that flatter – signature colours are always the best if you can find them.
Match the colours in your eyes – particularly in tops and jackets
Wear a skin enhancer – these colours also make great tops and jackets (like my red-violet one above)
Hair enhancers are another option to choose that will work easily as a base for you
If you choose colours from your colour palette, you'll find that as you add more pieces to your capsule, they should easily mix and match as they are already related in colour properties.
No idea of your best colours (or signature colours)? You can get a colour analysis as part of my 7 Steps to Style program (along with a whole lot more great information on defining your body shape and personality, wardrobing and shopping, that will really help you become more stylish.)
Injecting Your Personality
I think this can be the hardest element when finding active and sportswear that suits. Most of it is pretty generic and casual (or ultracasual) and if your style is naturally more creative or dramatic activewear can feel so unnatural to wear – like it's totally the opposite of your personal style – what are your choices?
Look for details that add interest in a way that floats your boat.
Apart from the colour of my jacket, I also like that it has a slightlyasymmetric zip closure – this gives it a slightly more creative feel.
These leggings have stars up the side – yes they are black, but the star detail makes me happy.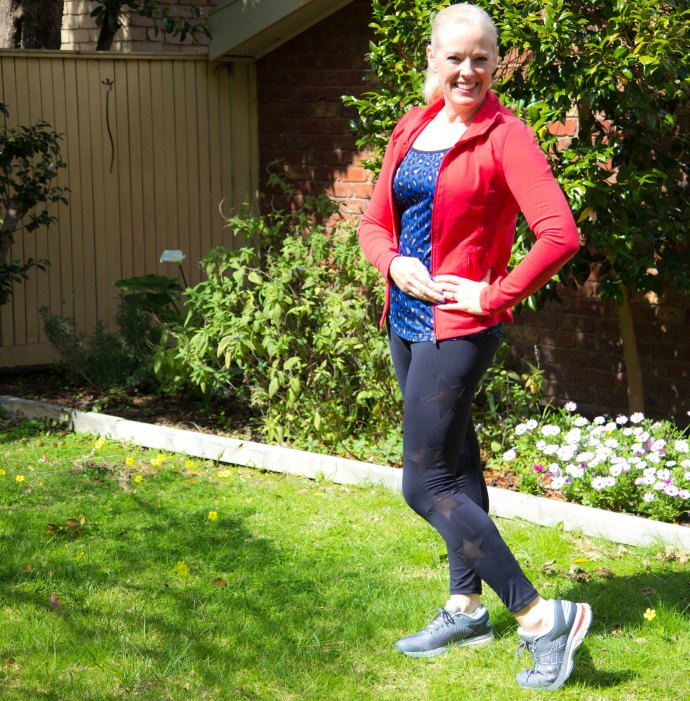 So when you're looking even for a functional piece, instead of settling for plain and boring – if that's not your thing – look for some inbuilt personality.
Choosing the Cut of Your Sportswear
So, on the whole, there isn't a lot of variety in the cut of activewear – but you can certainly find skinny leggings, and looser fit jogger pants, depending which is more flattering for your figure.
You may want a longer top or a shorter one – both are around – and if you spend some time trying on different lengths and styles you'll find some are more flattering on you than others.
Finding some hiking shorts? Choose a similar shape and style to the most flattering dressier shorts you own.
I look for tops that have a curved hem, which hides more tummy and doesn't draw a really unflattering line across the widest point of my hips.
When choosing shapes and styles, think about what cuts and styles of tops and bottoms in regular clothes are most flattering, then look for similar ones in active and sportswear ranges.
Shopping for Your Activewear
Don't expect to create a capsule all at once! Like any sort of wardrobe capsule, you'll likely find pieces over time, slowly (yes it's frustrating, but it is a reality of life).
There are so many places you can find activewear – discount department stores like Target, Kmart and Big W, to speciality sportswear retailers like Lorna Jane (and now in the USA too), Lululemon, Icebreaker (they have some great colours) and Cotton On, plus keep your eyes out for sales on sites like Catch of the Day who regularly have sales on activewear from great brands like Asics, Nike, North Face and Adidas.
And if you've found great sources to find your activewear – please share!

More Tips on Activewear