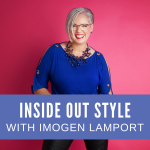 In this Episode
As an A Shape, can I wear coloured bottoms or am I stuck with wearing only neutrals?
What to wear on feet with short and long boots for comfort and practicality
Does a summer tan allow you to wear a higher colour or value contrast?
Can You Wear Colour and Pattern on the Bottom as an A Shape
Socks
Colour and Value Contrast and with a Tan
How to Find Your Ultimate Colour Contrast – Your Three Step Process
Subscribe to my Podcast
You can now get these videos as podcasts subscribe and never miss an episode
Send Me Your Colour and Style Questions
Please do email me your colour and style questions to answer on upcoming videos!