I have to wear office-appropriate but warehouse-safe shoes, so I have close-toed brown slip-on flats. Even with my longest pants, if I sit down and cross my legs my socks show. I've long since moved to black ankle socks (as opposed to the white socks that were long enough that I folded them over from my school days). Are these socks "right"? I don't think any socks can look right, but some look less wrong.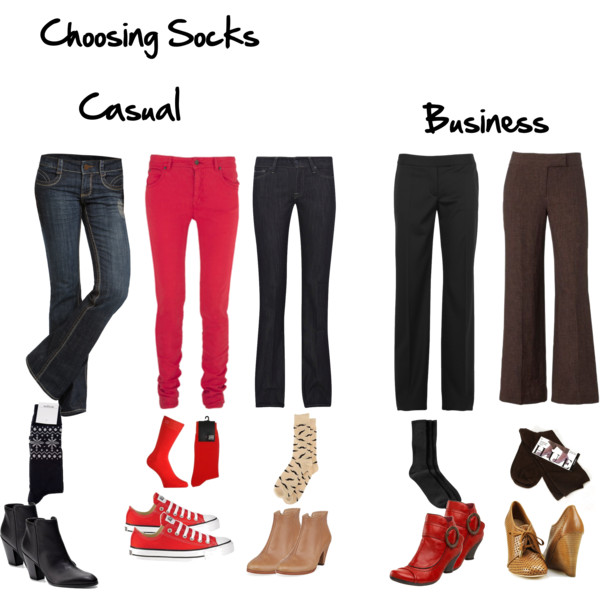 Sock Colour for Corporate Attire
The theory on socks for business or formal attire is that they should be a similar colour to your trousers, so that when you sit down, and your pants ride up, we don't notice because your socks are the same colour as your pants.
In corporate attire, socks are an extension of your pant colour.
For example, if you're wearing black pants, then black socks are the way to go. So even if your shoes are red, your socks are black.
Socks for business or more formal dress should have no visible pattern, you're trying to create one seamless line from trousers to shoes.
This rule holds true for men too (if you happen to be the sock buyer in the house for your man, now you know what colours to buy).
Casual Dress Sock Colour
But if you're wearing jeans (or cargos, chinos etc), then the socks should match your shoes – so brown shoes, brown socks.
And of course, you can go an alternate colour altogether with your casual attire as it's the place to express your personality!