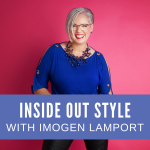 In This Episode:
Short waisted, large bust H shape what to look for in a blazer so I don't look rounder and bigger?
How to dress a long rise high waist low rear body so the back view is flattering?
How to create a lynchpin within an outfit using a necklace with the colours of your bottoms?
H Shape Jackets
Long Rise
Accessories and Your Portrait
How to Choose Linking Pieces and Accessories to Co-ordinate Your Outfit More Stylishly
How to Get More Mileage From Your Wardrobe with Beauty Bundles
Subscribe to my Podcast
You can now get these videos as podcasts subscribe and never miss an episode