It attracted my attention that you mention that you wear skirts/dresses or jeans most of the time. I do the same thing, and it has been working great for the most part, thanks to your blog. The main thing that I learned is that I am X-shape and I should belt over skirts/dresses, I enjoy having a defined waist and I like how it looks. My problem is with jeans – I am short waisted and if I belt over, it looks like I have to long of a rise. If I don't belt it and choose a slim top it looks better, but I am so used to waist definition that I don't like that look anymore. I am also not a big fan of layering, for me the simpler, the better. I am wondering if there is anyway to work out the belted look into my predicament (X-shape, short waist)? If not, what is the simplest way to layer to achieve waist definition?
Thank so much in advance!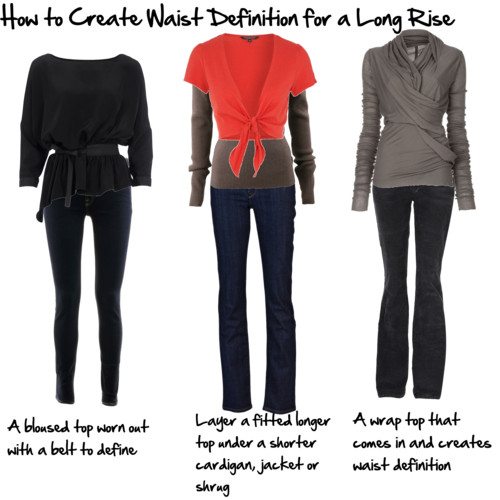 If you have a long rise, and a short waist then belting when garments are tucked can make you look quite odd . Instead, if you want to belt, wear it over the top of a blousy top worn out.
Think about layering a longer top to your high hips underneath either a shorter, waist length cardigan or jacket which can draw attention and highlight your slim waist.
Alternatively how about a wrap top (or dress when you're not wearing pants, skirt, jeans), that comes in and highlights your waist.
How do you light to highlight your waist when you're not wearing a belt?