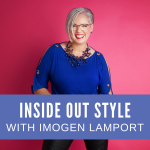 In This Episode
0.08 What is your view on wearing blouses or tops that are longer than the sweater or jacket over the top? Doesn't it draw attention to the hips?
2.05 – With a high value contrast with dark hair, how can I wear a light coloured turtleneck top and create the right ideal dark value in my portrait area?
3.48 Can you advise the best clothes to wear for a strong athletic body or any body that finds it hard to find clothing to fit?
Where to End Tops
Create Your High Value Contrast Outfits
The Value of Value Contrast and Using it to Create Stunning Outfits
Wear Stylish Clothes Based on Your Body Shape
If You'd Like to Define Your Style and Discover Your Colours
If you're sick of wasting money on clothes that don't work and you know there is a better way, then join my 7 Steps to Style program and get the right information for you and your style.
Subscribe to my Podcast
You can now get these videos as podcasts subscribe and never miss an episode
Send me Your Questions
Please email me your questions to be included in my Q&A Lucky Dip!