High contrast is the easiest of the contrasts to master as it's the most obvious.
You can find out how to discover your contrast here. Working with low contrast here and medium contrast here.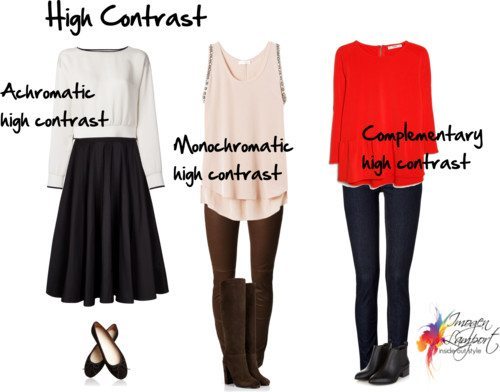 Here we have an achromatic (black and white) high value contrast.
A monochromatic (one colour) high value contrast.
A complementary (high colour contrast) outfit. The bright colour with the dark colour can be used to replace a light/dark value combination if you wish.
Click here if you are reading this in an email to see how to work with high contrast patterns.
Then think about patterns, look for those that have a large difference between colours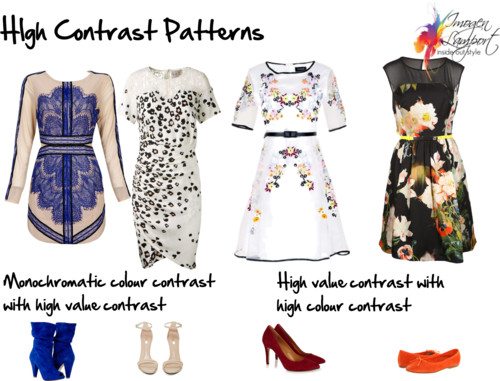 Of course you can create your high contrast with the different colours in your outfit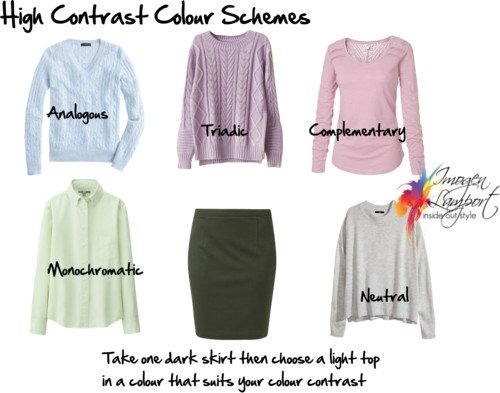 In the picture I've created above, the colour scheme uses softer more smoky colours so the high contrast doesn't look so dramatic and obvious as it does in the sharper/clearer colours.
or with accessories another garment or detail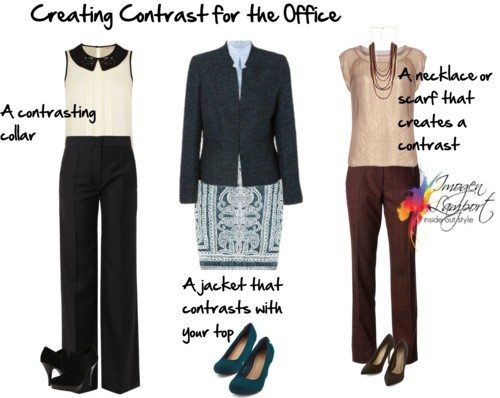 It can be important particularly if you work in an office (remember not a princess), and sit behind a desk or a boardroom table, then we only see you from above the waist. So you will want to ensure that the right contrast is created above your waist. A high contrast gives you more authority and expertise, so if you need to look more powerful at work, even if it's outside of your natural best contrast level, it's good to use it to gain more authority.