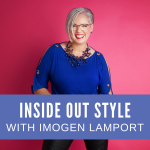 In This Episode
0.10 Is there such a thing as a low maintenance feminine woman?
3.34 My H shape means that I have a lot of loose tops and they make me look larger than I am – plus my pants don't stay up – help!
6.35 I find taking the extra step to complete an outfit is something I'm missing what should I do?
Dress Style for Low Maintenance Feminine Personality
Flattering Your H Shape Body
Adding Element to Your Outfit
How to Choose Accessories to Match Your Personality and Occasion
If You'd Like to Define Your Style and Discover Your Colours
If you're sick of wasting money on clothes that don't work and you know there is a better way, then join my 7 Steps to Style program and get the right information for you and your style.
Subscribe to my Podcast
You can now get these videos as podcasts subscribe and never miss an episode
Send me Your Questions
Please email me your questions to be included in my Q&A Lucky Dip!