I was recently asked about finding the right kind of camel-beige that would work with her Sublime (cool soft light) colouring for shoes, handbags and belts, those staple accessories that you want to have work with everything in your wardrobe.
She gave me a link to the shoes on the right – described as Cognac by the retailer, and which are a warm camel or tan colour. Yet her colouring is cool so I created this image to show her how if she was wearing one of her pinks, that pink doesn't go with the warm camel of those shoes, but what does work well is a cooler beige that will also harmonise beautifully with the rest of her wardrobe as well.
Warm and Cool Undertones in Camel

Even though accessories are a small part of the outfit, keeping them in the same undertone as your palette will make a big difference to the whole outfit and how it looks. When the colours work together and don't clash, the whole outfit flows.
It's really important to think about finding your best neutrals, the ones that you can base your wardrobe around, based on your colouring. Whether it's shoes, bags and belts or outwear such as a winter coat, you can see if you select an outwear garment such as a coat in the right undertone, then your shoes, bags and accessories with the same undertone will work beautifully and easily with it.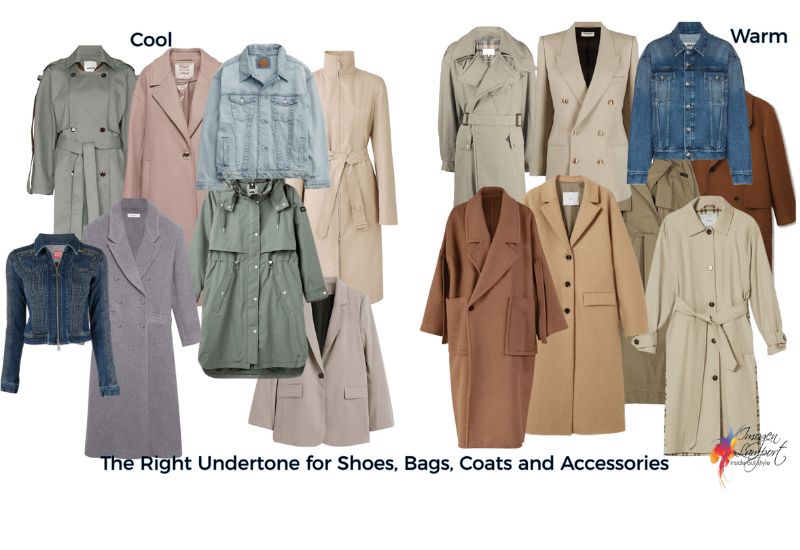 Notice how the warm shoes, bag and belt on the right would work with the warm undertone coats on the right, whilst the cool beige shoe, bag and belt would work with the cool undertone coats and jackets on the left. When you have undertones in common in neutrals it is so much easier to mix them. Here are some ideas of what goes with camel (both the warm and cool versions).
When you select neutrals with the same undertone as your colours, as well as the same intensity and value, you'll find that they mix and match so easily, expanding your outfit options exponentially and making it so much easier to put together your clothes and accessories.
How to Choose Your Best Neutrals
How do I Find the Right Neutrals to Act as an Anchor for My Wardrobe?