What Are the Best Neutrals for Your Basics?
Basics are the garments that you wear as the base of your outfit. They are frequently things like a pair of trousers or jeans, a plain skirt in a neutral colour, a jacket in a neutral or even a simple and plain top. Wardrobe basics are the glue that binds your outfit together so buy them in your best neutrals.
Basically, we define most neutrals as colours that are 'off the colour wheel' – as in we don't give them a name of the rainbow colours (red, orange, yellow, green, blue, violet) so we're talking grey, brown, white, black, tan, camel etc. These are basically the non-colours. They are created by either being achromatic (the absence of colour – eg. black, white and grey) or by mixing lots of colours together until there isn't any distinguishable rainbow colour left (brown tones such as sand, camel, honey, beige etc.).
There are lots of neutrals around. Some have a warm undertone and some a cool. The neutrals you choose ideally want to work with the vast majority of the colours you wear (which is why having a colour palette makes choosing both the colours and the neutrals so much easier as they are preselected for you and designed to go together). . If you would like my professional opinion on your colours (as well as your body shape) that's all part of my 7 Steps to Style program too – go check it out now!
What is your undertone? Are you warm or cool?
Knowing your colouring warmth or coolness is an important starting point for determining the best neutrals for you. It is the first step in any colour consultation as this one step can have the biggest impact on choices of clothing, hair colour and makeup
When picking undertones, you want to look at what the colour is made of, as if you were painting it, and think about what colours you'd mix together to create it. If you're adding yellow to a colour, you're warming it up. If it needs some blue, you're cooling it down, though with purples, adding red warms it up, adding blue cools it down. Yellow browns are warm and pink browns are cool. Cool greys have a blue or purple base while warmer greys contain green or yellow base.
Each of the different palettes in the 18 directional Absolute Colour System will have very different neutrals. You will find that your colours will work better with your neutrals. A Spicy swatch has a range of warmer neutrals such as tan, camel and cognac. A Dramatic swatch is cool which has quite a different range of cooler neutrals like black, deep rose brown and charcoal.

What is your value? AKA How light or dark is your hair?
Recently I was talking to my daughter about some new girls that she had just met and I asked them to describe them to me. Typically, the first physical feature she mentioned to me was the colour of their hair. We tend to remember hair colour and its value, whether it is light or dark. Choosing neutrals that are contained in your hair colour is the easiest way to select flattering ones that will work well with you.
You can base your choice upon your hair colour as an easy way to decide on neutrals that flatter you.
Eye colour can also works as a neutral (or coloured neutral for those with green and blue eyes). Navy, deep aubergine, deep olive, deep burgundy, which can all act as neutrals in your wardrobe as the low level of perceived colour (it's harder to distinguish between different colours when they are darker as our eyes don't pick up the variations as easily) makes them more useable as neutrals.
Colours complementary to your hair colour are also good options as neutrals. Stick with a shade of the same value so it appears to function as a neutral rather than a colour.
Red hair, you might find some of the olive greens work really well because they brighten up your hair colour
Brown hair, you might find some sort of navy can also work really well
Blonde hair, an deep purple like aubergine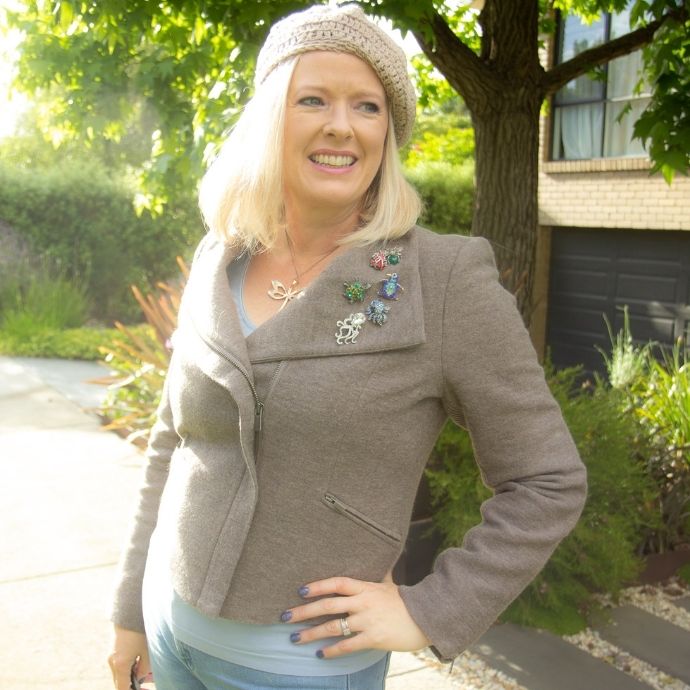 Your best neutrals may change over time – as your colouring changes (or if you make a radical change to your hair colour – as I did). When I was a dark brunette my best dark neutrals were black, dark brown and deep navy. Now that I'm a platinum blonde they are medium navy as it matches my eyes and medium greys and light rose beige. Other great neutrals as a platinum blonde are white and silver-grey. If you have your signature colours as part of your colour analysis, I'll give you the colours that really pop on you the ones that work really well. These will be related to your hair eye and skin colours and I will also give you your best neutrals will be part of that selection as well.
Further Reading