One of the big trends I've noticed both in fashion shows and online is the belted blazer. When I was at a Melbourne Fashion Week show, many of the 'hot young things' were wearing belted blazers, most commonly in a check pattern tweed fabric. So, should you invest in a belted blazer?
Is The Belted Blazer Right For You?
So before you jump on board this fashion trend, you'll want to think about if this is going to be a flattering style for you. Firstly because blazers are not usually cheap garments so if you're thinking of purchasing one it could be a costly decision.
Secondly, because a belt puts an obvious horizontal line around your middle, it can highlight a small waist and be flattering, or highlight a lack of waist and be unflattering, and I'm sure that most would prefer to be in the first rather than second category!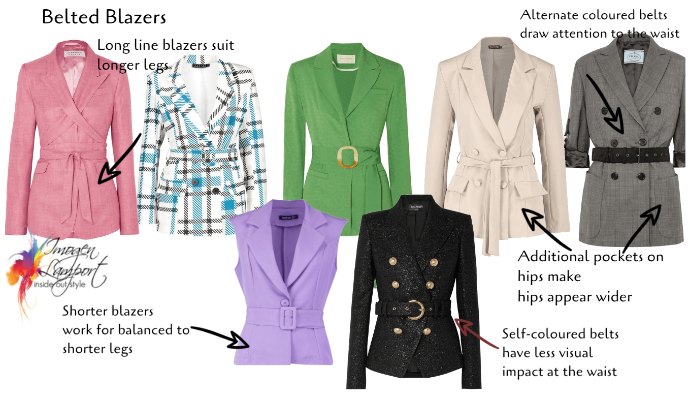 Which Body Shapes Suit a Belted Blazer
If you understand my 3 rules of horizontal lines, and how horizontal lines impact on your figure flattery rules, you'll know fairly easily whether or not you should be adding this tricky trend to your wardrobe.
Belted blazers suit those that obvious belting suits. Because a blazer normally has a little extra structure to it, it won't narrow as much as some other garments, so a neat waist is something that looks best with a belted blazer. The body shapes that are best suited to belted blazers are X shape and A shapes as these two shapes have the most defined waists, and most likely the right body proportions to carry off this look. The slim-waisted V shape can also wear a longer line belted blazer well, and the I shape will carry off this style well.
If you're not sure of your shape – you can do my free body shape calculator quiz here, or if you'd like my professional opinion, get this as part of my 7 Steps to Style program (or a personal consultation).
Proportionally the belted blazer works best with a longer waist, or a balanced waist and smaller bust. It can also work well if you have a longer rise and small waist and smaller bust. You need to be careful if you have short legs that your blazer isn't too long, or you use a column of colour with it to elongate your legs, or wear it with a no-longer-than-knee-length skirt.
Remember, the longer and more voluminous your top, the slimmer your bottom should be to create balance and not overwhelm your frame with lots of fabric (particularly important if you are petite).
Another tip to remember is that if the blazer has obvious pockets below the waist, these will add extra horizontal lines to your hips and will make your hips look wider – so if you are an A or X shape avoid blazers with these features! They are fine for the V and I shapes!
Can You Belt Your Existing Blazers?
Rather than buy a new blazer, you can try belting your existing blazers. This may or may not work, depending on the volume of the fabric in the blazer and how stiff the fabric is.
Ideally, the best blazers for belting are those that are already quite fitted and don't have any excess volume. A too-straight shaped blazer (man-style) will not belt as well and may have too much fabric that makes it feel bulky when belted.
The blazer must be worn buttoned up too before the belt is added. If you can't do it up, then don't add a belt over the top.
The fabric needs to be softer so that any cinching of the fabric doesn't add lots of bulk. Stiff fabrics will stand out from your body and will crumple in a less than ideal way when belted.
What Guidelines to Follow When Your Body Shape isn't "Standard"
Is that Stripe Slimming or Widening? Discover the Rules of Stripes