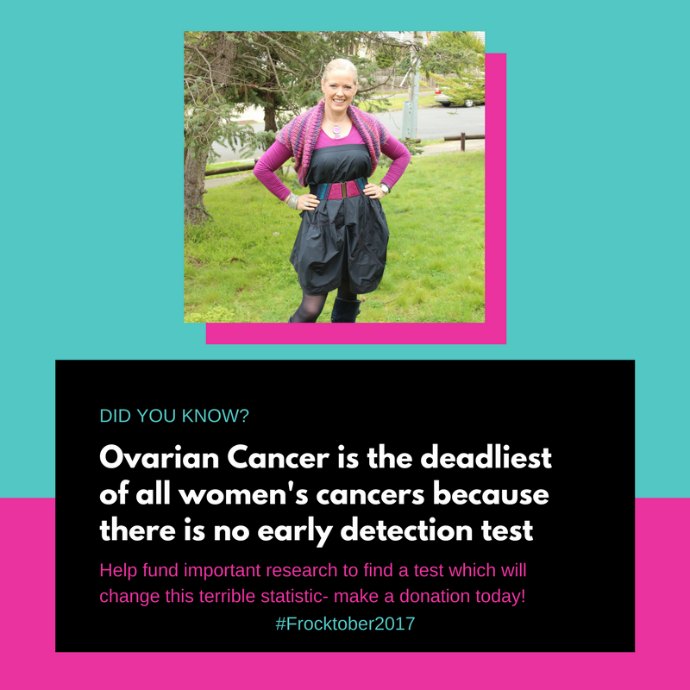 Celebrating Frocktober (and raising money to help fund vital research into finding an early detection test for ovarian cancer). Please make a small donation as it will help save lives.
This year I'm styling dresses multiple ways (I don't have enough dresses to do a dress a day, plus I love the challenge of finding more ways to wear my existing wardrobe).
Here is some more inspiration for you to try in your own wardrobe.
Mixing Spots and Checks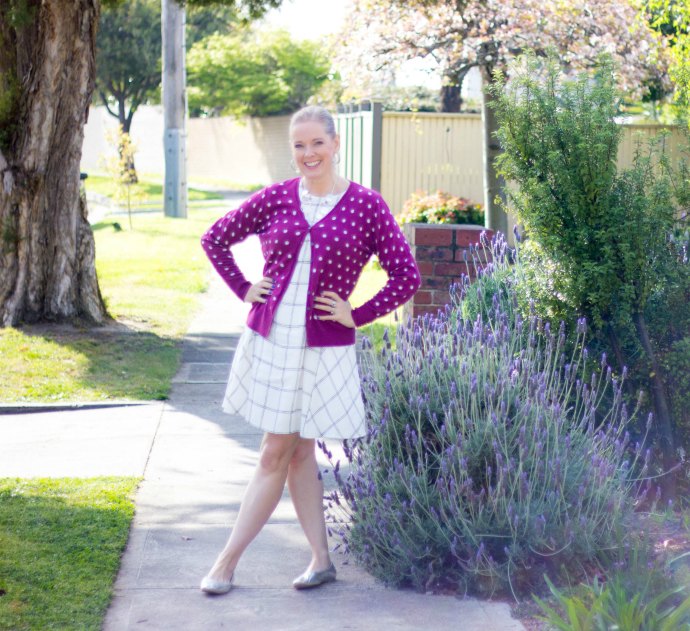 Mixing geometric prints is easy and so I thought it would be fun to mix this spotty cardigan (Woolovers) with this check dress and my trusty silver Scarlettos ballet flats.
Adding Textural Pattern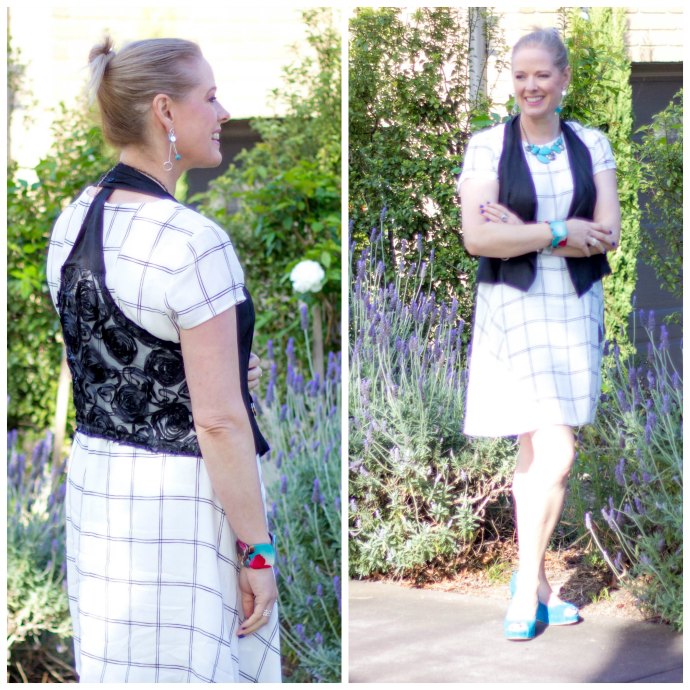 This styling option includes a ribbon lace backed waistcoat (business at the front, party at the back). The dress has an overall light value (which is similar to my overall light value) and even though it has a black check, because it's fine and non-dominant I can go outside of my 'ideal' value contrast. To help ease the contrast I've added accessories in a mid-value turquoise which creates those all-important stairs from light to dark (and you could call this grouping of shoes, bracelet, earrings and necklace a beauty bundle).
With a Black and White Jacket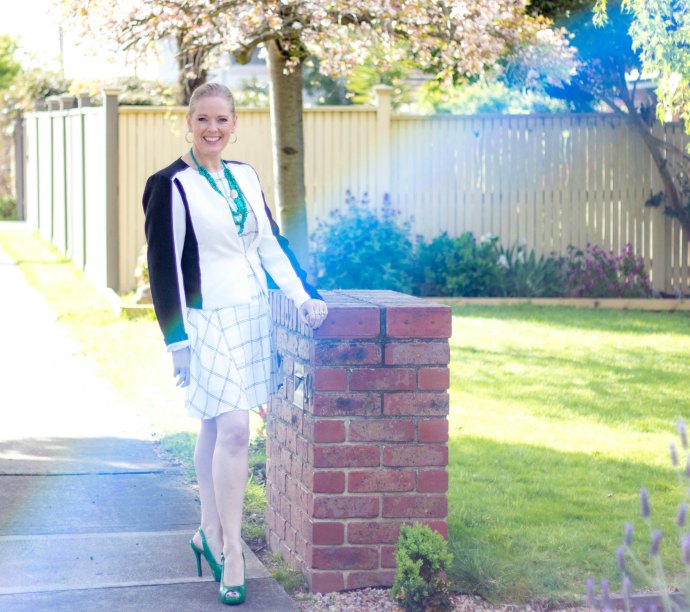 Repeating the colours in the dress in a jacket is a super easy way to make a dress more business-like. Here I've added green accessories to add my ideal colour contrast (neutral plus colour). I'm not sure why, but I'm standing almost at the end of the rainbow which appeared when I took the photo.
Military Style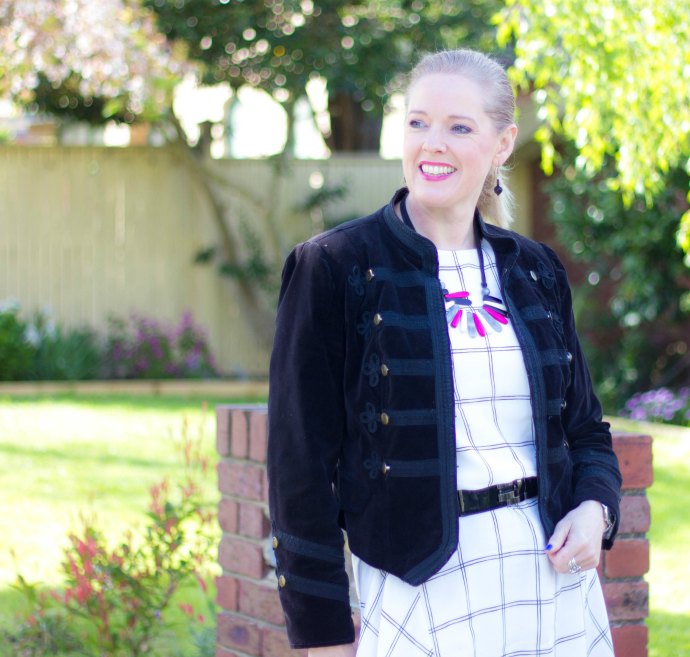 I've had this military style velvet jacket for many years and it has long been a favourite (though I don't wear it much these days as I don't wear my black items so often anymore now that I've got light value).
I also added a belt to create some extra interest to the outfit.
Turn it Into a Tunic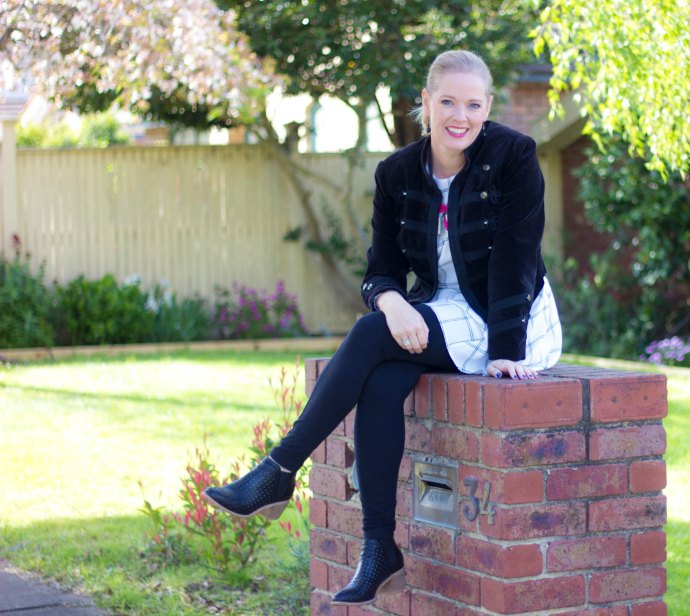 And then I added leggings and boots (as the belt made the dress too short and takes it from warmer to cooler weather and turns this dress into a tunic).

0