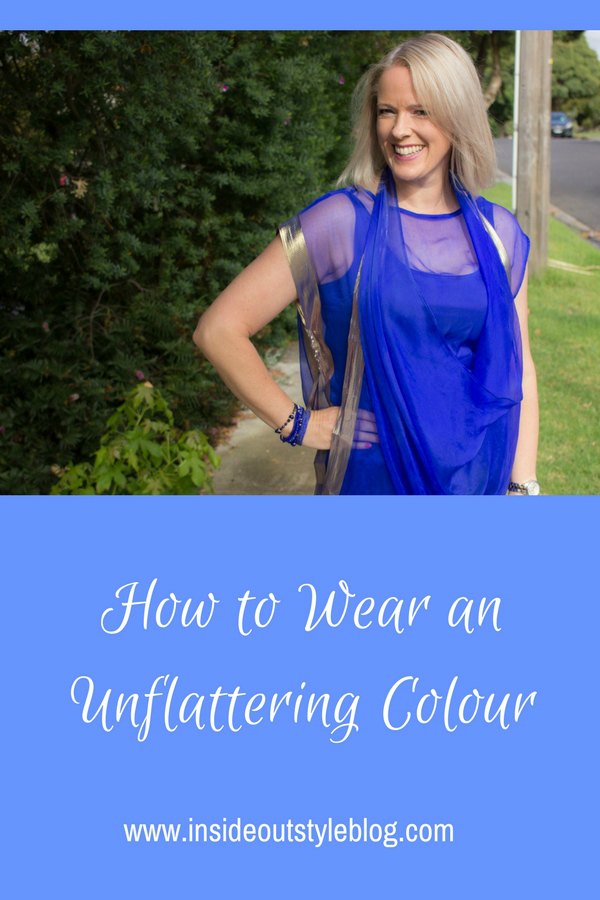 So you've got some clothes in your wardrobe in colours that don't really agree with your colouring.
It could be an element of an outfit, or it could be a whole piece.
It could be a uniform that you have to wear.
So how can you wear those colours that don't do anything for your colouring but you either want to or have to wear them anyway.
This is the topic Jill Chivers of Shop Your Wardrobe and I discuss in this video post.
3 Tips to Wearing an Unflattering Colour
Keep it further away from your face (such as a lower neckline) and put a good colour in between it and your face, such as an accessory!
Wear it in the right contrast for you.  Wearing the wrong colour in the right contrast can make a huge difference to how unflattering it appears.
Wear a foundation and a stronger lipstick colour or spray tan (if that's something you like and you have a warm undertone).
3 Ways to Add a Fashion Colour to Your Outfit

If you want to add a fashion colour that's outside of your palette:
Do it in an accessory, shoe, belt, necklace, not a jacket, or a top (or pair of pants, unless you are happy for your lower body to be the focus of your outfit).
In a pattern in a small proportion (that's less than 10% of the whole)
Keep it to a small proportion of your outfit – no more than 20%, preferably 10% or less
If you want to discover the colours that make you look fabulous, that enhance you and make you look more vibrant, less tired and even more fabulous, then why not do my 7 Steps to Style program which includes a personal colour analysis (as well as so much more).

More tips!
Getting Your Head Around Value and Contrast – the Celebrity Version
The Value of Value Contrast and Using it to Create Stunning Outfits