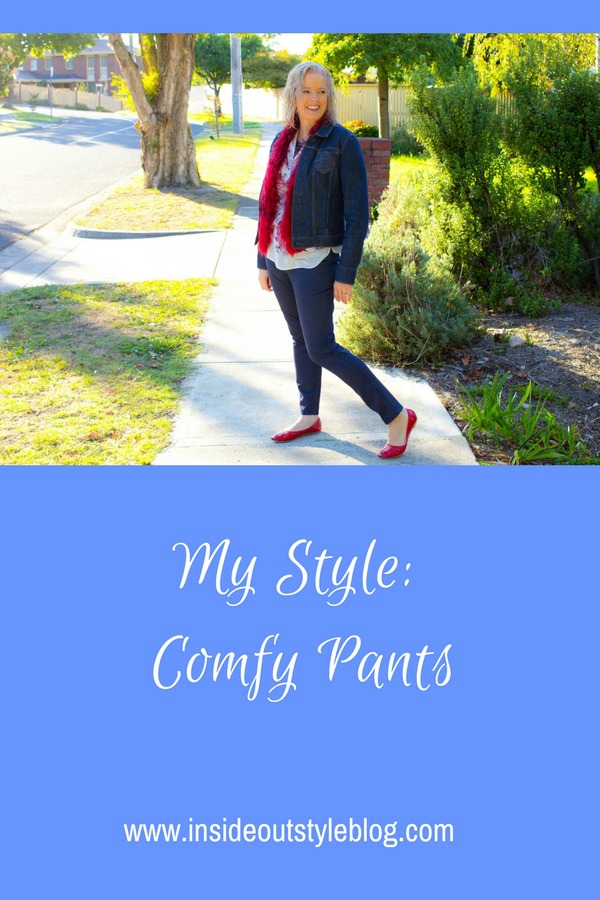 I'm not much of a pants girl (that's trousers for you English folk who class pants as underpants, and as I always argued with my English colleagues when I lived and worked in Bristol "pants go on top of underpants, that's why they are called underpants, as they go under your pants!".
On the whole I find pants less comfortable than skirts and dresses.  It's that pesky rise seam that if you gain or lose a kilo or two can go from being comfortable to uncomfortable very quickly.  Because of my H shape, they tend to fall down more easily too.  I don't have that slimmer waist, so the waistband is about the same size as the hips and they slide down more easily.
But, in Autumn when it's cool in the morning, but I'm not yet in the mood for tights and boots, I pull out my selection of comfy pants to wear. A stretch element is integral to any pair of pants I wear, not only for the comfort but also because otherwise I have saggy pant butt (which I've talked about here because of my flat bum).
Slim Harem Pants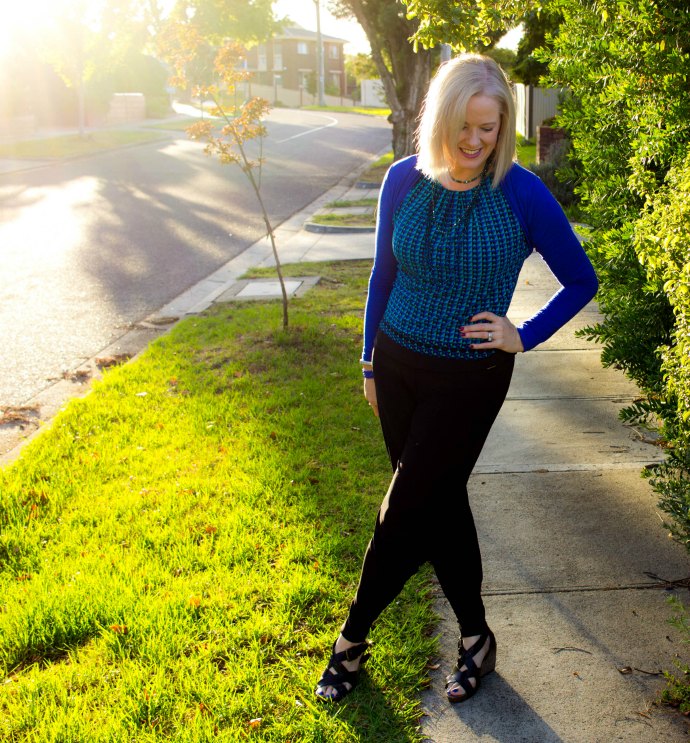 These slim harem style pants are from Motto and for me are basically a more fashionable and glorified version of what in Australia we term 'tracky dacks' – that is – athleisure wear.  They just don't look like a pair of yoga or sweat pants.  Adding a strappy shoe, patterned top and some sparkly jewels dresses them up for everyday.
The key to making comfortable pants look stylish is to remember to accessorize.
Coated Denim Jeans

My dressiest jeans are these coated denim ones.  The coating makes them a little stiffer than my regular jeans, but they still have some stretch for ease and comfort and they look just that little bit more stylish.  Worn with an ankle boot and a textured tweed jacket along with a pretty scarf I'm set for my day.
Ponte Knit

I recently acquired these ponte knit jeggings at Costco (when people ask where I shop, I tell them everywhere as honestly, I do pick up pieces wherever I find them and am no fashion snob).  Add a blouse to dress them up and a leather jacket for some edge, not forgetting a necklace for a pop of colour.

Get more Tips on Choosing and Wearing Pants
How to Wear Palazzo Pants When You Are an A or X Shape or are Petite