Navy Blue is a colour that seems to get a lot of attention these days. It's back in fashion (yay!) and makes a great neutral for so many people as it's way easier to wear than black for the majority of the population.
The name came originally from the Royal British Navy and the colour of their uniform (a dark blue).
These days navy refers to any darker shade of blue. Unless of course, you are making uniforms for the Royal Navy, like with any brand colour, it's their very specific shade of dark blue!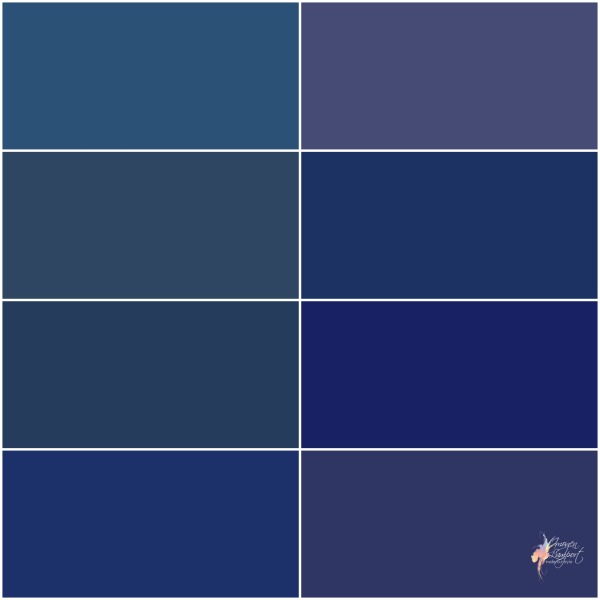 All these blues could be classed in the 'navy' category. In fact, I could find you a hundred more dark blues that you'd also call navy blue too!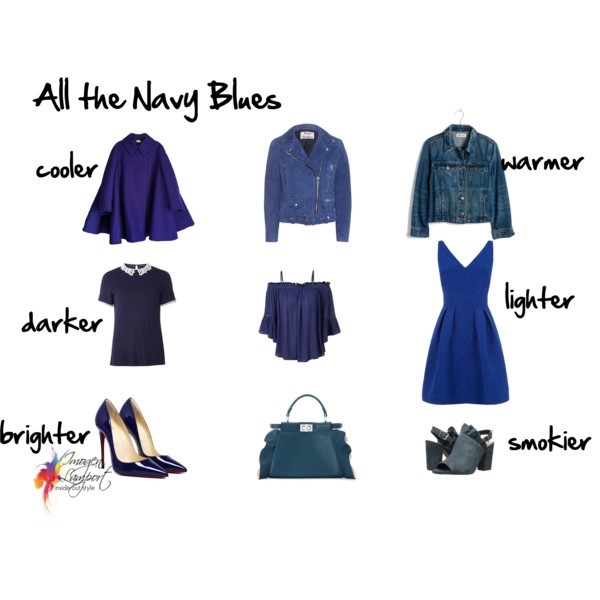 What you need to remember is that there are different versions of navy and there is one or two (or even quite a few) out there for you!
They can be cooler (more purplish) or warmer (more deep tealish)
They can be darker (closer to black) or lighter (closer to a mid-blue)
They can be brighter (clear and pure) or smokier (muted and greyed out).
So rather than get obsessed with only one version of the hue, find the navy blue that suits you.
Why is a blue considered a neutral?
I believe it's because it's been used in so many navy, police etc. uniforms, that it is classed as a neutral. But as I wrote about here on what are neutrals, you can use many darker colours as neutrals too.
Plus so much denim is a darker navy or indigo blue and we treat denim as a neutral in our wardrobes too.
Navy Goes With …
Navy is a brilliant neutral as it plays well with other colours. When mixing colours, choose colours with similar intensity. So if a soft navy, then softer colours. If a brighter navy, then brighter colours.

You can see that there are so many colours that work well with navy as its neutral base.
Try navy in colour schemes with:
Analogous colours: teal and green, violet and red-violet
Complementary colour: orange
Triadic: red and yellow (or just one of the two) with pink (as it's just a tint of red) or burgundy, which is a shade of red
Monochromatic: other shades of blue from turquoise to cornflower, ultramarine to cerulean, sky blue, ice blue and all the blues in between.
Split Complementary: yellow-orange and red-orange
Tetradic: yellow, blue and green
More Tips on Understanding and Wearing Navy Blue
Creating Outfits with Pantone Autumn/Winter 2017 Colour Trends