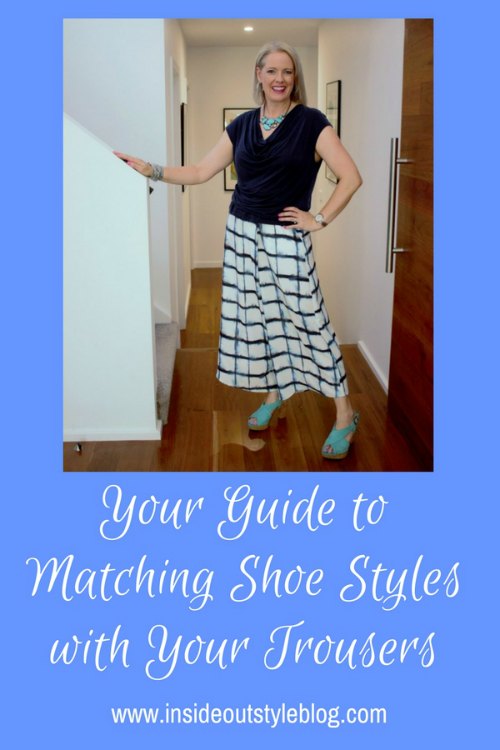 Just like with skirts, different shoe styles suit different trouser styles. When you think about how to choose a shoe and heel style to work with your pants, you will want to take into consideration a few aspects.
1. Trouser Shape and Shoe Selection
From the widest palazzo pant to your skinny leg pant, there is an element of balance you will be wanting to achieve.
Larger scale pants – so those with more volume such as palazzo need a more chunky shoe.
Smaller scale pants – those with less volume such as straight leg or skinny need a more slim and refined shoe such as a stiletto or ballet flat.
Cropped pants are best with a higher heel (as they make your legs look shorter) and a low vamp shoe.
2. Heel Shape and Shoe Selection
Heel shapes should relate to the width of the pant hem.
The narrower the pant hem, the slimmer the heel.
Kitten heels and stilettos work with slim and straight cut pants.
Wedge and stacked heels work best with wider pants such as boot cut, flared and wide legs.
3. Body Shape and Shoe Selection
Choosing the right pants for your body shape helps to make them more flattering (get my tips here).
If you want to balance your wider hips,consider that a narrow pant such as a slim leg, may want a slightly more bulky shoe such as a knee-high boot which gives you more balance.
If you have narrower hips, choose a wider leg pant or a lighter coloured pant and then team with a matching shoe colour if you have shorter legs, or you can wear an alternate shoe colour if you have long legs.
Check out my tips on choosing the right jeans for your body shape
4. Leg Length and Shoe Selection
Shorter legs look better in either a longer pant, slimmer cut pant (such as straight leg) or a higher heel.
Longer legs are those that can carry off the cropped pant well and can also carry the wide leg of the palazzo pant most easily.
If you have shorter legs and you want them to look longer, add a wedge or high heel to add back what nature forgot to give you.
If you have shorter legs, then blend the colour of your shoe to your pant or go a little darker to create a column of colour.
Check out this post on 6 easy ways to wear cropped pants
More Useful Posts on Choosing Shoes
What is shoe vamp and why does it matter
How to get the low vamp look with a high vamp shoe
Your essential guide to choosing the right shoe styles to go with your jeans
Choosing shoes to go with skirts and dresses – video post
Which shoes to wear with skirts and dresses in winter
Skirt length and shoe selection guide