Many  years ago, Tim Gunn had a TV show called Tim Gunn's Guide to Style and in it, he would help women become more stylish as he showed them what flattered their shape.
Now one of Tim's essentials in any wardrobe, was what he called a "sweatsuit alternative", that comfy thing  you sling on when you can't be bothered, but an outfit or garment that's just that much more stylish than a sweatsuit (or as we call them, tracksuits').
I can tell you, that in my years of doing Wardrobe Therapy sessions with clients I've helped my clients release many poor versions of this comfortable but truly unstylish attire.  Baggy, saggy, stretched out, unflattering … the list of adjectives of how I could describe goes on and on.  They don't make their owners feel or look good.  So why would you want to clutter up your space with them or even wear them?  Particularly if you never want to be seen in public in them.
This is where the stylish sweatsuit alternative comes in.  It's that thing you can grab and put on, feel totally comfy lounging around the house, but you're also happy to wear it down to the supermarket, to pick up the kids from school and to run into people in public wearing it.
So, this weekend your style challenge is to find and style up your sweatsuit alternative.
I've shared one of mine here before (check it out now), and have recently acquired a new and fun version.
Criteria for a Sweatsuit Alternative Outfit
Comfort – this means it has to be made from a fabric with stretch that is pleasant to the touch too.
Easy to put on – pull on and go, no buttons, belts or fiddly bits, it can be a dress, or pants and a top, there is no particular garment that you're looking for.
Fits and flatter – the easiest criteria to miss out on, but I think it still needs to fit well and flatter your shape
Can be styled up – by adding an accessory or two, you can style it up and happily wear it out of the house feeling good about your comfy casual style.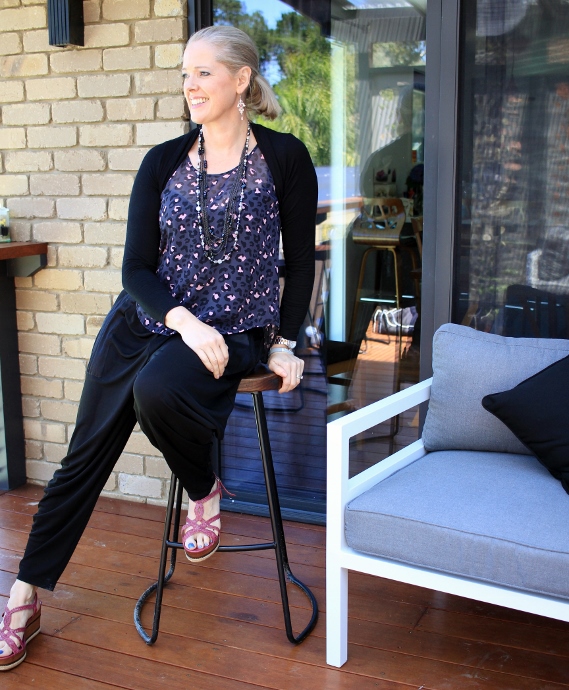 Get some inspiration and ideas about creating your stylish comfy casual outfit with these 10 ideas.
Now it's over to you to find your fabulous casual outfit that meets your criteria.
So what a way to think about finding your sweatsuit alternative?  I'd love to see your style – feel free to share it on Instagram (tag me @insideoutstyle and #insideoutstyle) or over on my Style Lounge Facebook Group.