Ever wandered how to look taller and make your legs look longer? Don't want to (or can't) wear a heel? How to look taller and make our legs look longer
Well then you need to consider your shoe vamp.
Shoe Vamp – what is is and why does it matter?
I'm always going on about low vamp shoes to my clients, and most people have no idea about what a shoe vamp is until I explain to them what it is.
So I thought, if my clients have no idea, then there are probably lots of people out there who also have no idea.
The vamp of the shoe is where it cuts across your foot at the front. Thus low vamp shoes cut across the front of the foot near the toes, and high vamp shoes come up the foot and possibly up to the ankle. Straps and other details are part of the shoe vamp.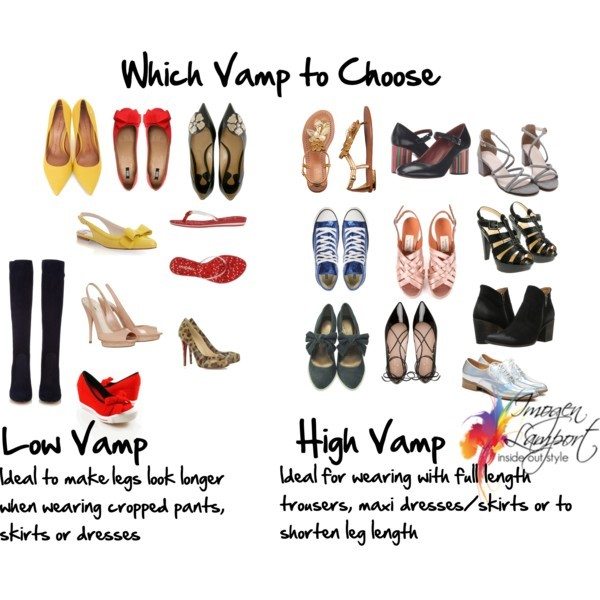 Which Shoe Vamp to Choose?
So with what and when do you wear low or high vamp shoes?
Skirts that are knee length or longer generally look best with a low vamp shoe. It elongates the legs and makes you look taller. So if you're already really tall, you don't need to worry about this rule.
Skirts that are shorter than the knee can work with both low and high vamp shoes as there is enough leg showing that the few inches that are cut off by the high vamp doesn't matter so much.
Trousers work well with both low and high vamp shoes, as the leg is already cut off by the trouser hem and the extra horizontals on high vamp shoes are irrelevant. Because the trouser is a long garment this helps to elongate your legs anyway.
Cropped trousers REALLY need low vamp shoes to work, they are notoriously bad at making legs look shorter, and teaming them with a high vamp shoe cuts about 6 inches off the length of your legs.
If you know that your legs are on the shorter side, try and stick with low vamp shoes for everything bar short skirts and trousers. This is why the ballet flat is such a great all purpose flat shoes, it's ususally pretty flattering and leg lengthening for a flat shoe (heels help to lengthen legs).
So the reason why you see all those gladiator heels on the sale rack is that they shorten your legs and are not flattering for many women.
What About Boots?
How about boots you may ask? Knee high boots are low vamp, as the leg appears to start at the toe – so we LOVE them for their flattery.
Ankle boots are best worn with trousers or mini-skirts (next time you see a pair in a magazine editorial or advertisement, notice how they're always teamed with very short skirts or shorts, never knee or calf length skirts). If you really, really, really want to wear them with your skirts – tone your shoes to your skin, or to an opaque tight to help create a column of colour.
Further Reading on Shoe Vamp and Leg Length:
8 More ways to make your legs look longer
E is for Elongation
10 Ways to Make Your Legs Look Longer