I have started to wear knee-length skirts and dresses much more, but here in Europe, cold autumn is approaching, so more solid shoes are necessary. Have you any suggestions for styling warmer flat/low heel shoes (chelsea boots?) with short skirt? (at present my style is "practical mum" 🙂 Is hosiery the only warm solution or can something else also work?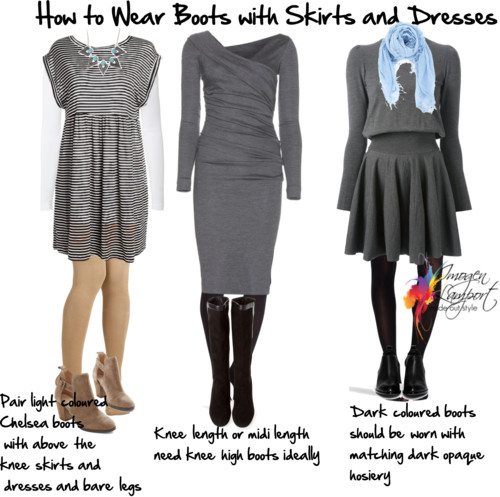 When choosing to wear boots, either short ones such as Chelsea boots or knee high ones, you need to think about your hosiery. You can wear opaque tights, regular tights or a not overly thick legging with your boots. Ideally colour match your tights and boots if you have shorter legs.
The shorter the boot, the shorter the skirt, though of course you can also wear them with knee high boots too. Long skirts need longer boots, unless you have super long legs already.
The chunkier the fabric of the dress or skirt, the easier it is to team with a more relaxed boot and legging.