I can't believe how fortunate I am that I got to go on this incredible trip to Dubai with the Nuffnang Bloggerati gang (who were fabulous to get to know and have now become friends) sponsored by Dubai Tourism and I've shared some of my highlights already on the fabulous palatial hotel I stayed at, The Dubai Mall and Burj Khalifa, decadent high tea, hot air ballooning and going on a desert safari, but wait, there's more! Some of the other activities I got to experience I'll share with you today as I've got so many photos that I need you to see!
During our trip we had a fantastic guide, Xavier De Noronha Da Costa of 1001 Events who picked us up from our hotel each day and told us all sorts of fascinating background information about Dubai, as well as answering our endless questions.
Now here are just a few more of the activities I was lucky enough to enjoy:
Ski Dubai
Want to ski in the desert? Well head down to Mall of the Emirates and suit up (the snowsuit and boots come with the entry ticket, just bring your own hat and gloves). Head into the snow and either ski, toboggan, luge, or snowboard the snowy slopes. Taking the chairlift around the slopes gives you a great perspective.
Not only did we get to hang out in the snow, I also got to meet a couple of penguins, one a Gentoo the other a King Penguin. They live at the Ski Dubai Penguin centre here and the information gathered is part of vital penguin population research.
Kempinski Hotel Buffet Lunch and a Tour of the Ski Chalet
Why not then lunch at the Kempinski Hotel which is right next door to Ski Dubai at their buffet. The food is amazing! Honestly I think I've eaten double my weight each meal while in Dubai. I was dazzled by the Swarovski crystals in the foyer, before being completely satiated by the lunch.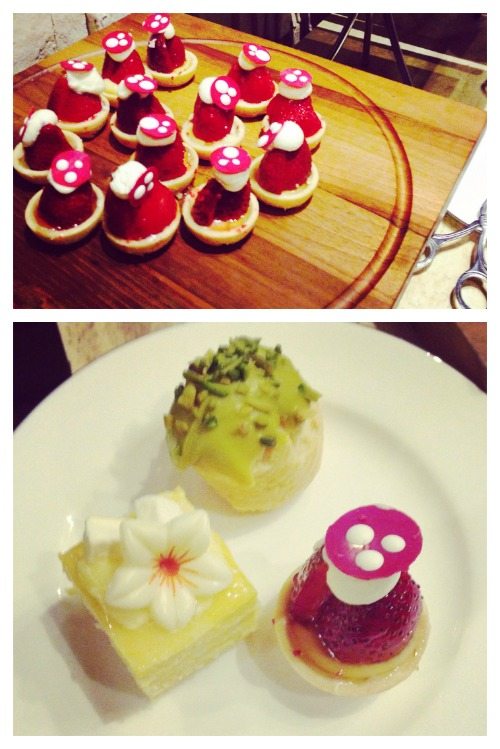 We were also lucky enough to be shown around the Ski Chalet which overlooks the ski slopes. A three bedroom apartment in the hotel.
Breakfast at the Jumeirah Zabeel Saray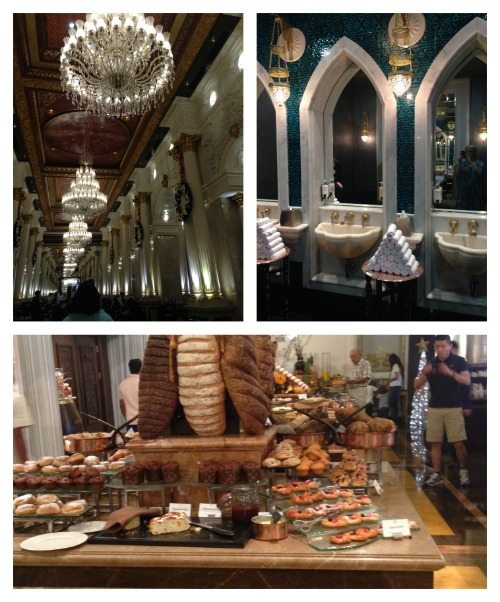 Take a trip to The Palm (the man-made islands that look like a palm tree in the Gulf). The Jumeirah Zabeel Saray hotel is op-u-lent to say the least. My photos just don't do it justice. And not only does it have more chandeliers, marble and gilt than I've seen outside of a European palace, it also has private villas that sleep up to 10 people and include a butler.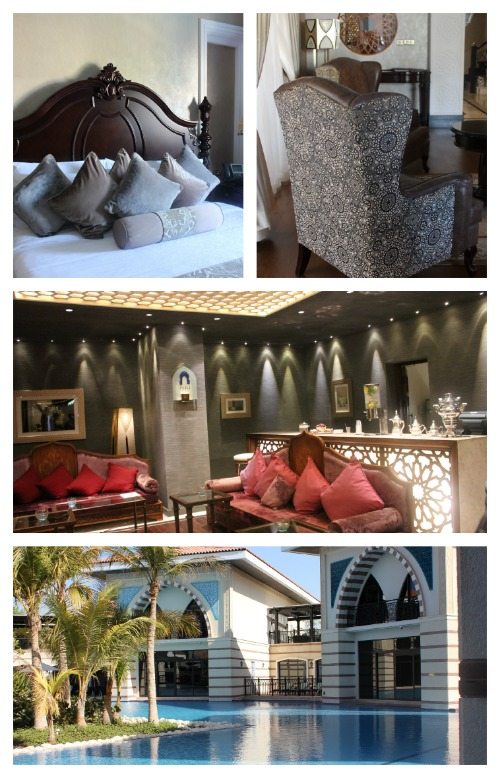 You can dive into the swimming pool directly from your lounge room, if you can't be bothered to enter the water from your private balcony! We were told that Lady Gaga has stayed at this hotel!
Talise Ottoman Spa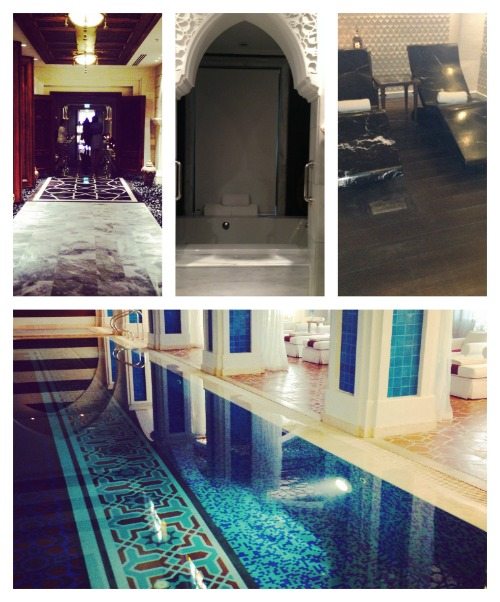 This spa is in the Jumeirah Zabeel Saray hotel and has won best spa multiple times and it's really like no other spa I've ever been to. From the gorgeous tiled swimming pool to the amazing spas, to the saunas, steam rooms and wait for it, snow room! Spending time here was a treat!
Lunch at the Vida Downtown
Across the road from the Palace Downtown where I stayed, is the Vida Downtown, a modern Middle Eastern hotel. They serve a fantastic picnic lunch and gift you a gnome to take with you on your travels, so you can take a photograph and share. The lunch started with some super sandwiches and yummy salads, my favourite being the peach and goats cheese. Then onto the main BBQ portion which included tender lamb cutlets and steak as well as a truffle risotto. The setting was by the swimming pool and the weather was perfect (you may have heard that Dubai is hot, but if you go in December or January the weather is warm at around 25-30C but mild enough to enjoy being outside and ideal for a summer getaway).
Traditional culture at the Sheikh Mohammed Cultural Centre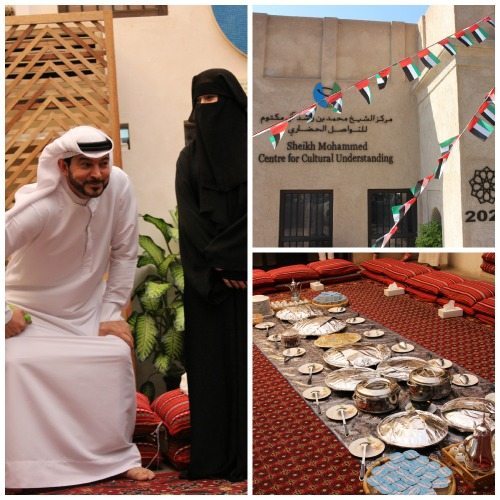 And if you want a more authentic Arabian cultural experience, you can have a lunch at the Sheikh Mohammed Cultural Centre and learn about the traditional Bedouin culture. Dubai was centred around the pearl trade for many years before oil became its main export. While you're there you can also pop into the museum to find out more about the history of the area and its people.
There is also the creek, the Old Town and souks, which I've not even mentioned here to take in as well!
Dubai has so much to offer you as a destination, whether it's a stopover on your way to Europe or as a place to visit itself. The six days we had there was nowhere near enough to see everything (and we couldn't see everything in that time), and the pace which we were shown everything was crazy, we could easily have spent 10 days or 2 weeks there to see all its attractions. I was surprised by just how much is has to offer and it's a great place to see whether you bring kids (so much for them to do) or not, there is really something for everyone.
The question we all were asked as we headed for the airport as we were leaving was "would you come back again?" and the answer was a resounding "yes!". There is just so much to see and do in Dubai. It's a very safe place to travel through and enjoy. Everything in Dubai is bigger (biggest hot air balloon and mall in the world), taller (world's tallest building) and more opulent (just check out those hotels) than anywhere I've ever been before. This truly was, no ordinary holiday!
Here is a short video I made with a whole lot of the photos (that I haven't even posted anywhere already) from the experience.