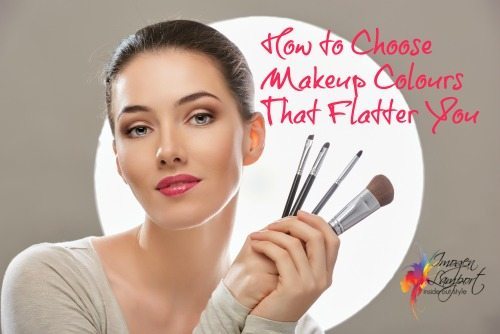 The first thing you want to think about when choosing makeup colours – from eyeshadow to blush, bronzer to lipstick, is will they flatter your complexion.
You will find that when a colour doesn't suit you, the colour of the makeup is noticeable, whilst when it does flatter your colouring, you are noticeable and you just look like a more glamorous version of you, rather than someone wearing lots of makeup.
How to Choose Flattering Makeup Colours
If you have had a colour analysis this makes it really easy to choose makeup colours, as you can just be guided by your colour swatch. As you can see in the photo below, in the top picture, the swatch below each of the palette relates to the colours in the swatch, whether it's the blush colours or eyeshadow colours.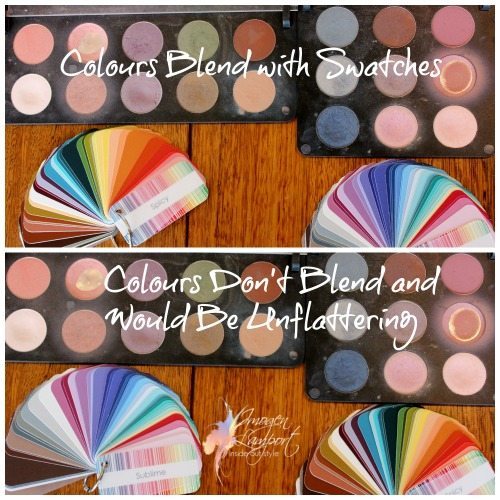 Versus where I've swapped the swatches around, when you look at the bottom photo (in the picture above) you can see that the cool swatch colours don't relate to the warm palette of makeup, nor do the cool makeup colours relate to the warm swatch below them.
Warm colours: Cool Colours:
Peach Pink
Coral Rose
Golds Silver
Bronze Grey
Olives Blue
Camels Cool Mushroom Brown
Choosing Blush Colours
Choose a blush colour that is not too dark and appears natural on the skin.
Warm complexions need a soft peachy blush or can use a bronzer.
Cool complexions look best with pink or rose tones but I've never yet seen a bronzer that looks natural on a cool skin.
Choosing Eyeshadow Colours
Eye shadow should enhance the eye colour, rather than compete with it. Your eye intensifying colours are those that are either complimentary, split complementary colours (opposite or almost opposite on the colour wheel) or within the opposite side of a triad.
Eye Colour Warm Cool
Blue eyes Bronze, Gold, Brown Pink, Cool Brown, Grey, Navy
Brown eyes Olive green, gold, bronze Blue, navy, Silver, Pink, Forest Green, Teal
Green eyes Warm Mauve, bronze, camel Lilac, pink, Cool Brown, Deep Forest Green
Hazel eyes Warm Mauve, bronze, camel
Choosing Lipstick Colours
So the first thing to consider is – do the pinks in my swatch relate to the blush colour I wear? Do my eyeshadow colours relate to the colours in my swatch? If not, then you may need to choose other colours that do harmonise.
Lip liner colour should blend with the lips. It shouldn't be significantly lighter or darker than the natural lip colour.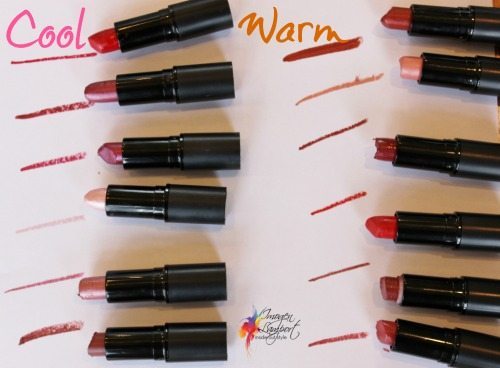 When we're looking at lipsticks – you can see there are cooler and warmer lipstick colours. Again, these colours need to relate to your colour swatch. Just remember that as lips have an underlying colour, that will change the way the lipstick looks on your lips, as compared to the back of your hand, or on a piece of white paper! And I can tell you that I've seen the same lipstick look pink, brown, red and mauve on different lips!
But as your starter guide compare your lipstick colours to the burgundies, reds and pinks in your swatch (even on the back of your hand) and see if there is harmony there.
Warm Cool
Bronze Pink
Mango Burgundy
Peach Maroon
Soft Browns Cherry Red
Rusty reds
Orange red
Get more tips on choosing lipstick colours here.
One of the things I do for my clients is sell a makeup range so that I can choose the colours for them that I know flatter as I've made sure already that they work really well with their colour swatch. If you're interested in getting a personalised makeup palette do please contact me.
For some more advice why not check out these posts:
How to Choose a Red Lipstick – and more here
If you'd like to discover your ideal colours, that colours that work with your skin, hair and eyes, you can get a personal colour analysis as part of my 7 Steps to Style program (it's just one of the 7 Steps) and you can then use your swatch to choose your ideal makeup colours and stop wasting money on makeup you never wear.