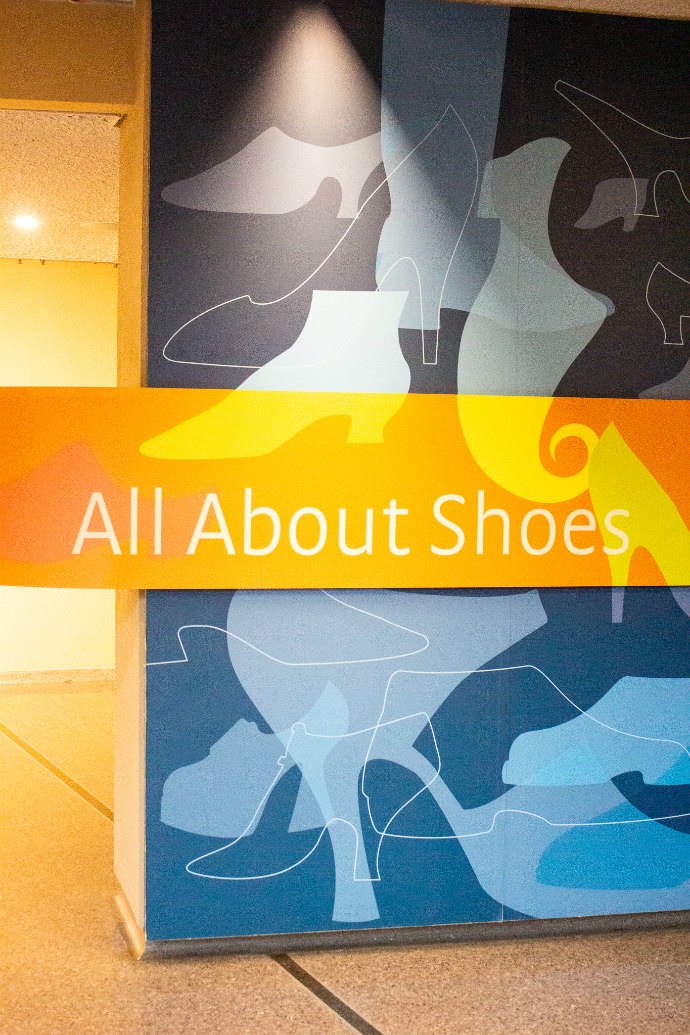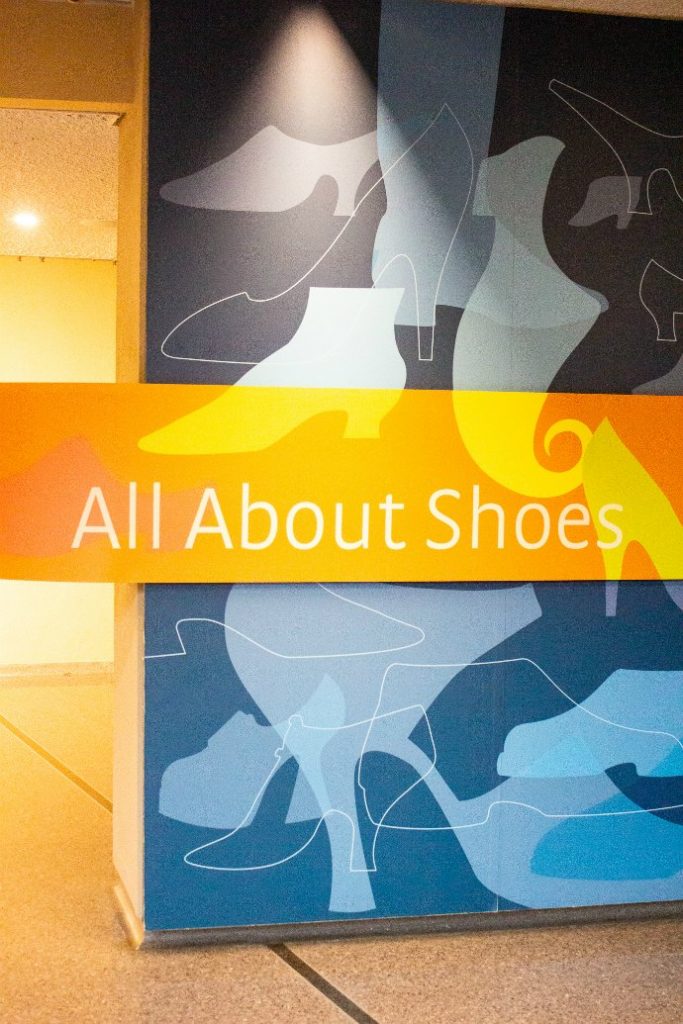 Shoes, I love them, they really can have a huge impact on your outfit. They can be talking points, starting conversations, and can really elevate an outfit. Which is why I was excited on my recent trip to Canda, whilst in Toronto, to visit the Bata Shoe Museum. It's home to one of the world's largest and most comprehensive collections of shoes and footwear-related objects.
Founded by Sonja Bata, who began collecting footwear in the late 1940s, the museum opened in May 1995 when her collection outgrew her storage facility. The museum's mission is to contribute to the knowledge and understanding of the role of footwear in the social and cultural life of humanity. Their collection contains over 13 000 artefacts and spans 4500 years of history.
The museum exhibitions show a rich history of shoe design and just how much shoes have both stayed the same, and also changed over the millennia, being both a practical, functional item of clothing, but also one that expresses culture, wealth, status, and dreams.
Platform Shoes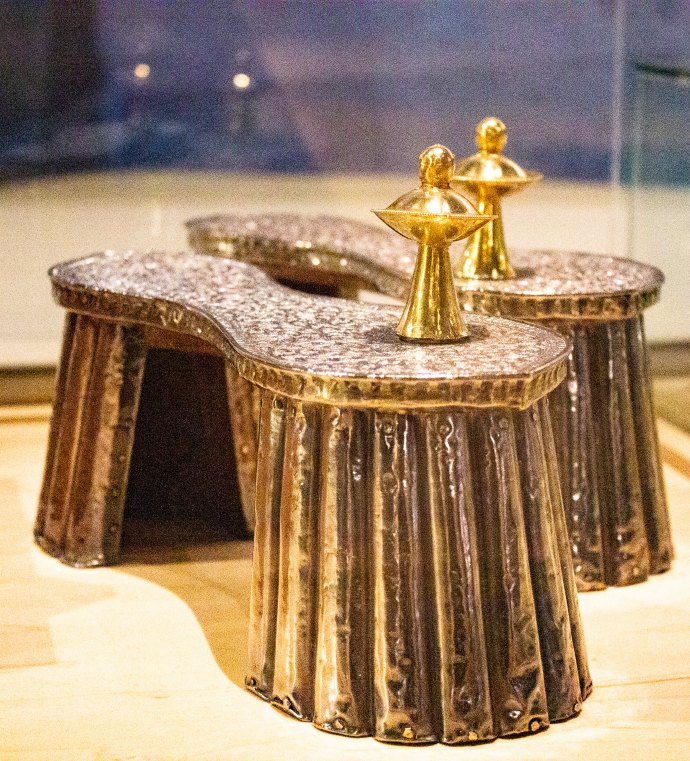 These 18th century silver-covered paduka from Jaipur India were probably worn by a woman from an important aristocratic occasion such as a wedding. The fine quality of the intricate floral engraving, the gold toe-kobs and high stilts identify these as upper-class.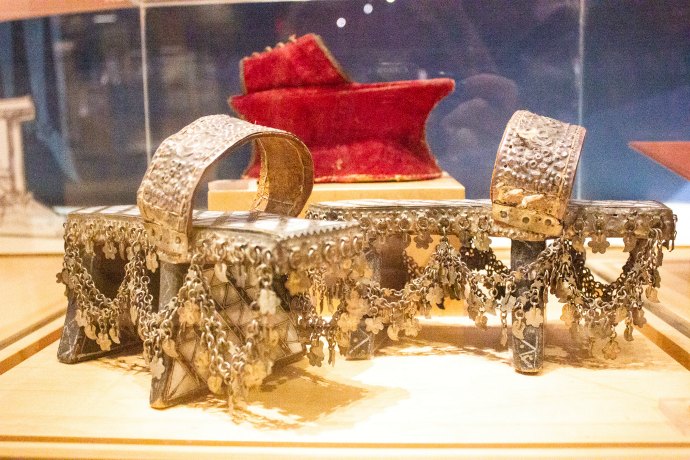 Renaissance Chopines – These 16th century Chopines are pedestal-like footwear that transformed upper-class women in Italy and Spain into towering figures during the Renaissance.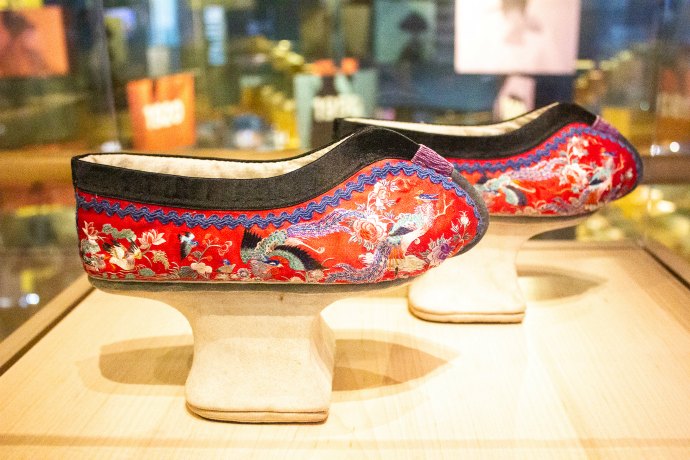 The Suzhou embroidery on this pair of Manchu platforms (late 19th century) suggests that they were associated with marriage. The exquisitely rendered phoenixes are traditional symbols of the Chinese Empress and women wore this royal symbol on their wedding day. the mandarin ducks swimming among the lotus blossoms symbolise fidelity and fertility. In contrast to Han Chinese women who had their feet bound, Manchu women wore high platform footwear that may have been inspired by Italian chopines.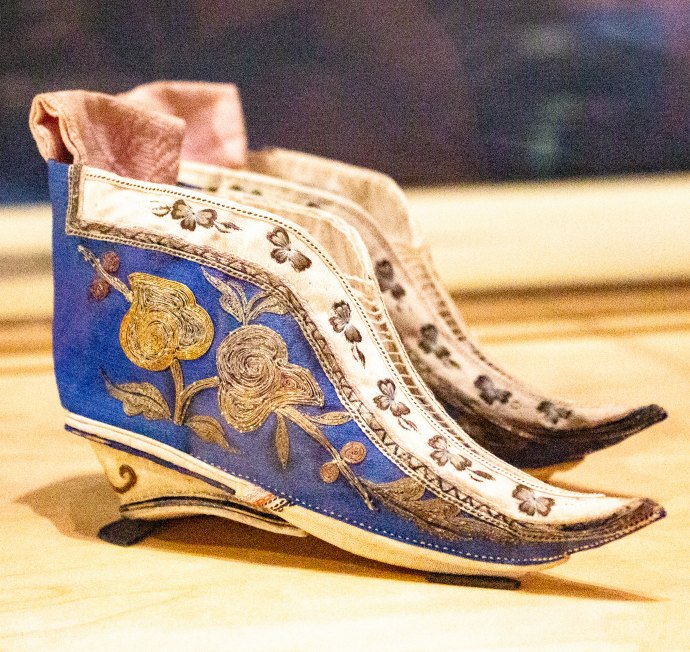 Chinese shoes worn by women who had their feet bound.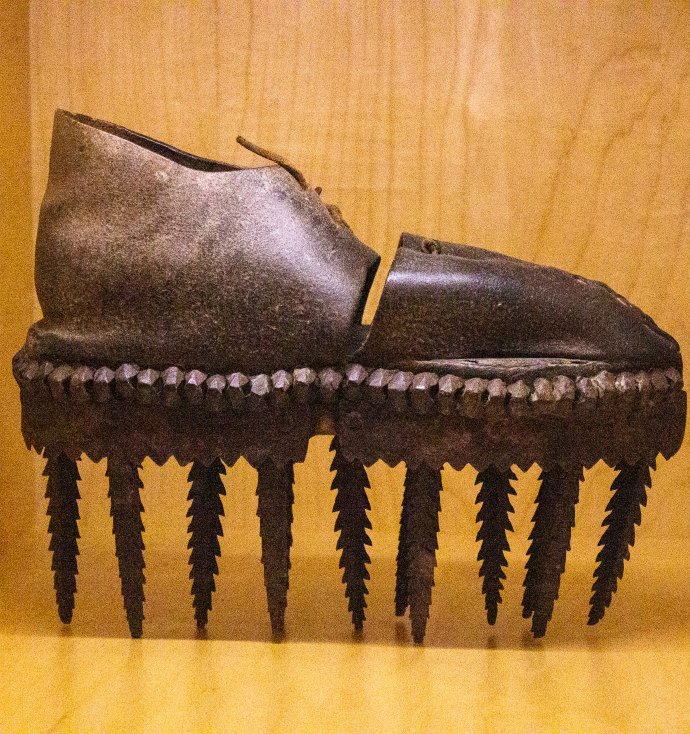 What on earth are these for? Walking on ice? No, in fact, these French 19th century clogs were worn in the Haute Ardeches region of Auvergne, France for the task of shelling chestnuts. It was an important source of food for both people and animals and this work clog was an essential tool in food production.
High Heels
The high heel debuted as a feature of upper-class fashion in Europe at the end of the 16th century. through the 17th century, "well-heeled" men, women and children wore high heels as signifiers of wealth, style and status. During the reign of Louis XIV (1638-1715), high heels even came to have a political significance after it was decreed that only those granted access to the French court were allowed to wear red high heels. Louis XIV himself was frequently depicted wearing high, eye-catching heels. By the middle of the 18th-century men had abandoned high heels but women continued to wear them until the 1790s.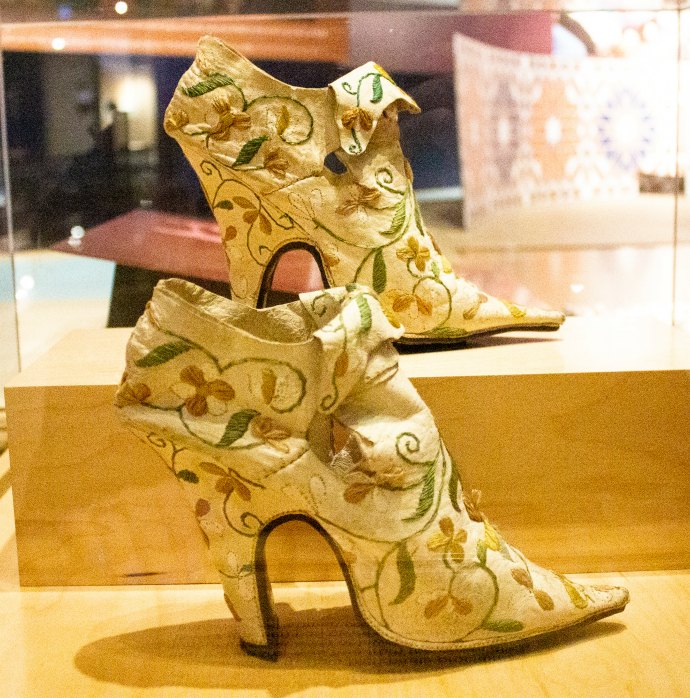 These Near Eastern heel emerged in Western fashion in the late 16th century. Impractical by design, high heels proclaimed that the wearer was free from the physical labour and demands of lower class life.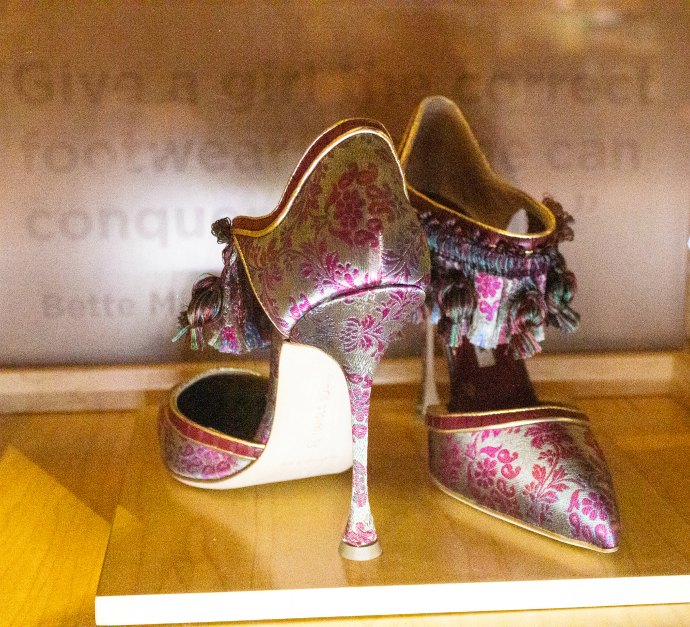 Spanish designer Manolo Blahnik has been dedicated to the art of shoemaking since the 1970s. His work is often inspired by the elegance of the past which he translates into objects of desire for the present. This pair of Locka's was gifted to the museum by Blahnik in 2014 and remains one of his favourite shoes of that season.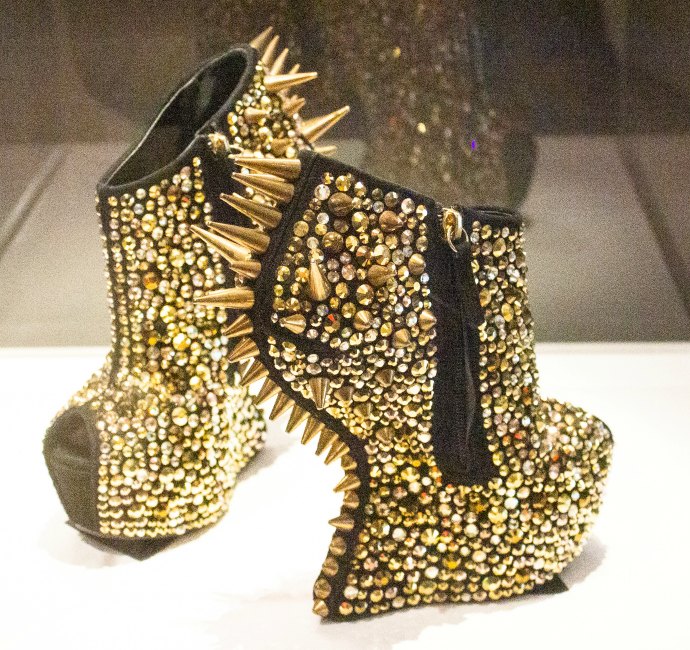 This pair of shoes was designed by Giuseppe Zanotti in 2012. The unusual shape harkens back to Renaissance Italy and Spain when upper-class women were placed on high chopines as a means of displaying wealth. Similarly, this pair of shoes proclaim status but it also connotes the world of fetish. The shape is reminiscent of 'pony-girl' horse-hoof footwear and the gold and silver spikes ad an aggressive edge to the design.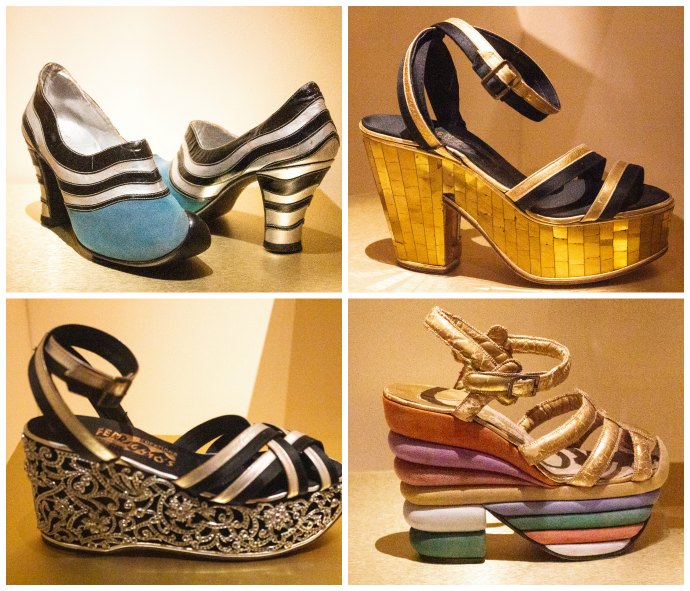 These shoes are all from the depression era of the late 1920s and 1930s – it's hard to believe as you could easily see something similar in our stores today.
Some of the most innovative shoe designs in the history of Western fashion were created during this decade of want. Shoe designers Salvatore Ferragamo, Andre Pérugia, Steven Arpad and Roger Vivier played with the architecture of footwear creating uplifting platforms and wedges as well as futuristic novelty heels and revealing peep toes that reflected escapist Hollywood glamour as well as new conceptions of fashionable femininity.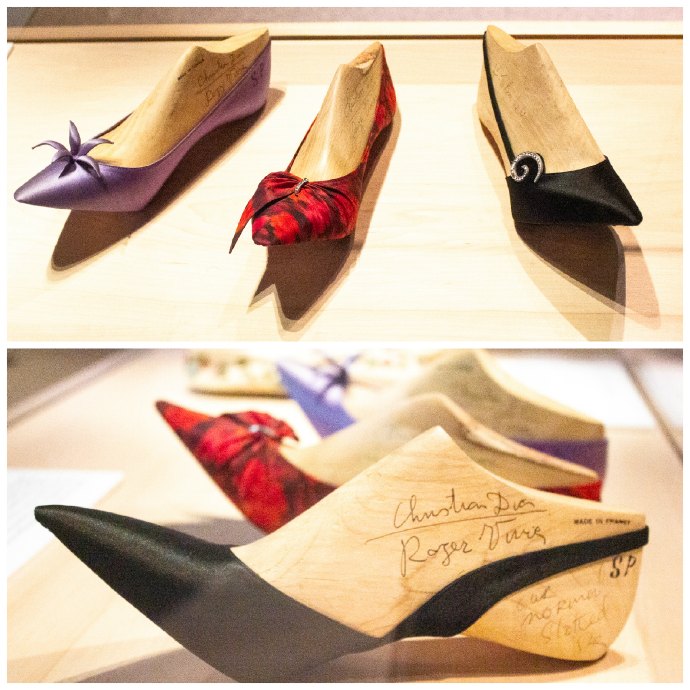 These three 'pull-overs' – prototypes of shoes made during the design phase of shoe production – were created by Roger Vivier in the late 1950s and early 1960s for the House of Dior. Vivier was the only designer working with Christian Dior to get his name placed alongside the master couturier on the Dior label. Vivier created exceptionally elegant footwear for Dior when he was alive. However, after Dior's death in 1957 Vivier's work became more bold and sculptural.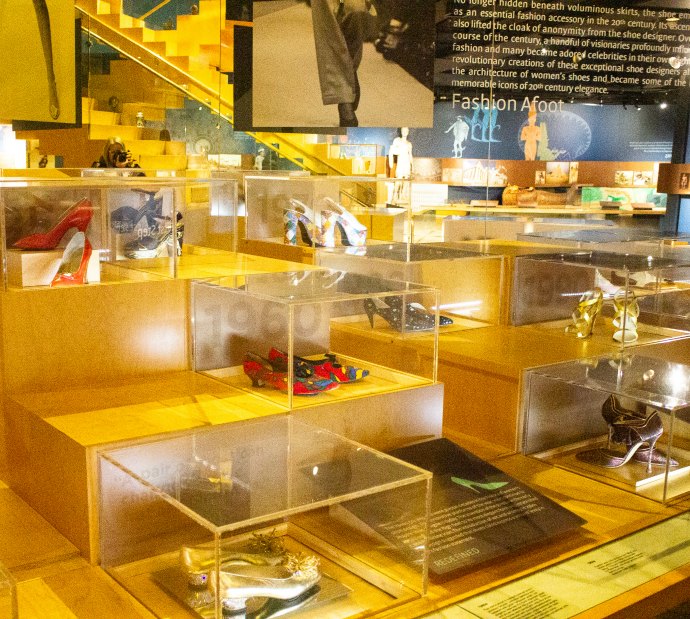 If you're in Toronto, stop by the Shoe Museum for some insight into the rich history of shoes and enjoy the architecture of Raymond Moriyama who created the building, the design harkens to a shoe-box and includes an amazing 42 foot glass window by internationally-recognised artist Luz Haufschild which fills the south wall of the museum, composed of countless pieces of glass featuring images of shoe patterns, early shoemaking tools and a workshop.
Bata Shoe Museum 327 Bloor St W, Toronto Ontario M5S 1W7 Canada