In July this year after I finished running my Personal Colour Analysis training in London, I took my kids to Northern Ireland. We had a fabulous week there, visiting with family and touring around the countryside.
We flew into Belfast
I hadn't been to Belfast since 1997 and boy it's changed since I was last there. It's now a really vibrant city with a bustling city centre. The Titanic Museum is a must – and amazing purpose-built museum that takes you through the shipbuilding history of Belfast to what it was like on board this iconic, ill-fated vessel.
The city has lots of shopping and places to eat and Queens University is one of my favourite buildings in Belfast.
Then drove to Bangor
My mother's side of the family is from Northern Ireland and all but one of my grandfather's siblings emigrated to Australia in 1922 as they wanted to go somewhere with better weather as Great Aunt Maisie had bad asthma. Great Uncle Arthur remained in Northern Ireland and some of his descendants live not far out of Belfast in Bangor and Donaghadee, County Anterim.
Donaghadee is the home to the reputedly oldest pub in Ireland, Grace Neill's. It's also the closest point to Scotland and you can see it clearly across the channel.
We were lucky enough to spend a couple of days with family there who gave us a lovely warm NI welcome before we headed north.
To Game of Thrones Locations
Northern Ireland is one of the main filming locations for the TV series Game of Thrones (there is a great app you can download that will show you all the filming locations and how to get to each). The one on my list that I didn't want to miss (and was on the way up to The Giant's Causeway) was The Dark Hedges.
The Dark Hedges is one of the most photographed natural phenomena in Northern Ireland and is a highly acclaimed avenue of ancient beech trees, voted one of the top five most beautiful tree tunnels in the world.
In rural Ballymoney along Bregagh Rd, these trees are 300 – 350 years old and were planted by the Stuart family to impress visitors on the approach to their home, Gracehill House.
In Game of Thrones the Dark Hedges is part of the Kingsroad out of King's Landing and can be seen in Season 2, Episode 1 as Arya Start escapes disguised as a boy.
Onto the Giant's Causeway
A little further north is The Giant's Causeway. According to legend, these hexagonal basalt columns that rise out of the sea were built by Irish giant Fin MacCool who built the causeway to cross the North Channel from Ireland to Scotland to battle Scottish giant Benandonner.
The geological truth is that it resulted from a volcanic eruption around 50-60 million years ago, leaving in its wake around 40 000 interlocking basalt columns. The rapid cooling of the lava fractured the rock into hexagonal pillars, some as tall as nearly 12 meters high. There are identical formations across the channel in Scotland at Fingal'sCave on the Scottish isle of Staffa, which was formed from the same lava flow (hence the story of the Scottish and Irish giants).
Park at the railway station (for a small fee) – unless you want to go to the National Trust visitors centre (as they run the carpark and charge by the number of people in your car). You can walk down to Causewayeay through a tunnel just to the right of the visitor's centre and the left of the National Trust carpark (costs you nothing).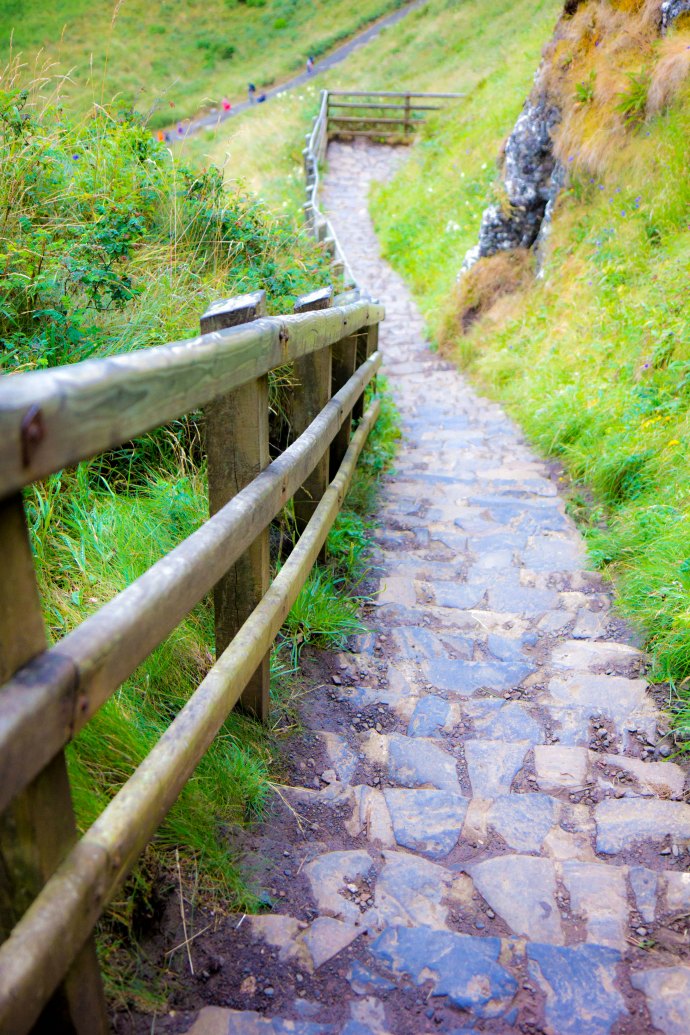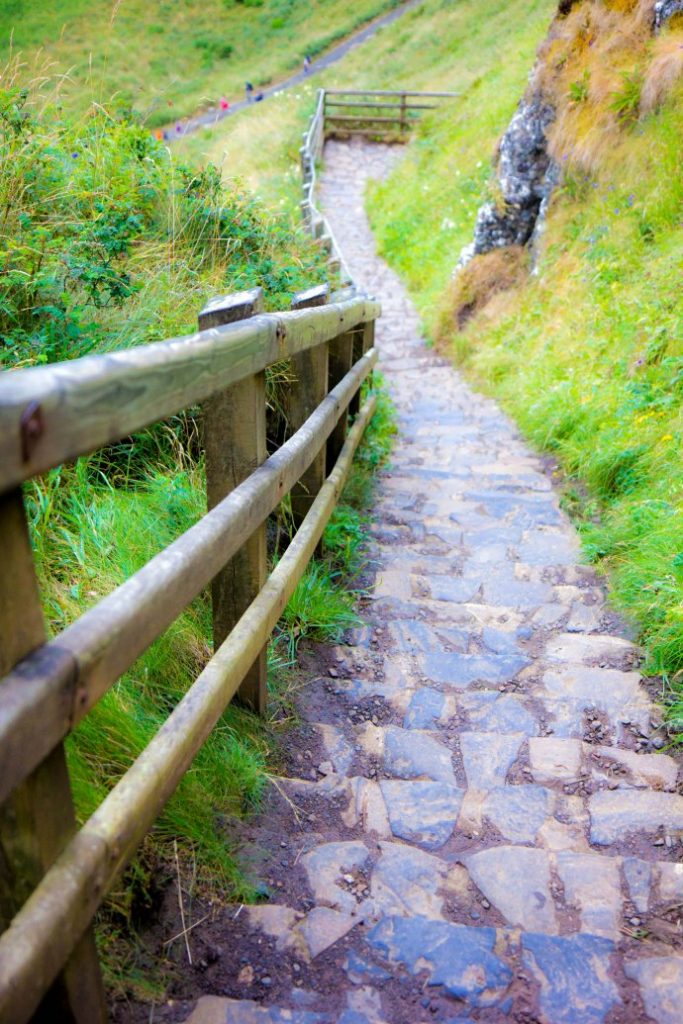 We walked down to the Causeway then continued on the road and took the paths and stairs back up to the top.
Lunch in Bushmills
Only a few miles from the Giant's Causeway is the gorgeous and picturesque village of Bushmills, home to the Bushmills Distillery, the oldest working distillery of whisky in County Antrim.
Walk the Carrick-a-Rede Rope Bridge
A little further along the Causeway Coast's winding roads in Ballycastle is the Carrick-a-Rede rope bridge. Built originally by salmon fishermen around 350 years it's suspended 30 meters above sea level from the mainland to Carrick-a-Rede Island.
The rope bridge wobbles as you cross, but no more than any kids playground rope bridge and the kids enjoyed the experience and the views back along the Causeway Coast.
My kids can't help but handstand wherever they go.
There are many other places to see along the Causeway Coast – Dunluce Castle, Carrickfergus Castle and Rathlin Island – just to name a few.
Take an Offroad Segway at Jungle NI
My kids are active and love to do things (not just see boring old castles and views!) and so I treated them to an offroad Segway experience at Jungle NI – it was fantastic fun and if we'd had the time they would have absolutely loved to go back and do the Tree Top Adventure. Next time!
Shopping in Ballymena
We stopped at the shops in Ballymena and my eye was caught by the Fred Funk window displays.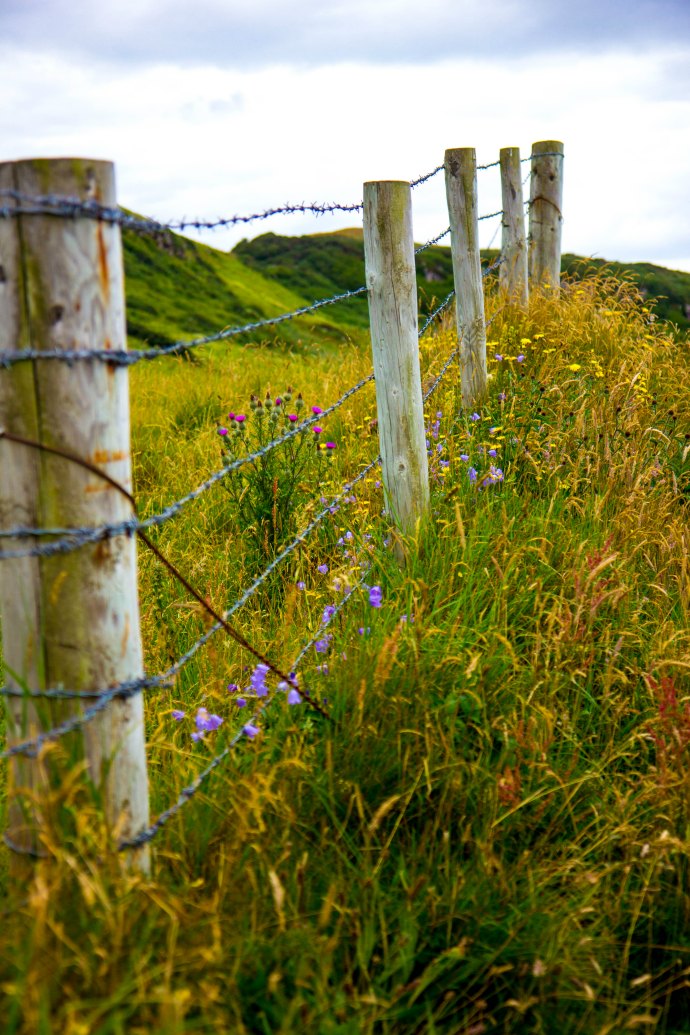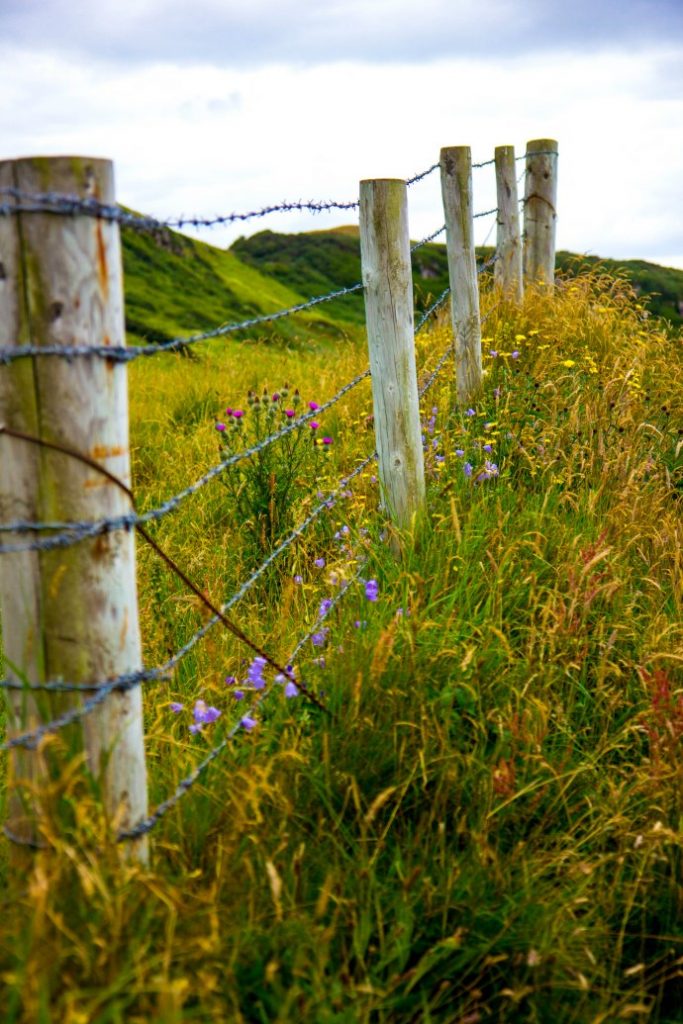 We wish we had longer to visit this beautiful and peaceful part of the world. We can't wait to get back again and see more of Northern Ireland. If you've never been, do put it on your list of places to visit. With its roll green hills and winding roads, ancient buildings and beautiful natural attractions and friendly locals, it's definitely worth a visit.