I've had requests about ideas for capsule wardrobes, here are some ideas that I used in a travel capsule.
I spent my Saturday afternoon helping one of my lovely clients pack for her trip to Europe this week. She is spending a week in Berlin at a conference which will have both day and evening events, then a week in London on holiday, so two different needs, how to pack efficiently?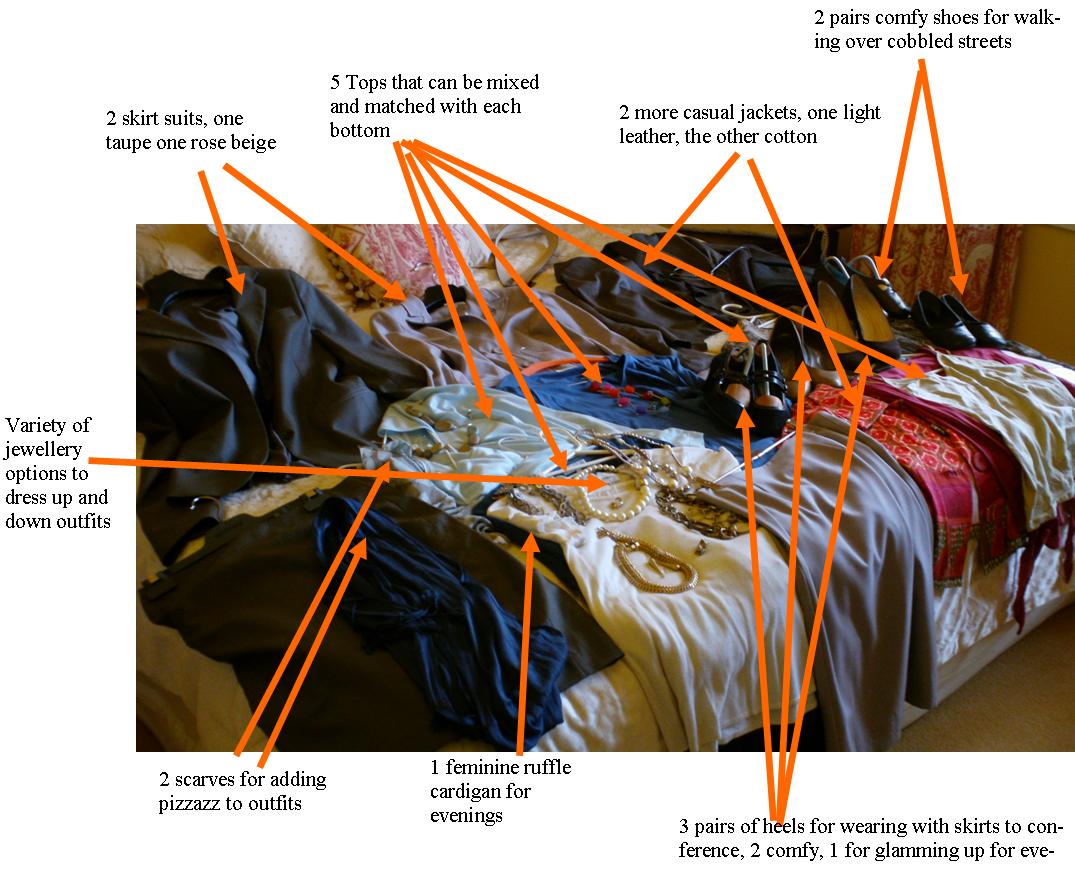 So here is most of what she's taking (she's in her 50s just so you know:).
2 skirt suits
1 pair black dress pants (not pictured)
2 pairs jeans, one brown, 1 indigo (not pictured)
2 tank tops, 1 beige, 1 black to wear under various tops
2 light scarves
1 cotton patterned jacket
1 taupe soft and light leather jacket
5 tops for wearing with suits and jeans
1 teal ruffled cardigan that can be worn over most tops and tanks
2 pairs comfy heels for conference day wear
1 pair glamorous heels for evening events
2 pairs comfy flat shoes for walking and with jeans
Variety of jewellery to dress up and create interest with outfits
Yoga pants and long sleeve T (to wear on plane and as PJs) (not pictured)
Fold up umbrella (not pictured)
Evening bag (not pictured)
All the tops can be mixed and matched with each of the bottoms creating an easy 50+ different outfits which will give her enough variety for her 14 day trip, have her looking smart for the conference, but still comfortable and practical for her to see the sights of London, many of which she'll do on foot.
The tops are all cotton mix, or polyester so easy to wash on the go.
You can see that the best way to create capsules is to look for colours that work together, in fabrics that can be dressed up or down to give them greater versatility.
If you want more packing tips – grab a copy of my ebook and video The Art of Travelling Light which includes packing charts, lists and ideas for both business and holiday travel.
More Packing Tip