Packing is both a science and an art and I've discussed how best to plan your packing to make it work as well as you can (given the unknowns, and there are always unknowns when travelling).
You want to have maximum options with minimal pieces.
You want to cover all bases for all occasions from the casual to the more formal, with flair and style, that fit into the environment and suit the weather, and of course be comfortable and practical as well as fit for purpose.
That's a tall order for any suitcase!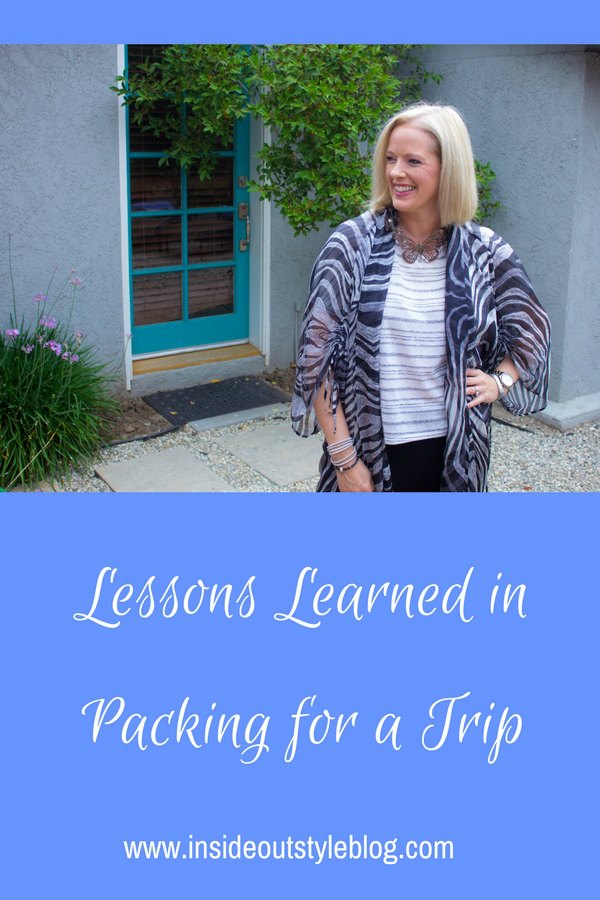 It's so hard to know exactly what to choose to include in your suitcase before you go,so it's good to take notes afterwards about the lessons learned in packing for your trip.
So having recently returned from Mexico City (never been before) and Los Angeles (have been before) and having noticed what I did wear most frequently I thought I'd share a couple of my discoveries for this trip.
Two Essentials For My Travel Wardrobe
Comfort – eating foods and drinking water my body isn't used to in Mexico (oh, yes I ate some grasshoppers with my guacamole) meant that I ended up kind of bloated (to say the least) after the first few days and for the rest of the trip which meant it was all about looser fitting clothes or stretch fabrics and so I ended up wearing my cotton woven bottoms much less than my stretchy skirt or pant options.
Weather – inside and outside, morning and night

in Mexico City it's hot but not super hot as it's at a high altitude. Unlike most other hot places in the world where they ice box air-condition every building and you suddenly need a thermal layer, it was often warm inside as well as out, so I didn't need as many of my long sleeve layers as I normally would at a conference (though of course there was the occasional conference room that was set to sub-zero temperatures). Plus I discovered that the temperature didn't drop at night until after mid-night – so no need to add layers in the evening when sitting outside eating dinner at a lovely outdoor cafe table.
Weather – in Los Angeles – the mornings were often cool which meant that I needed a layer and my denim jacket, a silk kimono and my navy shrug proved to be totally ideal and got tossed over many outfits then discarded later in the day.
What I'll NEVER pack again
What else did I notice about what wasn't worn (and it was only 1 item in my suitcase)? Well I hate ironing, and my wish to do so while away was even more diminished than it is at home, so anything that crumpled really easily and required re-ironing was left unworn through the trip (only 1 top fortunately and I'll never pack it again).
On the whole I wore all but that one item and the range I took suited the different occasions I had to accommodate (conference clothes, tourist clothes, socialising clothes and teaching clothes). Using my packing lists and methods (packing charts in my ebook Travelling Light) really helps to get the best options from my wardrobe.
And I've discovered that I'm truly awful at getting around to taking an outfit photo when I'm travelling. Away for 21 days – took about 5 outfit photos!