Hi Imogen,
I am a regular reader of your blog and simply love your advice and tips! Your blog has helped me transform into a more confident person as far as dressing and accessorizing goes. I had a question for you and needed some advice. I am planning a trip to Hawaii in December and was wondering what I should carry. I have a 1 year old baby for whom I have to carry tons of stuff. So space is precious. Anything that can multi-task will be great. I am a petite and have a tummy due to the pregnancy. I have a small bust (32B) and my legs are longer than my upper body. I would greatly appreciate it if you could suggest or create a polyvore for some day outfits and some night outfits for my trip. This will make my shopping and packing much easier. I look froward to hearing from you!
Thanks,
Preet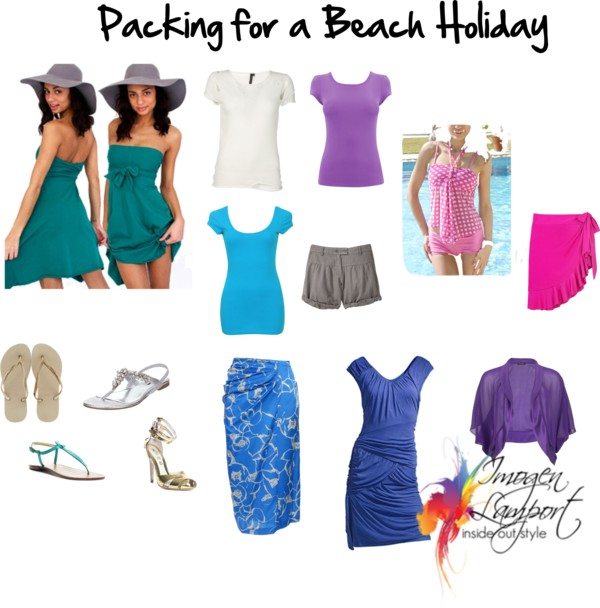 I'd recommend you get a multiway dress – the one pictured here in green is from American Apparel, and was featured by Jane from The Small Fabric of my Life as one of her holiday essentials, and she shows you how to tie it about 15 ways! You can wear it as a skirt or dress, wear it with a t-shirt underneath, or on top.
Then bring a few t-shirts that can be mixed with the dress, a pair of shorts, a skirt for evening, that can be teamed with a sparkly top and some jewelled flip flops (or as we call the here in Australia, thongs). A light cardigan or shrug is essential for cooler evenings or airconditioning.
A couple of pairs of swimmers (I love these ones pictured for hiding that post baby belly), plus the top would work well with the shorts, and some beach thongs (flip flops, I'm not getting into your underwear!), and some sandals for evening.
If you have the space, an extra sun dress would also work well, and of course, don't forget your hat!
I've left accessories out – but I'd take some fun, and not expensive or easily broken necklaces or rings to add some sparkle.
I also love a Maxi dress or skirt on a beach holiday
These are just images to to give an idea, but there are lots more ideas inside my ebook Travelling Light, which has all sorts of ideas for packing including everything from a weekend in the country, to a week at the beach, from a night away for business to packing for your man, along with some of the essentials for travelling with kids.
What would you take to Hawaii?