How to Choose a Garment with Detail
Have you ever thought about where a garment is making you look?
Garments can have focal points, particularly with pattern and detail (or colour changes) so it's good to be aware of where these are and what is ideal for you.
Design details can draw attention to different parts of your body, the best garments draw the eyes up to the face and away from body parts we may not wish to draw attention to.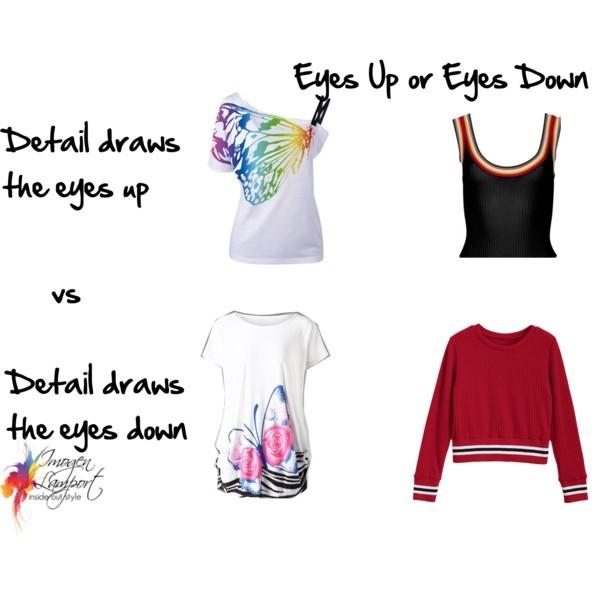 On the top row, there are two tops that have their detail, pattern, colour up around the face and shoulder.
On the bottom row, there are two tops that have their patterns at the base of the garment, drawing the attention to that part of the body.
So which to choose?
Well this depends on your body shape.
If you want to minimise your shoulders (V shapes) then look for garments that are more like those on the bottom row as they will draw attention away from your shoulders down your body and the detail and interest will broaden and make your waist and hips more apparent.
If you want to minimise your hips (A shapes, 8 Shapes, X Shapes) and make your shoulders or draw attention up towards your face, then opt for the tops in the top row (this will be tops for you!). The detail and colours grabs attention and the detail free bottoms are ideal for
The moral to this tale, be aware of where the detail on a garment is drawing your eye.
Not sure how to tell? Then do the blink test.
What's that?
The Blink Test
Stand in front of a mirror, hold the garment up in front of you (or put it on), and shut your eyes, count to three … do you smell popcorn? Open your eyes with the intention of looking at your face. Notice where your eyes are drawn.
You may also want to get a little more savvy about where to end your necklace (particularly if you are an H or O shape and don't want any attention on your tummy).
More Tips on Choosing Patterns
Expert Tips for Choosing Prints and Patterns with the Right Colours for You